Interview with The Shapeshifters
Simon Marlin and Max Reich are The Shapeshifters, the globetrotting DJ duo that is colorful characters, so colorful in fact that their newest photoshoot sees them drenched in real paint from head to toe.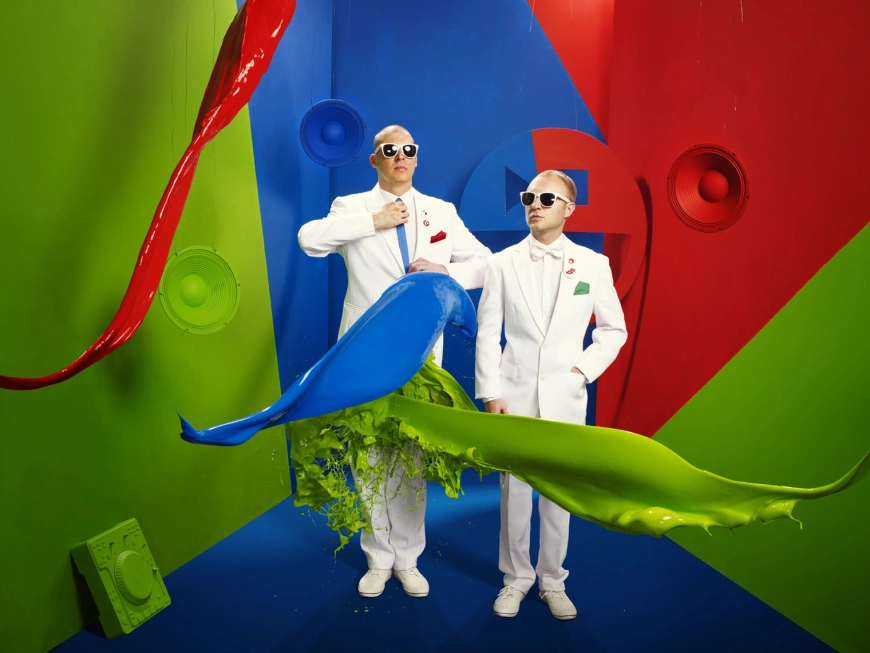 Photo by Ruud Baan
Simon Marlin and Max Reich are the Shapeshifters, the globetrotting DJ duo that are colourful characters, so colourful in fact that there newest photo shoot see's them drenched in real paint from head to toe. It's not the photos they are pleased about, they are also over the moon with their blossoming friendship with the Godfather of House Frankie Knuckles who is releasing tracks on their beloved Nocturnal Label. They have travelled the world playing at glamorous events and fuelling the soundtrack of many a legendary party. Here they tell us about Nikki Beach, the elegant and sophisticated beach party brand that plays host to every big DJ worth his (sea) salt. They have just produced a specially commissioned soundtrack which is a representation of their sound should you be lucky enough to hear them play by the pool or at the beach.

So guys we're almost half way round the year, what have been the highlights of the year so far?
Simon: God what have been the highlights so far? To be honest I feel like we've done loads already!

Max: It feels like a year has already passed; Gig wise we've done India, Russia and others and been very productive in the studio.

Simon: I think for the label as far as releases go working with Frankie Knuckles again has been one of the big highlights on the label. I think gig wise; your right India was pretty sic actually.

Max: It was a new experience that's for sure!

Simon: A really different experience with a different feeling and atmosphere so it's always good in this game to experience new things after so long. New Years Eve in Croatia was amazing.

I understand you've just taken a trip to Amsterdam recently where you did quite an extraordinary photo shoot, can you tell me about that?
Simon: Yes we were shot by the infamous Ruud Barn! Do you know what's really funny is when we were introduced to Ruud's work, you could instantly see he was a pretty cool cat. But when we got to Holland all our Dutch friends were like 'You're working with Ruud Barn Oh my god?!' and we were like 'Yeah we are, ok cool!'. It was then we realised he was basically the dogs nuts. When we got to the studio we were introduced to the Studio Rar guys, who Ruud works with quite closely, who are like the art directors they were brilliant as well. We just ended up doing this really mental shoot.

Max: Well apart from the end! Basically Ruud got us in this small specially built studio set; we dressed up in white suits and they literally threw loads of different colours of paint over us while taking pictures. Initially we thought 'Yeah this is great' but then gradually were like a rainbow of colours.

Simon: As it started to dry it was quite interesting.

Max: it was really cold actually, we then realised afterwards that they didn't have any showers so we had to go round the back side and get hosed down with cold water.

Simon: Be careful how you phrase that! Being hosed down on the back side sounds more like an enema to me!

So let's talk about your nocturnal label, rumour has it have some new releases and forthcoming releases with the Godfather of house do you want to tell us about that?
Simon: A few really exciting things really, the label itself with the help of Mr Hawes (Nocturnal Grooves label manager ) has been going from strength to strength and I think we've released more than we've ever released. We've got a pretty exciting project with Mr Frankie Knuckles which we're over the moon about. We've been wanting to work with Frankie on the label for a good number of years now. We've got this project with him called the Directors Cut which is a project he's doing with Jamie Principle, a few other vocalists and Eric Kupper!

We've released the first track called 'I'll take you there' which has done really well and has climbed high up both the Traxsource and Beatport charts. The next thing we're going to do is a re-issue and remake of his classic house track called 'Your Love' which is off the scale obviously everybody knows the record, we're going to have mixes from Belocca and Sonique from Sunny Warton and I think we're going to do one as well and that's coming up very soon in the summer months so watch this space it's a big record!

We're here to talk about your Nikki Beach Compilation, what can you tell me about Nikki beach and its location?
Simon: I've got some really fond memories of Nikki Beach, my first experience of Nikki Beach was WMC in 1996 which I think was a Masters at work party. Every DJ worth their salt has played at Nikki beach in Miami and most other places around the world, they've got them all over the place.

Max: They've opened up one in Croatia, Croatia is one of our favourite places to play at any way so it is quite exciting that they've opened one up there. I think they have opened up one in Vegas which sounds pretty awesome

Simon: Apparently the Vegas one, which is a hotel, has something like a thousand rooms or something ridiculous with an amazing club and terrace. I think we might be going there at the end of June so very excited to see what that's all about, of course Vegas is Vegas! So it should be really interesting.

Max: Koh Samui Which I went to is a bit smaller but is really nice.

Simon: There's one in Mexico which I've also heard is great. The long and short of it is that Nikki beach is one of those places where the glamorous and the normal lifestyle people go to and the mix is what makes it somewhere special, you could have Jade Jagger sitting in the corner along with a guy from Essex who's gone out for a party so it has a very similar vibe to Pacha which is a good fit for us.

I understand you have played at the Miami venue what was your experience like there, tell me about the set up they have there.
Simon: We have played at Nikki Beach in Miami before; Miami in itself is an amazing experience so to be playing literally on Miami Beach with lots of people in swimwear dancing around was amazing. The atmosphere was incredible and really busy as it always is. But it was a really cool party and it's just a mad mix of people but when you're in Miami everybody's there to party so unless you're really crap you're hard pushed not to have a good time.

You have now mixed the Nikki Beach compilation do you want to tell me a little bit about what you have done and what kind of moods you have created?
Simon: CD one is a much deeper and pool experience; we purposefully made it 120 BPM so it wasn't something that was going to angst you whilst you are drinking a mojito and basically chilling out. There's tracks on there from Maya Jane Coles, Shonky, one of our favourite tracks at the moment 'Human Life – In it together' even random pieces such as 'Crazy P – Mid Lounge Crisis' and an old Knee Deep record and so on. Its stuff that we felt we would like to have in that environment too; if we were sitting by the pool, in our villa or hanging out at Nikki beach we would like to have that as our soundtrack.

CD2 is a bit more what you would expect from us on a peak time basis lot's of upfront stuff; our mix of 'Frankie Knuckles – I'll take you there' there's also our mix of Michelle weeks and JC Chance, 'She freaks' , 'Waiting for you' , stuff from Sergio Flores, stuff from Copyright, David Penn and DJ Chus. There's pretty much a whole spectrum of what we would like to play, the first CD has a lot of stuff that we would love to play in a set but obviously when doing a 2 hour set you don't get a chance to but would do if we were doing a 5 hour set so it's pretty much across the board of what we would play.

The first mix is a much more relaxed vibe, it's not like your usual set do you enjoy playing a much more relaxed vibe and do you wish you could play that more?
Simon: Yeah it's quite hard when your booked for a lot of the shows that you do you're booked for a two hour set, usually the guy before you has ramped it up to a point where if you go back down too far you'll never get away with it and you'll lose the energy in the room. What's really cool about our club night, Nocturnal, was that we could play for 5 to 7 hours and the CD is pretty reflective of what we would do in that time. We would go from uber deep house up to peak time stuff so it's nice to have been able to express ourselves again in that way and to put tracks in there about that people might not expect from us but they should know about and that we're into.
As far as Idyllic locations go, where is the best place for you to relax?

Max: That's a tough one ...I like Thailand a lot; I was there for the first time last year and had a really good time and funnily enough I went to Nikki Beach in Koh Samui which was pretty amazing. I like the calmness, the people and the food so definitely Thailand for me.

Simon: For me it's got to be Barbados, I've been there recently with my gorgeous wife and a friend and it's very very nice!

You're gigging a lot at the moment, can you tell us your plans of where you're going to playing over the summer?
Max: Yes we are gigging a lot your right, we will be playing again for our seventh season in Ibiza playing our fifth Season with Defected at Pacha after having done two seasons at Amnesia. Obviously Croatia is going to be massive for us this year as well again its one of those countries that we come back to and we always have an amazing time. We're doing a few festivals in Holland and Belguim as well.

Simon: Tommorowlands in Belgium for Defected In The House which will be pretty special. We're also playing in Portugal and Asia we love going to Asia, we will be going to Zouk again which is one of our favourite places to play in the world; we will be hitting Japan and also Bangkok in Thailand. As usual we are still lucky and privileged enough to be able to travel the world and play these places and every year touch wood it will be the same.