Interview with Shermanology
Meet Andy Sherman from Shermanology, one of the sibling trio that has some of the sweetest and versatile voices in Dance. Comprising of Andy, his sister Dorothy and cousin Leon, this family group has collaborated with some of Holland's biggest artists.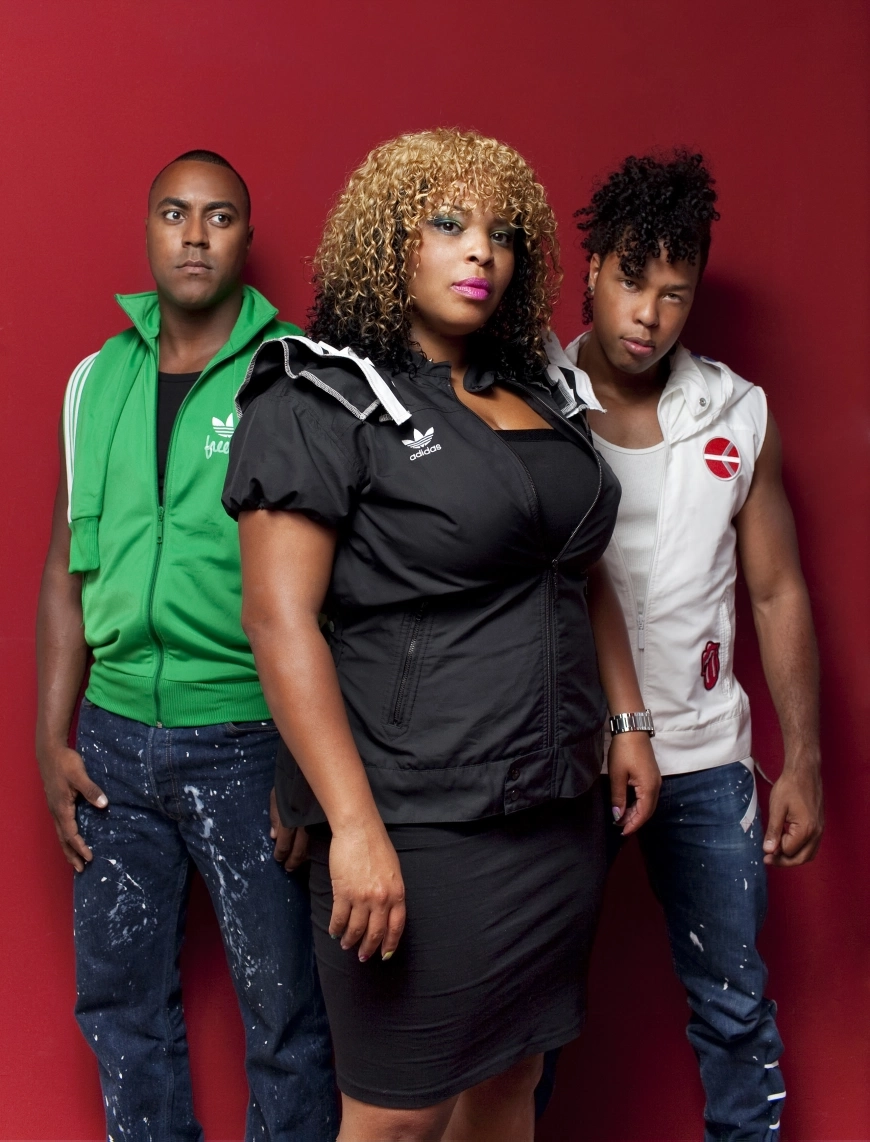 Photo by Shermanology
Holland's dance scene has a consistent reputation of bringing through new talent for the world's attention and Amsterdam has done it again. Meet Andy Sherman from Shermanology, one of the sibling trio that have some of the sweetest and versatile voices in Dance. Comprising of Andy, his sister Dorothy and cousin Leon, this family group have collaborated with some of Holland's biggest artists including Afrojack, Roger Sanchez and Fedde Le Grand. Here they take the spotlight once again for their new production with UK uber DJ the Shapeshifters. Read on and find out how you shouldn't be shy when contacting your DJ idols, how Andy was Craig David's successor and why they know so much about Motown.

First thing I wanted to say is that people think you are American but I've checked you out in video interviews online and your accents are way to perfectly Dutch to have any doubt, So firstly I would like to ask Where are you from?
I was born in Holland, but my parents are from South America.

So essential you have lived your whole life in Amsterdam?
No, the thing is I was born in Holland then I moved to the Caribbean when I was twelve years old. I stayed there till I was 18 years old then I moved back to Holland to study. After studying I moved to Tenerife then I moved to England then back to Spain, Holland, England and now I'm back in Holland.

So let's talk about Shermanology, and it comprises of all your family am I correct?
Yeah, my dad was really successful in the 70's and 80's. He had a group called "the Sherman Brother's" as well, and he had loads of hits in the 70's and we just sort of grew up with it. And when we saw him rehearsing with his brothers and when walking around we just picked up what they already did. Now the group is made up of me, my sister and my cousin.

So do you tour extensively as a DJ, because I know you also have a live set up am I correct?
Yeah, we keep the live set really simple because I've noticed if you make it complicated with your laptop and live instruments a lot of things can go wrong when travelling a lot. So yeah we kept it really simple for those reasons and we just had the mic's plugged into the mixer and 3 CDJ's and that's it.

I'd like to talk to you about your first break you had with Shermanology, now I know you worked with Fedde Le Grand, Now was your first big break with "3 minutes to explain" or was it elsewhere?
No, before that we did many different tracks. My sister did some tracks with "Heartfull", and I did some things with "Dr Kucho" as well. So before we really started the Shermanology things we started doing separate vocalist things but the biggest break for us with our name to it was the "3 minutes to explain".

You had previous pop experience before that, I think you toured with the Artful Dodger is that correct? I think you replaced Craig David as the Artful Dodger's vocalist?
Yeah. The thing was it was really funny how I got because I was singing with my Dad in Tenerife doing like hotels and doing Motown shows every night. And then Artful dodger and the label saw me and they approached me and said "we need a new singer for Artful Dodger, would you like to move to London?", and I was like are these guys joking or do I have to take this seriously. So my dad said look take it easy I'm going to talk to the guys tomorrow and if their serious and you move to England then you're following your dream. So then in a month I moved to London.

Amazing which is a massive step and then you joined the band and got all that experience?
Yeah. So I then started MC'ing and singing just doing a little bit of both and after 2 years of that I felt like "ok I really like this Artful Dodger experience but I was still building a name that wasn't really yours". So I decided to move back to Holland. That is when I wrote to Fedde Le Grand and asked him if he would be interested in hearing my stuff. I wrote to him and he wrote back and before I knew it I was in a studio recording for him.

I think people need to know your story and that people need to take up opportunities like that, to be bold enough to write to a producer that you want to work with and just to see if you can get any connections and I think that what you did was a really good story.
Yeah, and the thing is that I really like is he took the time to actually listen to what somebody sent them and I think it's a part of what a lot of Dj's have to do. Sometimes you get so many junk emails that you just don't want to reply to all the questions, texts and things that I get but I think that's the bottom of this industry now a day; you still have to listen to what people send you. And some one I really respect for that is Laidback Luke and on his forum he really listens to everything what people send him and gives them feedback that's how he just discovered things that are really good.

Absolutely, so if you're singing Motown then you must have a good voice?
That the funny thing. My sister, my cousin and I have the same background. We did exactly the same shows in Tenerife, so yeah the thing of singing everyday in the Motown show was really important for us.

The very first of your collaboration's in which I imagine you've done many now I guess, especially your current track with Afrojack that's on Pete Tong's essential selection. Do you want to tell us a little bit about that?
That track I produce about three years ago and i was waiting for the right moment to release it. I have known Afrojack for around 5 years now and I can still remember when Afrojack used to come up to us and say "guys I started producing listen to my song" and it's really funny how things can go. He always told me we had to work together let's do this. Two months ago I said now is the right time, so basically we just joined productions team and this is the first of many tracks we are going to do together with Afrojack. We are going to write some stuff for him and some Collaboration and we are going to work as much as possible together.

You have worked with some amazing people as well as Fedde, you have worked with Rodger Sanchez, John Dahlback and quite a few other of the big Dutch Dj's. Now do you think that in a few years time you will see yourself reaching the same level they have?
I think that if I keep on working like this, then I would like to think that I will reach that level yes. I have a lot of confidence in the way things are going right now and I just think that music is the key to success. The only thing you have to do is release a song you really believe in and then the rest will follow I think.

Now that kind of leads us onto the Shapeshifters and your collaboration with them, so tell me how you got involved with the boys?
Basically the Shapeshifters joined the Dutch agency where we were at, at the minute called "Ace Agency" and when I saw them in the roster I called the owner of our agency and I said "I see Shapeshifters joined us, can you give me their contact details?" so they gave me the contact detail for Max and Simon. So firstly we hooked up over here at the ADE and we spoke and said send over a couple of tracks and maybe we can do something together. And when I sent them a track said we think we already have a song. Just send us the parts and let's do it. So my sister, cousin and I already wrote and produced the first parts of "Waiting For You" so they just took all the parts and created around it adding their own touch to it. Then we had the basic idea from that and then we decided that the track was good right now. So we decided come to London re-recorded the vocals again and re-produced the whole track and that's how the song was born.

So that's it, you came to London met the guys and worked with the guys directly...
Yeah we literally landed shuck hands and went straight to the studio.

Wow that's great. I think that's really good that you actually come and meet together rather than actually doing the production over the internet exchanging parts with each other. I think it works much better to be physically present and you create the records together
Definitely I think for the first part of producing a track its fine to do over the internet, But for the finishing touches I think you really need to be together and look each other in the eye and there you can say "ok this is going to work and this isn't", and the thing what really surprised me about the Shapeshifters is the way they are open for new music. I mean they are really open to really make this collaboration instead of just taking the vocals they really wanted make it work and I really respect them for that.

I've asked you this before but I'd like to ask you again. The song "waiting for you", what's the meaning of the song can you explain because I know that you wrote it, it's your song?
The meaning of the song I think a lot of men are taken for granted and like people who have been in long relationships for a long time it becomes quite difficult to do sometimes what the lady wants and I think my thing was it was that no matter what happens I will always be waiting right here. You can say this you can say that about me but no matter what happens I'll No be right there.

I'm guessing this was potentially from your past life experience?
For me yes it is. It's significant personally and people don't know your whole life but we take parts of influences that happens around us and I use them to write parts of tracks, because when I write the tracks with my cousin and my sister we all have separate lives so we basically take the topic of what we are going to write about and then everybody gives their own twist to it. It's funny how things go because most of the time we say "ok lets write about waiting for you" and my sister goes in one room my cousin goes in another and then we all basically write what goes on in our head and then it comes together using the best parts of the three setups that we have and make it work.