Lollapalooza Berlin 2019
In 2017, Lollapalooza Berlin successfully celebrated its third edition in Berlin. 85,000+ festivalgoers ventured to festival grounds and the 2019 edition might just break that record.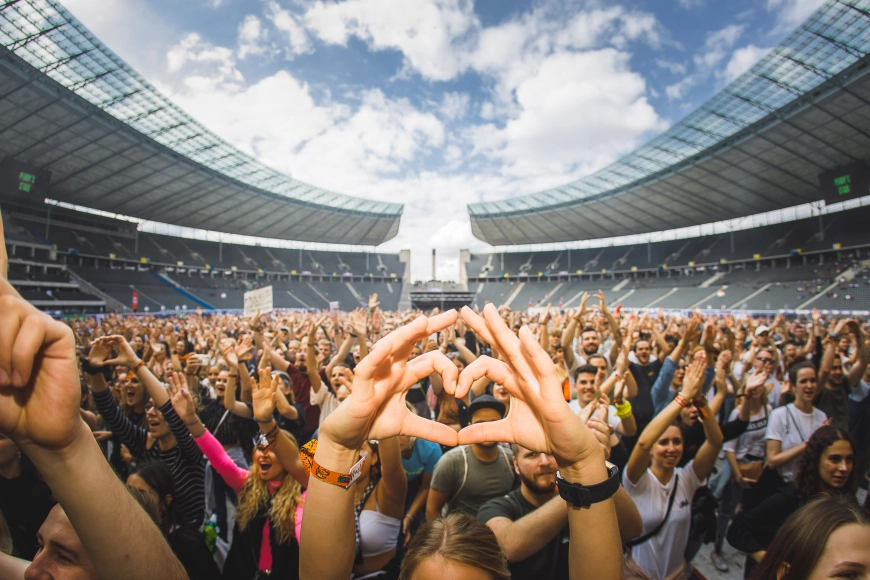 Photo by Greg Noire/Lollapalooza
Since its inception in 1991, Lollapalooza has continued to grow from it's U.S. based festival circuit to additional cities in countries across the globe. As the first European city to host Lollapalooza outside of the U.S., Berlin began its entrance into the Lollapalooza festival tour in 2015 and has since grown to over 70,000 attendees.
The secret to one of the most established and prestigious festival brands and its Berlin offshoot is its special program and diversity: as soon as you arrive on the festival grounds, visitors of all ages become part of a festival experience that is unique on the international event circuit.
In terms of festival experience and entertainment, Lollapalooza sets new standards and creates moments that last: there's the open-air gallery full of art and installations; Kidzapalooza, a festival for kids within the festival; the environmentally sustainable Grüne Kiez; and plenty of street theatre, artistry, and acrobatics at Lolla Fun Fair. Incredible food, wine bars, and a bag full of surprises on top turned this festival into one of the country's ultimate cultural highlights.

When 7th September 2019
Where Olympiastadion Berlin, Germany
Lineup
Billie Eilish / Querbeat / UFO361 / TWENTY ØNE PILØTS / Tom Walker / Swedish House Mafia / Marteria & Casper / Steiner & Madlaina / Dendemann / Sigrid / Hugel / Scooter / Gramatik / Kungs / Claptone / Underworld / Alan Walker / Dynoro / Parcels / Pale Waves / Princess Nokia / Serpentwithfeet / Ilira / Courtney Barnett / Higher Brothers / Roosevelt / Big Joanie / Secret Grid / Alli Neumann / RIMON / Amilli / Mia Morgan / Laoise / Lxandra / Yoga / Baked Beans / Olli Schulz / Bummelkastens Klopapierschlacht / Hertha Freestyle Show / Eli / Kings of Leon / Dean Lewis / Khalid / Allie X / Hozier / Kraftklub / Rita Ora / TV Noise / LOOPERS / Martin Garrix / Loud Luxury / Eauxmar / Bart B More / Don Diablo / Lari Luke / Matoma / Bausa / Nura / Rex Orange County / The Coronas / Eno / 6LACK / The Faim / Granada / Whenyoung / Ilgen-Nur / Sing Along Social / Lilla Vargen / Korantemaa / Harleighblu / Pip Blom / Hertha Freestyle Show / Suli Puschban / Siegfried & Joy / Springteufel