Naim For Bentley
Naim For Bentley launches exquisite Mu-so and Mu-so qb premium speaker systems for the home with a state-of-the-art wireless multi-room audio experience reaches up to five rooms simultaneously.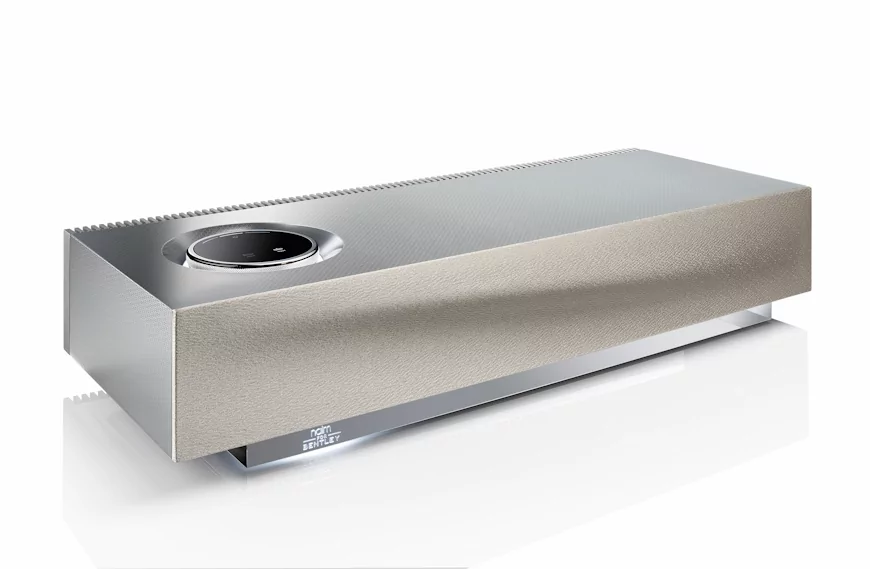 Photo by Naim Audio
The Naim for Bentley Mu-so and Mu-so qb allow world-class, high-resolution streaming of music in multiple rooms, from virtually any source, and feature high-quality Bluetooth connectivity. Customers can browse and play millions of songs via Spotify, internet radio or Airplay, or simply stream downloaded music.
The rich aural experience, which fills up to five rooms simultaneously, will be familiar to Bentley owners from the best-in-class Naim for Bentley audio systems, available to customers on all models.
The design of the Naim for Bentley Mu-so and Mu-so qb reflects 100 years of Bentley heritage and craftsmanship. The rotary control features Bentley's signature knurling. The wooden speaker cabinet is wrapped in a layer of anodised aluminium to provide a natural sound free from distortion, and the grille is finished in Portland, a signature colour from the exclusive Bentley palette.
The premium patterned aluminium casework matches the Naim for Bentley speaker grille motif in the Bentley Bentayga. On the contemporary acrylic base, a Naim for Bentley logo is subtly illuminated when the speaker is turned on.
The Mu-so - which has been tuned by specialist engineers - reflects Bentley's own passion for high-performance engineering. It delivers 450 watts of power through six high-quality speakers. A 32-bit digital signal processor runs software tuned in Naim's listening room to extract the finest delivery of streamed music.
The compact Mu-so qb, which can stream music on its own (or be linked with the Mu-so), delivers 300 watts to create a sound that defies its smaller size.
The Naim for Bentley Mu-so is priced at £1,199 ($1,694 (excl. local taxes)); and the Mu-so qb at £749 ($1,108 (excl. local taxes)).
About Naim Audio
Founded in 1973, Naim is an award-winning hi-fi manufacturer based in Wiltshire, the U.K. With a history rooted in engineering and design excellence, Naim has won the prestigious Queen's Award for Enterprise on three occasions, most recently for its ground-breaking design of digital music systems in 2014. Naim shares the same intense relationship with music as its customers, a passion that has driven them to design and engineer hi-fi products including digital music systems, amplifiers and loudspeakers that connect people with their music.