The new Jaguar F-TYPE
The new Jaguar F-TYPE R gains 575PS supercharged V8 for 0-60mph in just 3.5 seconds and an uprated chassis with new springs, dampers, anti-roll bars and rear knuckles.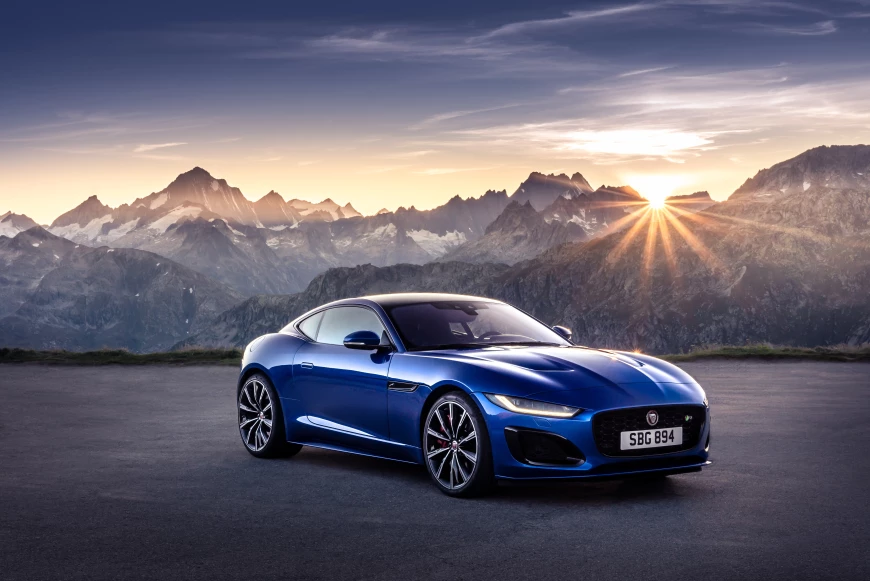 Photo by Jaguar Land Rover
The two-seat sports car offers a perfect balance of performance and driver reward with an even more muscular, assertive design and a cabin defined by rich, luxurious materials and beautiful details.
The range of powerful, responsive engines includes four-, six- and eight-cylinder options, all matched to eight-speed Quickshift transmissions with full manual control using either the SportShift gear selector or the steering wheel-mounted paddles.
The new F-TYPE also offers more driver-focused technology, including a reconfigurable, high-definition, 12.3-inch TFT instrument cluster, Touch Pro infotainment system, and Smartphone Pack with Apple CarPlay as standard. Smartphone Pack also includes Android Auto and Baidu CarLife, depending on market applicability, as standard. Software-over-the-air functionality means future software updates can be made at the customer's convenience without having to visit a Retailer. Two superb Meridian sound systems offer enhanced sound reproduction.
Adding to the experience is a Jaguar-first embedded Spotify app, giving Spotify Premium customers instant, on-demand access to a growing library of 50+ million tracks. Developed in close collaboration with Spotify, the new app is integrated within the Touch Pro infotainment system so that customers can enjoy all of their favorite playlists without connecting their phone. And through the Spotify Connect feature, playback can resume seamlessly from another device when customers get into their car.
F-TYPE's award-winning design has evolved still further with a focus on even greater purity and discipline to the perfectly-sculpted form. Super-slim pixel LED headlights with subtly updated signature "Calligraphy" J daytime running lights, and sweeping direction indicators, blend perfectly into the "liquid metal" surfacing of the new clamshell bonnet, exaggerating the car's visual width and accentuating its assertive stance. The new front bumper and subtly enlarged grille deliver even more visual impact and presence.
The rear haunches enhance the F-TYPE's inherently dramatic, purposeful form, while the new slender rear lights combine an unmistakable LED chicane signature, introduced by the Jaguar I-PACE all-electric Performance SUV, with subtle monogram pattern detailing and a fine "pinstripe" beneath.
The interior combines traditional Jaguar craftsmanship with rich, contemporary materials such as Windsor Leather and satin-finish Noble Chrome. Beautiful details include monogram stitch patterns in the seats and door trims, Jaguar Leaper motifs in the headrests, and subtle Jaguar Est.1935 markings on the center console finisher, glovebox release button surround, and seatbelt guides.
The 12.3-inch reconfigurable HD TFT instrument cluster offers a choice of different displays, including full map mode but, as befits a true sports car, the default mode is characterized by the large central rev counter. This feature and the gearshift light subtly convey the F-TYPE's driver-focused character and performance potential.
All engines - 300PS turbocharged four-cylinder, 380PS supercharged V6 and 450PS, and 575PS V8s - feature active exhaust systems, which are switchable either as an option or as standard. Customers who choose the 450PS or 575PS supercharged V8s benefit from the new Quiet Start function, which ensures a more subtle, refined sound - the electrically-actuated bypass valves in the rear silencer remain closed until they automatically open up under load. If desired, Quiet Start can be over-ridden by selecting Dynamic Mode or by pressing the switchable exhaust button before starting the engine.
The distinctive crackle and pop on the overrun synonymous with F-TYPE remains the sounds meticulously tuned to suit the range of powerful four-, six-, and eight-cylinder engines. Highly efficient, close-coupled particulate filters reduce emissions.
The new 450PS supercharged V8 has been developed to offer exploitable and rewarding performance - its maximum torque of 580Nm being generated from just 2,500rpm. It is offered with a choice of all-wheel drive and - for purists - rear-wheel drive. Both versions can accelerate from 0-60mph in just 4.4 seconds, and reach a maximum speed of 177mph.
Raising the output of the all-wheel-drive F-TYPE R's supercharged V8 to 575PS and 700Nm (up from 550PS and 680Nm respectively) delivers truly outstanding performance in all weathers and in all conditions while retaining its inherent tractability and day-to-day usability. Performance is exceptional: the benchmark sprint to 60mph takes just 3.5 seconds, while maximum speed is an electronically-limited 186mph.
The F-TYPE R's increased power is matched to a comprehensively uprated chassis with new, wider, 20-inch, 10-spoke wheels in Gloss Black with contrast Diamond-Turned finish, and new adaptive dampers, springs, anti-roll bars, and stiffer rear knuckles and ball joints, delivering even greater agility and responsiveness.
F-TYPE Coupé and Convertible:
300PS 2.0-litre four-cylinder; Quickshift RWD
380PS 3.0-litre V6; Quickshift; RWD / AWD
450PS 5.0-litre V8; Quickshift; RWD / AWD
F-TYPE R-Dynamic Coupé and Convertible:
300PS 2.0-litre four-cylinder; Quickshift RWD
380PS 3.0-litre V6; Quickshift; RWD / AWD
450PS 5.0-litre V8; Quickshift; RWD / AWD
F-TYPE First Edition Coupé and Convertible:
300PS 2.0-litre four-cylinder; Quickshift RWD
380PS 3.0-litre V6; Quickshift; RWD / AWD
450PS 5.0-litre V8; Quickshift; RWD / AWD
F-TYPE R Coupé and Convertible:
575PS 5.0-litre V8; Quickshift AWD

Prices from 54.060 GBP in the UK