The New Jaguar XF Sportbrake
The new XF Sportbrake returns Jaguar to the premium estate segment with a compelling combination of design, driving dynamics, and advanced technologies that make it the standout performer.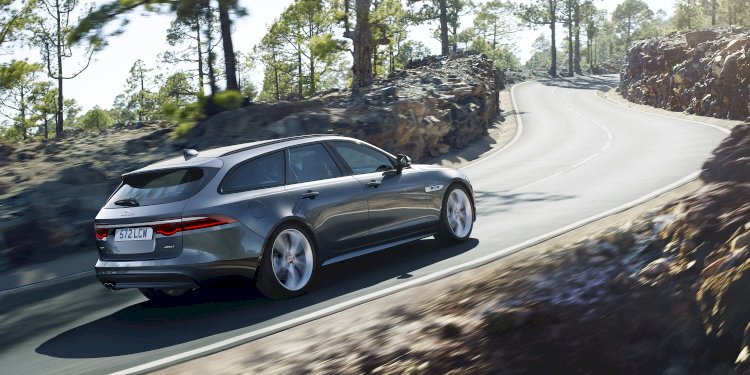 Photo by Jaguar Land Rover
The XF Sportbrake sets new standards for practicality and convenience with user-friendly features and technologies that make every trip safer, smarter, and more relaxed. Its combination of space and efficiency make the Sportbrake the perfect companion for customers with active lifestyles.
With a design that retains the distinctive curves of the saloon at the front, the new XF Sportbrake embodies Jaguar's key design DNA and incorporates an eye-catching roofline, which sets it apart from the competition. Its sleek silhouette projects a dynamic and purposeful profile that transforms the amount of space available inside.
The interior provides spacious accommodation flooded with natural light from the full-length 1.6sq m panoramic roofs. Rear occupants benefit from enhanced knee room and improved headroom, while the practical loadspace can accommodate 565 liters of luggage.
"As with the XF saloon, every line on the Sportbrake serves a clear purpose, creating a fast sweeping silhouette. This gives the car a sense of speed and a very dynamic appearance. As a result, I think it looks just as sporty as the saloon, if not more so." - Ian Callum, Director of Design, Jaguar
The new XF Sportbrake builds on the success of the saloon and has all of the advanced all-wheel drive (AWD) technologies and aluminum-intensive architectures that have made the XF a multi-award winner. Jaguar Land Rover's family of innovative Ingenium powertrains equips the Sportbrake with the latest engine technologies.
The suspension set-up has been specially calibrated to reflect the demands placed on premium lifestyle estate models. The stiff and lightweight set-up gives the spacious estate Jaguar's signature dynamics: a sports car-inspired character with agile handling and dynamic responses. The self-leveling air-sprung rear suspension is fitted as standard to ensure the XF Sportbrake maintains its composure, even when fully loaded.
Jaguar's optional Configurable Dynamics system enables drivers to fine-tune settings for the steering, transmission, and throttle. With Adaptive Dynamics dampers fitted, customers can also tune the suspension settings for a personalized driving experience.
Advanced software functions developed by Jaguar Land Rover, such as All Surface Progress Control (ASPC), Adaptive Surface Response (ASR), and Intelligent Driveline Dynamics (IDD) put the Sportbrake's traction in low-grip situations and cornering ability on the same level as the saloon.
Customers looking for the ultimate confidence can choose an AWD drivetrain and Jaguar's IDD system, which eliminates the understeer and electronic interventions that typically characterize dynamic driving in all-wheel-drive models. As a result, the AWD XF Sportbrake retains Jaguar's trademark rear-wheel drive feel and agile steering responses.
The XF Sportbrake continues Jaguar's leadership in aluminum-intensive body construction to deliver a lightweight design that is both stiffer and lighter than its predecessor. Featuring an innovative new single-piece polymer tailgate, the Sportbrake delivers a near-perfect 50:50 front-to-rear weight distribution providing the foundations for its exceptional handling and efficiency.
Measuring 4,955mm, the new Sportbrake is 6mm shorter than the previous model, but its wheelbase has been lengthened by 51mm to 2,960mm. This optimizes rear legroom and load space and contributes to the vehicle's refined ride quality. Aerodynamics with a slippery drag coefficient of 0.29 contributes to CO2 emissions as low as 118g/km.
Jaguar Land Rover's range of advanced four and six-cylinder petrol and diesel engines provides customary Jaguar performance, efficiency, and towing capacity.
The range starts with a rear-wheel-drive 163PS Ingenium diesel with variable geometry turbocharging that drives like a true Jaguar and provides exceptional efficiency. The advanced powerplant delivers CO2 emissions of just 118g/km with a fuel efficiency of 62.8mpg (4.5 l/100km).
At the other end of the performance spectrum, customers can choose the 380PS supercharged V6 petrol engine. Paired with a ZF eight-speed automatic transmission and Jaguar's advanced all-wheel-drive system, this combination provides sports car performance with the sprint from 0-100km/h completed in 5.5 seconds (0-60mph in 5.3 seconds).
"The XF Sportbrake is the embodiment of everything our brand stands for, bringing Jaguar design and dynamics to create vehicles that excite the senses and support active lifestyles. Its dynamic performance, desirable styling, and cutting-edge technologies will introduce a new generation of drivers to Jaguar's drive, passion, and comfort." - Steven de Ploey, Global Marketing Strategy and Planning Director, Jaguar
The new XF Sportbrake is the perfect choice for customers with active lifestyles and features a series of new convenience features that enhance the practicality of Jaguar's premium estate. These include Tow Assist technology and Jaguar's rugged new wearable Activity Key, which lets users secure their vehicle while enjoying outdoor sports or activities without fear of losing their main key fob. Drivers are also able to set the maximum opening height for the gesture tailgate to prevent damage in areas where height is restricted, such as multi-story car parks and garages.
Cabin air filtration and ionization removes pollutants entering the vehicle, promoting health and wellness, while gesture controls for the tailgate and the sunblind for the panoramic sunroof underline the XF Sportbrake's commitment to customer convenience.
A full suite of driver assistance and safety systems is provided, bolstered by Jaguar's Driver Condition Monitor which examines a range of inputs to detect signs of drowsiness and warn drivers when they need to take a break.
The new XF Sportbrake range comprises:
- XF Sportbrake Pure
- XF Sportbrake Prestige
- XF Sportbrake Portfolio
- XF Sportbrake R-Sport
- XF Sportbrake S
The powertrain range will include:
Diesel
- 163PS 2.0-liter diesel manual and automatic RWD
- 180PS 2.0-liter diesel automatic RWD and AWD
- 240PS 2.0-liter diesel automatic AWD
- 300PS 3.0-liter V6 diesel automatic RWD
Petrol
- 250PS 2.0-liter petrol automatic RWD and AWD *
- 380PS 3.0-liter V6 petrol automatic AWD **
* Only available in China
** Only available in the US, China and MENA, not available in UK and EU