Athenæum 101 by Slam
The duo of Stuart McMillan & Orde Meikle have never been ones to sit back and follow the rules, instead, they have continually shaped the electronic music landscape around them and consistently broke the restraints of the considered norm.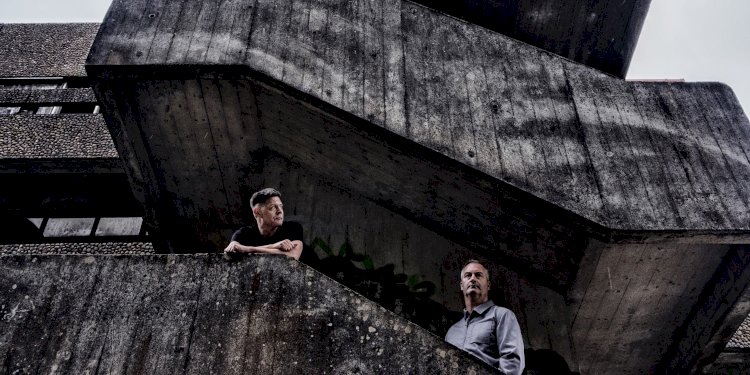 Photo by Soma Records
This latest project has the pairing on a more reflective and personal journey - a true masterclass in what an electronic album should aspire to be - and sees them pursue the edges of leftfield electronica, ambient, dub & experimental soundscapes.
This album is quite personal for me as I've had a challenging year in more ways than one, so this has been a very cathartic and emotive process for me. It's also an escape from purely listening to Techno and being involved in producing Techno mainly for the dance floor for the most. Most people maybe only see and hear that side of Slam, but as with most people, there are many sides, with this, we were trying to redefine the usage of the genre (Techno) and how similar noises and elements can be used differently. We've always been influenced by quite extreme heavy Dub, as well as Avant Garde Electronica and of course Techno, and have always drawn a parallel between those musical forms. So there are a lot of Dub influences interfused throughout too. This album is a process we've been talking about doing for a long time. It's 101 BPM lasts for 1 hour and one-minute long. Some elements from each idea continue into the next. There are no tracks in the traditional sense per se, rather a collection of sequences and textures and percussive elements that when pieced together tell a complete story.
Stuart McMillan

Right from the off, "Athenæum 101" is an emotive and esoteric experience that finds the Scottish duo seamlessly blending a collection of varying textures and sequences to create one flowing downtempo journey. With each track being defined by the preceding one, the sinuous mix commences with scintillating soundscapes and hypnotizing melodies; entering aquatic depths before resurfacing with dystopian dub futurism.
Slam - Athenæum 101
Release Date December 2018
Label Soma Records
Tracklist
1. 00.00
2. 00.48.860
3. 01.26.732
4. 03.01.039
5. 05.09.059
6. 08.02.970
7. 09.06.831
8. 12.37.870
9. 17.33.850
10. 21.04.158
11. 24.42.770
12. 28.02.376
13. 33.06.534
14. 37.17.227
15. 40.42.771
16. 43.48.118
17. 47.40.991
18. 52.02.376
19. 55.31.484
20. 58.04.150