EP2 by Kohib & Kahuun
Phase two of the Bergen-Tromsø house alliance! For the second time on Beatservice Records, Kahuun and Kohib - two beardy and nice chaps - have put their heads together to collaborate.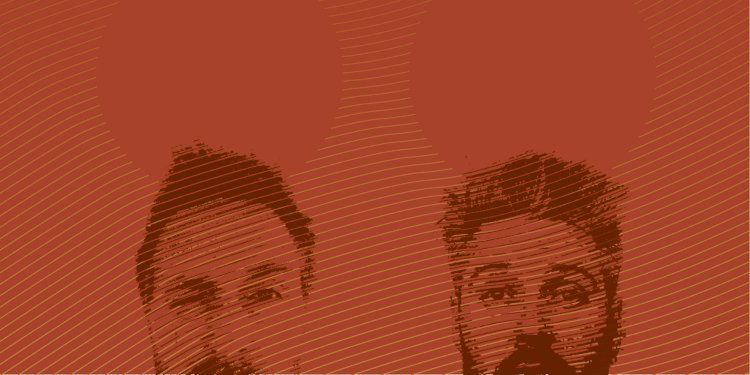 Photo by Beatservice Records
It's the same procedure as their first shared EP: one track each and then a remix of each other's respective track.
Kahuun is a part of the electronic scene in Bergen. He released his debut EP in 1999 on Paper Recordings, and has released a string of EPs on various labels. His early tracks were in a jazzy broken-beat style, but lately he's been leaning more towards four-on-the-floor house and techno. "Sangefjell" is a potent four-on-the-floor groover, complete with a solid bass foundation, layers of percussive elements, and a rising 303-ish filtered synth line. After hours night club funk, indeed.
Kohib is an important member of the Tromsø electronic music scene, equally as a club organizer, DJ, and producer. His debut was on the Prima Norsk 3 compilation in 2005, followed by an album, a remix-album, and a string of highly regarded EPs and digital singles. Kohib's contribution, with the un-Norwegian title of "Pittsburgh", moodily moves through synthesizer swells and pulsations as reverbed percussion and stereo effects populate its sonic space. The tension is eased by a pleasant, almost theremin-like lead line.
The remixes are playful reinterpretations, with Kohib accentuating the funkiness of "Sangefjell" through heavy hand claps, a tighter entwining of the bass and 303 lines, and a dreamy vocal phrase. This one's got maximum boogie appeal. Not to be outdone, Kahuun surprises with a tough drum n' bass rendition of "Pittsburgh". More than half the track is taken up by its intro – which, upon listening, seems the perfect length – before the breakbeats come in over the throbbing bass and swirling, melodic psychedelia. It's a brilliant cap to this EP, and shows how these two producers continue to inspire each other in wonderful, off-beat ways.
Kohib & Kahuun - EP2
Release Date June/July 2016
Label Beatservice Records
Tracklist
1. Kahuun - Sangefjell
2. Kahuun - Sangefjell (Kohib Remix)
3. Kohib - Pittsburgh
4. Kohib - Pittsburgh (Kahuun Remix)