OFF Festival Katowice 2015 adds more acts
OFF Festival Katowice 2015 adds more of the best alternative artists to their eclectic line up for 2015.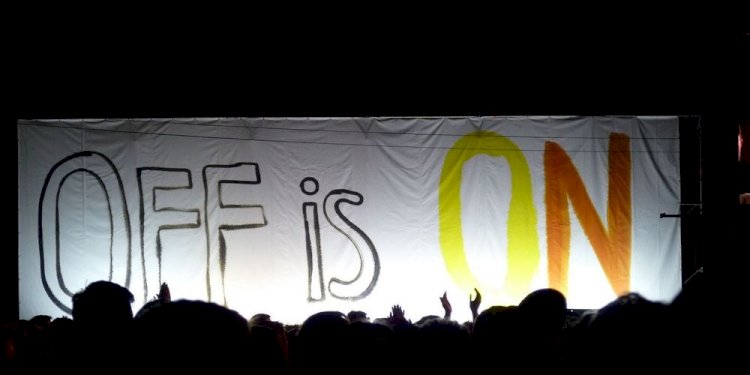 Photo by OFF Festival
The comeback of the legendary band Ride, the phenomenal Sun Kil Moon, the Mercury Prize-winning Young Fathers, and Mick Harvey with his own take on the songs of Serge Gainsbourg: these are just some of attractions coming up at the 10th OFF Festival, this August 7–9 2015.
Ride
The triumphant return of Ride, one of the bands that defined the British sound of the 90s. They've kept quite since the release of their fourth album, Tarantula, in 1996. Word is there were unsolvable differences between guitarists Andy Bell and Mark Gardener's visions of the band's future. And the guitar sound, after all, was the backbone of such landmark records as Nowhere and Going Blank Again, as well as the entire shoegaze revolution itself. You know it and we know it: this edition of the OFF Festival just wouldn't be complete without Ride.
Sun Kil Moon
Mark Kozelek already performed at the OFF Festival once in 2009, when he gave an intimate, low-key show in Mysłowice. Now he's back with his flagship project Sun Kil Moon, fresh on the heels of his outstanding album Benji, rightfully considered by many critics to be one of the best records of 2014. But it looks like Sun Kil Moon will be returning to Katowice with a new repertoire, now that his upcoming album Universal Themes has been slated for release in June. This is going to be a treat for fans of American indie folk and anyone who appreciates music that blends delicate beauty with brutal truth.
Mick Harvey performs the Songs of Serge Gainsbourg
This gentleman requires no introduction. Mick Harvey and his guitar are, after all, the driving forces behind the sound of The Birthday Party and, until recently, The Bad Seeds. But this Australian musician has always led a double life, one that included a solo career launched with the release of two albums, Intoxicated Man (1995) and Pink Elephants (1997), both featuring English renditions of timeless classics by the French singer-songwriter Serge Gainsbourg. Mick has recently revived this repertoire with live performances that combine the multi-instrumentalist's rich musical sensibilities with a hefty dose of comedy.
Young Fathers
Hip-hop, particularly in its alternative forms, has a permanent spot on the OFF Festival lineup. It should come as no surprise that this year's edition will feature the Scottish trio known as Young Fathers, who took home the 2014 Mercury Prize for their album Dead and garnered rave reviews from a long list of critics who praised Alloysious, Katus and G for their unique sound, impressive eclecticism and that hint of madness that won us over here at OFF Festival headquarters. Young Fathers are coming to Katowice with material from their upcoming release, "White Men Are Black Men Too", which hits the shelves in April. The band claims to have recorded the album "in a hotel room in Illinois, a rehearsal room in Melbourne, a freezing cellar in Berlin, a photographic studio in London and their normal hole in the ground basement in Edinburgh."
Ten Typ Mes
We would have invited Mes even if he had become a chav, because he's simply one of the best rappers in Poland, one who masterfully balances G-funk and an openness towards musical experimentation; a reporter's knack for observation and an endearing sense of humor; credibility and roguish charm. Trzeba było zostać dresiarzem ("I should have become a chav") was one of the best Polish albums of 2014 and won praise from critics outside the circle of dedicated hip-hop fans. Ten Typ Mes is coming to Katowice with a live band specially assembled for a few selected concerts this year.
Golden Teacher
Golden Teacher is a strain of magic mushrooms and an equally magical band from Glasgow that sprouted from a collaborative studio project by the noise punk trio Ultimate Thrush and the house duo Silk Cut. The result has been described by their label, Optimo Music, as "hypno-psych voodoo groove" or a kind of noisy, psychedelic, trance dance music that's bubbling with energy. You won't be able to stand still.
Kwadrofonik
What do you get when you cross a drum duo (Hob-beats Duo, to be precise) with a pair of pianists (namely: Lutosławski Piano Duo)? Why, Kwadrofonik, of course: a one of a kind virtuoso quartet that freely traverses the space between classy contemporary music and lively folk. Their sets include pieces by Bartók and Berio, but given the scant repertoire available to a lineup like theirs, they also write and perform original compositions. Kwadrofonik recently won the Polityka Passport in the category of classical music, but the world is their oyster with or without that trophy.
The Stubs
Despite their Warsaw upbringing, this band's roots lie in American and Scandinavian basements. They describe themselves as "low-budget rock'n'roll," which means that these brief, straightforward songs will have something to offer to both punk rockers and disciples of stoner metal. If you don't believe us, check out the The Stubs' latest album, Social Death By Rock'N'Roll.
Nagrobki
A Gdańsk-based duo that occasionally expands into a trio. Nagrobki is made up of three friends: Adam Witkowski, who sings and plays the drums, guitarist Maciek Salamon, and Olo Walicki on the bass. All 17 copies of their debut album Pańskie Wersety, released January 1, 2014, sold out on the spot. If you want to listen to them, look them up online, or come see them at the OFF Festival. You know what to do.
Coals
Inspired by the ethereal, melancholy music of Scandinavia, these native Silesians will impress you with their maturity and profound sound. The dreamy voice of Katarzyna Kowalczyk intertwines with the piano and guitars played by Łukasz Rozmysłowski, coming together to form a fascinating whole. Their debut release is going to be quite an event, as is their OFF Festival performance.
OFF Festival 2015 Tickets
Tickets are now available for 200 PLN at the OFF Shop.
The price of a camping spot is 60 PLN, with an additional night (August 6/7) for 20 PLN.