Snowbombing 2013: One Week To Go!
Snowbombing Festival takes over the snow-covered peaks of Mayrhofen, Austria. With acts including Seth Troxler, Kasabian, Disclosure, Eats Everything, Skream, and Carl Cox it's set to be the best edition to date. Here's a look at what's in store.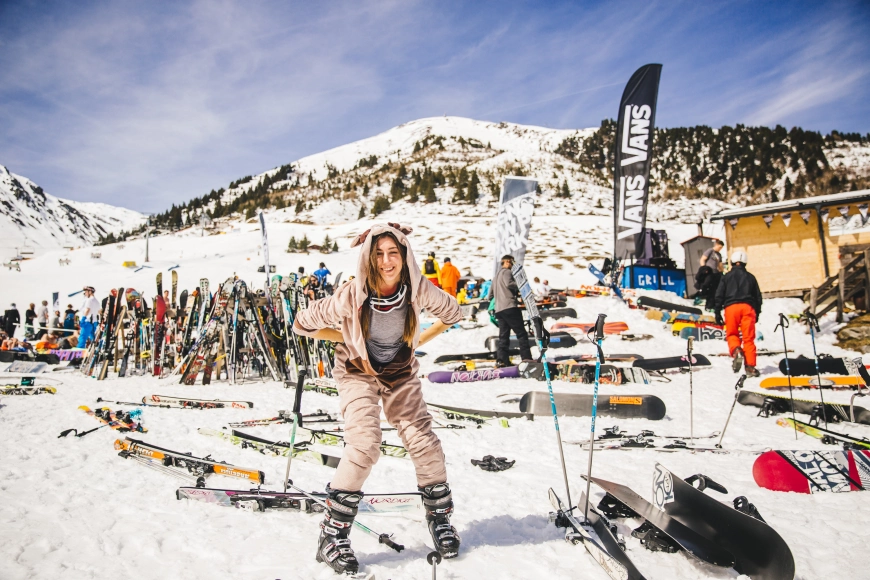 Photo by Danny North
A festival is only as good as its setting and Snowbombing is blessed with stunning alpine peaks, panoramic snow covered plateaus, fragrant pine forests, 625 KMs of pistes, Austria's steepest piste, a 3.286m glacier AND an award-winning terrain park. Pure powdery perfection topped off with cutting edge performances from world class acts.
The Arctic Disco
Where else but Snowbombing could you arrive in Austria's biggest cable car, before dancing in a club made completely of snow, drinking cocktails in glasses made from crystal clear ice? Not every club offers you the chance to wash away your day's activities in a steaming hot tub, prior to cuddling up beneath blankets in an Ice Cinema, or dance around a bonfire, beneath the stars... 6000 feet up in the mountains, surrounded by razor sharp ridges and an epic panorama, the Barclaycard Arctic Disco is a venue like no other. This years Arctic Disco includes an intimate open air show from Kasabian plus DJ sets from Jabes Zabiela, Eats Everything, Justin Martin, Ame, Norman Jay and more!
The Forest Party
After convincing the polar bears to vacate their magical alpine retreat for an extra night, there will be not one but TWO FOREST PARTIES this year!! The iconic venue will play host to Kasabian and a very special guest on the first night, followed by an extra night with Example, Disclosure and MistaJam! As always, it's time to dress up...the appropriate attire for the first forest party will be in CIRCUS theme, and will see the infamous Racket Club transformed into the most mental circus seen in the snow. If you?re stuck for ideas think ringmasters, clowns, midgets, lions, tigers, bears, strong men and bearded ladies.
The Backcountry Party
The Backcountry Party, one of Snowbombing's best loved rave institutions takes place in a lumberjack's mountain retreat in "the forgotten valley" of Floitental. Party revellers are taken by coach through the centre of a mountain (in a 2 km long tunnel) to a 300 year old Tristenbachalm: a converted traditional wooden farmstead, complete with sound system, split level bars and of course... decks! This year's Backcountry Parties will see regular Mayrhofen mischief makers Skream and Artwork present Snow White's Disco Whore House on Monday! Then it's back to the old school on Wednesday with Back to Basics head honcho Dave Beer and Heavenly Social's Jon Carter. Outside on the terrace, traditional musicians play and fires will keep you warm under the stars, as plucky souls Challenge the Lumberjack in a series of tree-trunk lifting and log-carrying tests of strength, spirit and sobriety.
Lineup
Liveacts
Kasabian / Example /  Katy B /  Above & Beyond /  Disclosure /  Rudimental /  Foreign Beggars /  Ms Dynamite /  The Cuban Brothers /  P Money /  Dub Pistols
DJs
Carl Cox / Seth Troxler / Andy C / Skream / Maceo Plex / James Zabiela / Tiga / Simian Mobile Disco / Fake Blood / Jack Beats / Heidi / David Rodigan Mbe / Scuba / Innervisions: Henrik Schwarz (Live) / Dixon / Ame (Live) & Dj Netsky (Dj Set) / High Contrast / London Elektricity / Camo & Krooked / S.P.Y / Kerri Chandler / Anja Schneider / Pan-Pot / Dj Yoda / Eats Everything / Mistajam / Norman Jay Mbe / Shy Fx / Subb-An / Justin Martin / Artwork Toddla T / Todd Edwards / Deetron / Huxley / Dusky / Mosca / Ez Plastician / Catz N Dogz / Stanton Warriors / A-Skillz / Krafty Kuts / Plump Djs / Swamp 8i: Loefah / Boddika / Mickey Pearce / Klose One / Will Saul / Bicep / George Fitzgerald / Midland / Breach / Paul Woolford / Doorly / System Of Survival / Alex Niggemann / Hot Since 82 / Marcus Nasty / Geddes / Sei A / Crazy P Soundsystem / Maxxi Soundsystem / Brackles / Maribou State / Union / Route 94 / South London Ordnance / Rattus Rattus / Clouds / Gingy & Bordello / Tom Staar / Idriss D / Jon Carter / Scarlett Etienne / Norwood Soul Patrol / Futureboogie Djs / Christophe / Lele Sacchi / Krankbrothers / Smash Hifi / Wax Wreckaz / Marc Roberts / North Base / Dave Beer / Bootleg Social / Brinsley Kazak / Josh T / Tom Budden / Mat Playford / Ben Gomori / Raffle Mafia / Daddy Nature / Jigsaw / Matt Fear / Danny Raper / Farm Yardies / Bbc / Smak Pony / Shorterz / Neil Parkes / Ernest / Serene / Paddy Lopaski / Seedy Sonics / F.O.H / Dutch Settlers / Hugo Heathcoate.Will Weaver / Jolyon Klean / Jonny Cade / Dj Socom / Force Of Nature / Mouj