Richie Hawtin Return To Ibiza
Richie Hawtin will return to Ibiza this Summer with his solo residency and club concept ENTER. Today we can reveal the weekly headliners that will perform at ENTER.Sake, Ibiza's first true sake bar experience, launched in 2012 by Richie Hawtin.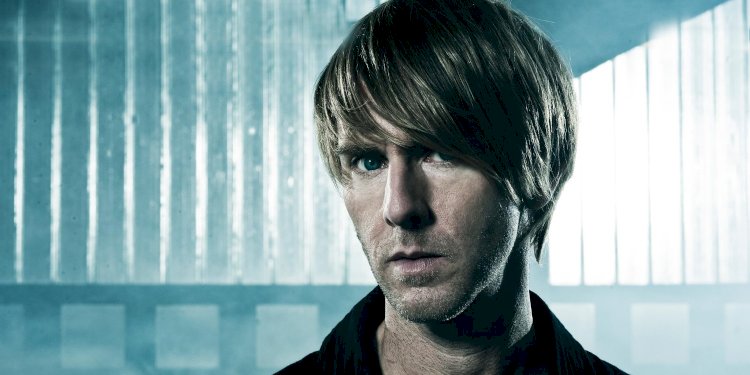 Photo by Alexander Koch Photography
ENTER. announces its return to Ibiza and reveals a tantalizing line-up of guests for the official pre-party, ENTER.Sake, including Disclosure, Luciano, Maya Jane Coles, Jamie Jones, Nina Kraviz, Paco Osuna, Eats Everything, Damian Lazarus and three performances from Richie Hawtin.
RICHIE HAWTIN and his visionary club concept ENTER. are set to return to Ibiza this year, once again taking up a weekly Thursday night residency at the award-winning club Space. Music, Sake and Technology blend seamlessly together at ENTER. to create a club EXPERIENCE like no other.
Last summer heralded the arrival of Ibiza's first true sake experience bar, ENTER.Sake, an idea first dreamed up by Hawtin in Japan, which came to life in Playa d'en Bossa. Bringing together his love of Japan and Japanese culture coupled with a deep appreciation for the age-old Japanese drink sake, Hawtin created ENTER.Sake to enable guests to experience intimate performances from many of the leading names in electronic music, whilst discovering and indulging in sake, something which soon proved to be one of the main highlights of the season.
This year ENTER.Sake takes the next step, moving to its new home on the much-loved sunset terrace at Space, which has been completely redesigned, paying homage to the Japanese sake theme with simple, elegant décor, creating a warmth and inviting ambiance, reminiscent of a traditional Japanese sake bar. Opening at the earlier time of 9.30pm, ENTER.Sake will once again be the location of the official pre-party, where headlining guests will perform an exclusive early show alongside resident DJs Hito and Bella Sarris. This year the residents, who play an eclectic fusion of electronic music from a Japanese perspective, will be joined across the 13 weeks by an impressive selection of artists.
Opening up proceedings on July 04 is the creator of ENTER. Richie Hawtin, subsequently followed on July 11 by Crosstown Rebels Damian Lazarus, making his debut in the sake bar. Also making their first appearance at ENTER.Sake this year are Disclosure (July 25), Eats Everything (August 1), Jamie Jones (August 8) and Luciano (September 5) whilst many of last years favourite acts will return to play a special set at ENTER.Sake, including Nina Kraviz (September 12), Paco Osuna (August 22), Dubfire (August 29) and Maya Jane Coles (Sept 19). Finally, Marcel Dettmann will bring the season to a close on September 26 with his much-anticipated intimate ENTER.Sake performance before ENTER. bids farewell to summer 2013. ENTER.Sake offers a very rare opportunity to see established artists in a small room environment, particularly in Ibiza, and something that is truly unique to ENTER.
The pre-party will open each Thursday at 9.30pm with an exclusive sake tasting hosted by Richie Hawtin and Hito. It's also not unusual to find Hawtin behind the bar at the pre-party, serving up sake and sharing a drink with friends & fans. Hawtin, himself a trained sake professional has personally hand-selected all of the sake at ENTER.Sake on a recent trip to Japan. This year, in our continued partnership with Kyoto based Fujioka Sake Brewery Co. & their SOOKUU brand, we expand last year's favourite "DOT" sake into a family of three dots; Black, Silver & Gold, each representing a different grade and taste profile.
ENTER.Sookuu "Black" Junmaishu, Miyamanishiki rice milled 60%.
Soft and silky with sweet rice-like notes with good sustain a slightly sharp finish.
ENTER.Sookuu "Silver" Junmai Ginjo, Yamadaho rice milled 55%.
Laid back with slight fruit overtones and well-balanced umami sweetness that holds just long enough through it's clean finish.
ENTER.Sookuu "Gold" Junmai Daiginjo, Yamadanishki rice milled 40%.  Elegant notes of pear and yellow peach perfectly balanced with a sense of coolness and lingering sophistication.
In recent years sake has seen an unprecedented revival, not only in Japan but also in other major cities across the globe. With ENTER.Sake, Richie Hawtin finds himself at the forefront of this trend in Europe.
Richie Hawtin has also curated an exclusive ENTER.Sake list for Ibiza's hottest new restaurant Sacca. Created by famed El Chiringuito restaurant owner Jonthan Thorogood with broadcaster George Lamb, the restaurant will have a bar featuring Hawtin's sake selection. The restaurant is open seven days a week and tipped to be one of the success stories of the season.
Lineup
July 04 - Richie Hawtin
July 11 - Damian Lazarus
July 18 - Richie Hawtin
July 25 - Disclosure
August 01 - Eats Everything
August 08 - Jamie Jones
August 15 - Special Guest
August 22 - Paco Osuna
August 29 - Dubfire
September 05 - Luciano
September 12 - Nina Kraviz
September 19 - Maya Jane Coles
September 26 - Marcel Dettmann
With residents Bella Sarris (9.30pm – 10.30pm) & Hito (Midnight – late).
ENTER. Facts
ENTER. will take place every Thursday at Space from July 4 to September 26
ENTER.Sake will move to a specially reconstructed sunset terrace and host the official pre-party every week at Space from 9.30pm with big guests and resident DJs Hito and Bella Sarris
ENTER.Sake tasting from 9.30pm – 10pm with Richie Hawtin & Hito
ENTER.Sake headliners start at 10.30pm
10 EURO entry with Dot before 10pm
ENTER. Tickets
5 EURO discount for anybody sporting ENTER.'s black dot logo on their body
Before 2200h - 15 EURO (10 w dot)
Before 2300h - 30 EURO (25 w dot)        
Before 0000h - 40 EURO (35 w dot)        
After 0000h - 60 EURO (55 w dot)  
Advance tickets available from Space.
ENTER. Location
Space, Playa d'en Bossa, s/n  07817 Sant Josep de sa Talaia, Ibiza, Balearic Islands, Spain T: +34 971 39 67 93