Snowbombing 2024
Snowbombing 2024 is described as the Glastonbury of ski resort festivals, held annually in the spring at the Austrian ski resort of Mayrhofen.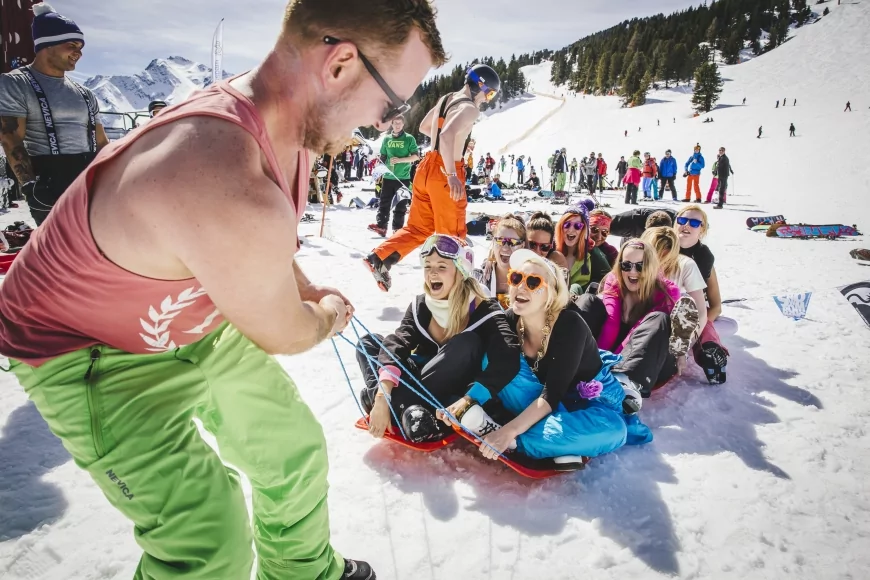 Photo by Andrew Whitton
A festival up a mountain 8,497ft above ordinary, in one of the finest ski resorts in Europe, showcasing world-class artists in one of the most unique venues imaginable (think igloo rave, enchanted forest party, underground tennis club turned super club) - luxury spas, authentic alpine cuisine, and not a tent in sight. Blue runs, black runs, schnapps runs. Add Eddie The Eagle, throw in a pool party, a celebrity butcher named "Hans," whack a luxury jacuzzi on every other rooftop, stand back, and survey the majesty. If it's good enough for Mr. Motivator, it's good enough for you. As Fatboy Slim once eloquently said: "There's no shared experience in the world as mental as this."
Eat. Ski. Rave. Repeat.
The festival is split between two types of venues: the mountain venues and the in-town venues, with events scheduled across the entire week. All mountain venues are open from 12 pm - 4 pm. After partying on the mountain, head down to the in-town venues, available from 4 pm - 6 am.
When 8-13th of April 2024
Where Mayrhofen, Austria
Lineup
Bicep / Fatboy Slim / Andy C / Chris Stussy / Confidence Man / Ewan Mcvicar / Haai / Hedex + Eksman / Hybrid Minds / Tempza / Jayda G / Chloé Caillet / Cinthie / Demi Riquísimo / Dr Dubplate / Emerald / Fleur Shore / Jasper Tygner / Joy Orbison / Kilimanjaro / Labat / Lili Chan / Sally C / Sarah Story / Waze / Yunè Pinku / Bashkka / Gerd Janson / Horse Meat Disco / Jess Iszatt / Matrefakt / Melvo Baptiste / Mona Yim / Reeshy / Rossi. / Samsön / Scarlett O'Malley / Sophie Lloyd / 9th House / Wilkinson / Dimension / Barry Can't Swim / Dub Pistols (Live) + many more to be announced.