2014 Cadillac CTS
2014 Cadillac CTS is lighter, more dramatically styled, and more powerful than previous models. It will compete more directly with models from BMW, Audi, and Mercedes.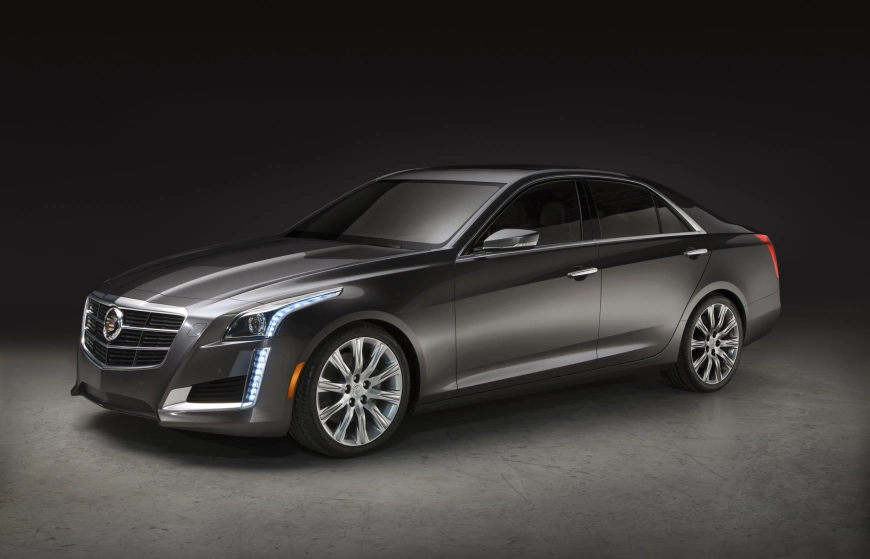 Photo by Cadillac
Styling
Unlike the flowing old-world sculptural nature of the Wiesmann car, the new Cadillac continues with its love affair of angular, cutting lines. With a wheelbase increase of 1.2 inches (30.5 mm) and an overall body increase of 5 inches (127 mm), the new CTS is now longer and lower with a more aggressive, athletic demeanor.
The roofline and hood line is roughly an inch lower, again reinforcing the car's new contemporary look. Short overhangs upfront combined with one of the car's more signature design treatments gives it that stubby appeal. From a forward three-quarter view, pinched sculpted lines work to draw the eye from the lowered front haunches all the way to the finishing tail treatment.
Cadillac's shield grille and vertical lighting elements are revised for 2014. The grille is more comprehensive, with a more detailed texture, while the headlights - incorporating crystalline LED light guides - flow back with the hood line.
Weight
This CTS has been to the gym and on a diet. Cutting the weight of 480 lbs (218 kg) from its frame, the new Cadillac is down to 3,616 lbs (1,640 kg), a significant drop from its former 4,096 lbs (1,858 kg). Aluminum door structures and other fat-cutting measures are part of the weight loss trickery.
Interior
Inside the new CTS, a more spacious interior awaits. With eight available interior environments, trimmed in either wood, carbon fiber, or aluminum, plus leather seating or full semi-aniline leather, the interior still works to retain Cadillac's luxury status. CUE, Cadillac's infotainment system, uses smartphone and tablet-like controls and commands to access information and entertainment data. An 8-inch, high-resolution color touch screen with haptic feedback allows users to swipe and drag in an iPad-like fashion. Bluetooth connectivity with natural voice recognition is standard with CUE, along with USB and SD card ports.
A 12.3-inch high-resolution, configurable LCD instrument cluster display complements the CUE display and supports active safety features. It offers drivers four layouts - from basic to performance-oriented - each delivering bold, crisp graphics tailored to the level of vehicle information desired. A full-color, configurable head-up display is also available.
Power
Powering the new CTS is a new twin-turbo V6. No stinking V8 here, people, this here is the 21st century. The Twin-Turbo reports a power outage to the tune of 420 horsepower (313 kW) and 430 lb. ft. of torque (583 Nm). Tiny turbo screws mean quicker dial-up, which means speedier power accessibility. Cadillac reports approximately 90 percent of peak torque is available between 2,500 and 5,500 rpm. This configuration helps the CTS reach 60 mph (96.5 km/h) in roughly 4.6 seconds.
The 2014 CTS is also available with a naturally aspirated 3.6L V-6 rated at an estimated 321 horsepower (239 kW) and also matched with the new paddle-shift eight-speed automatic in rear-wheel-drive models or a six-speed automatic with all-wheel drive and a 2.0L turbocharged engine rated at an estimated 272 horsepower (202 kW) and paired with a six-speed automatic.