Aston Martin DB12 Volante
The new Aston Martin DB12 Volante adds the elegance and engagement of open-top driving to a class-leading blend of ultra-luxury, power, and sporting dynamics.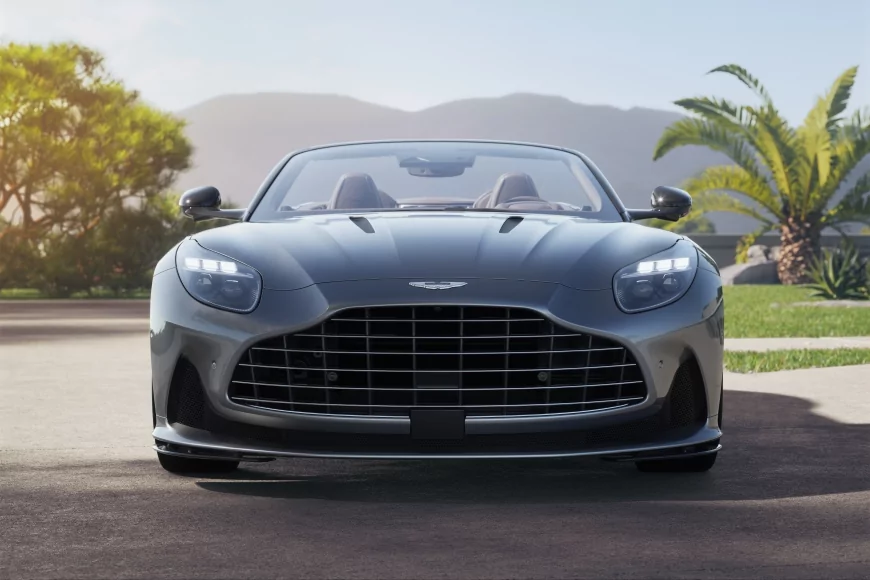 Photos by Aston Martin Lagonda
Companion to the recently introduced DB12 Coupe - the first in the marques' next generation of sports cars, this open-top model combines spectacular Super Tourer performance and handling with the irresistible sensory thrills of roof-down driving. 
The DB12 Volante is the latest addition to Aston Martin's illustrious tradition of high-performance convertibles, a class-defining car of unmatched elegance and sporting character. Advanced technologies and state-of-the-art engineering have revitalized timeless qualities of style and craftsmanship, while the driving experience has been honed to its keenest possible edge.
Developed in parallel with its Coupe stablemate, DB12 Volante boasts the same game-changing design, engineering, and technology advances made by this latest evolution of Aston Martin's most distinguished nameplate. With class-leading power and performance and purebred sports car dynamics, it is a transformative evolution. One that unashamedly positions the DB12 Volante as a proper driver's car first and foremost.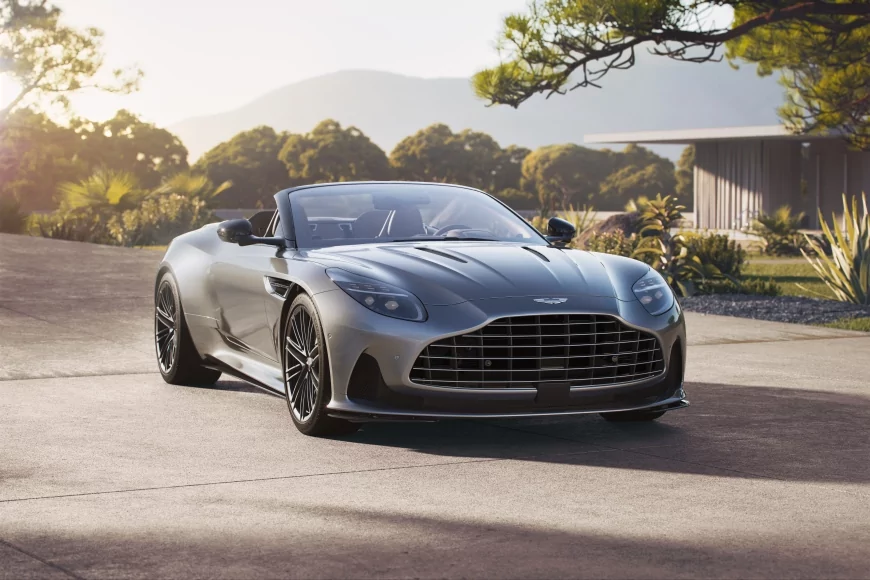 The foundation of this focus on uncompromised performance and handling is the DB12's exceptionally rigid bonded aluminum structure. Not only was this engineered to capably support the new level of dynamics on the DB12 Coupe, but also to deliver the same unrivaled driving experience for DB12 Volante.
To match vehicle-level capability, the focus was on the detailed engineering and specification of all elements of the Volante's underbody. Critical structural components, such as the rear suspension upper mounting points and lateral connections, and performance additions, including the engine cross brace, boost DB12 Volante global torsional stiffness by nearly 5%. 
Of equal importance for vehicle integrity and dynamic performance, the mounting points for all suspension attachments were extensively upgraded laterally (140% on the front axle).
These changes, in line with the development of the DB12 Coupe, allowed the use of a non-isolated steering column and complementary steering and damper tuning to deliver precisely on and off-center steering connection with class-leading linearity of vehicle response.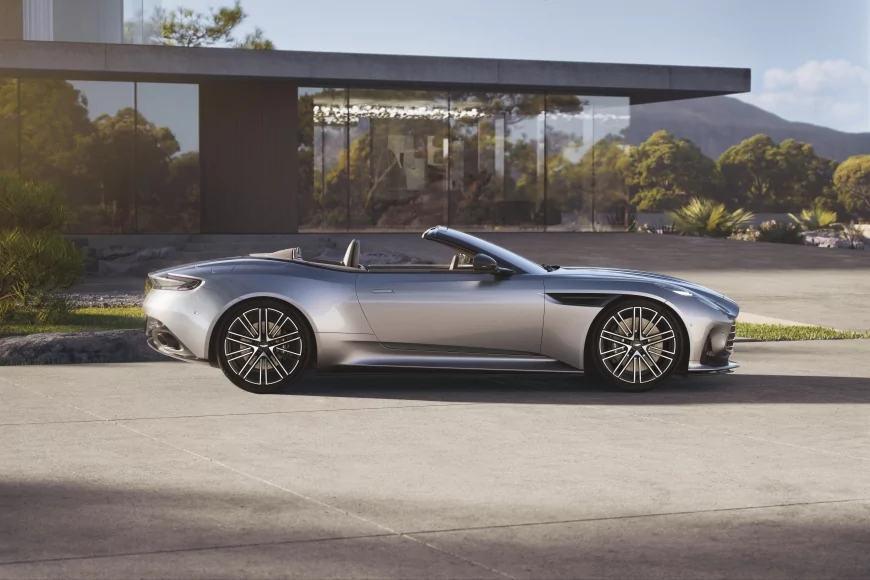 Thanks to changes to underbody components, including the engine cross brace, DB12 Volante sees a 3.7% increase in global torsional stiffness, focussed improvement in lateral stiffness, and gains in suspension performance and refinement. A non-isolated steering column and a stiffer front axle (+140%) improve on and off-center steering feel and an overall sense of driver connection.
The Volante's performance credentials speak for themselves. Best-in-class potency from its 4.0 Twin-Turbo V8 engine endows DB12 Volante with formidable performance and a fabulous soundtrack. Tuned by Aston Martin engineers to deliver class-leading 680PS/671bhp at 6000rpm and 800Nm/590 lb-ft between 2750 - 6000rpm, this exceptional hand-built engine features modified cam profiles, optimized compression ratios, larger turbos, and increased cooling to achieve an increase in output of 34% compared with the DB11. Accelerating from 0-60mph in 3.6 or 0-62mph in 3.7sec and powering on to a top speed of 202mph, the DB12 Volante's performance is truly breathtaking.
Power is fed through a ZF 8-speed automatic transmission, which, like the DB12 Coupe, features a range of shift strategies complimenting each dynamic driving mode. The Volante also uses the same shortened Final Drive Ratio to maximize in-gear punch and Electronic Rear Differential (E-Diff) for the perfect mix of agility when you want it and stability when you need it. With a four-stage ESC and a choice of five pre-defined dynamic modes, the DB12 Volante allows the driver to tailor its behavior precisely.
Other highlights include new generation intelligent adaptive dampers, which have a 500% increase in bandwidth of force distribution compared to previous generation hardware, giving the DB12 Volante a range of dynamic capability and character far above class rivals. Indeed, the main difference between DB12 Coupe and Volante are detailed revisions to the rear spring rate and a dedicated damper tune.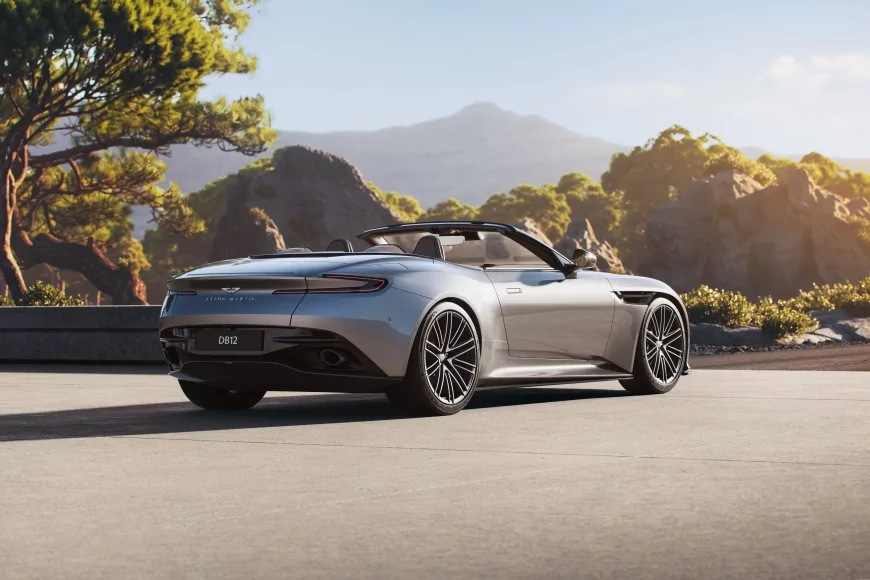 Electric Power Assisted Steering (EPAS) with a non-isolated steering column and constant 13.09:1 ratio rack has a pure and uncorrupted feel with a swift but natural-feeling response rate. Standard 21in forged alloy wheels are fitted with 'AML-coded Michelin Pilot S 5 tires made to Aston Martin's precise requirements. Braking is provided by standard cast-iron 400mm front discs and 360mm rear discs, with an optional Carbon Ceramic Brake (CCB) system offering increased braking performance, reduced brake fade, and a 27kg weight saving in unsprung mass.
The result is a convertible car with an extraordinary breadth of capability. Intense performance and pinpoint handling to enthrall the most demanding driver, combined with the intoxicating pleasure of roof-down driving and supported by the latest connected technology and spectacular surround sound audio system. Together they deliver a genuinely contemporary ownership experience. DB12 Volante exemplifies the new age of ultra-luxury in providing the finest of all things.
Central to the Volante experience is its electrically-operated 'K-fold' roof. Named due to the two-stage folding procedure engineered to achieve a class-leading 260 mm stack height, this exceptional design combines brilliant packaging solutions with maximized luggage capacity, swift operation, and stunning aesthetics.
Featuring eight layers of insulation, the fabric roof canopy is acoustically enhanced for improved interior cabin comfort. When raised, the beautifully sculpted roof line maintains the DB12's immaculate profile. When lowered K-fold mechanism sits low beneath a hard tonneau, cover to create a beautifully elegant tail.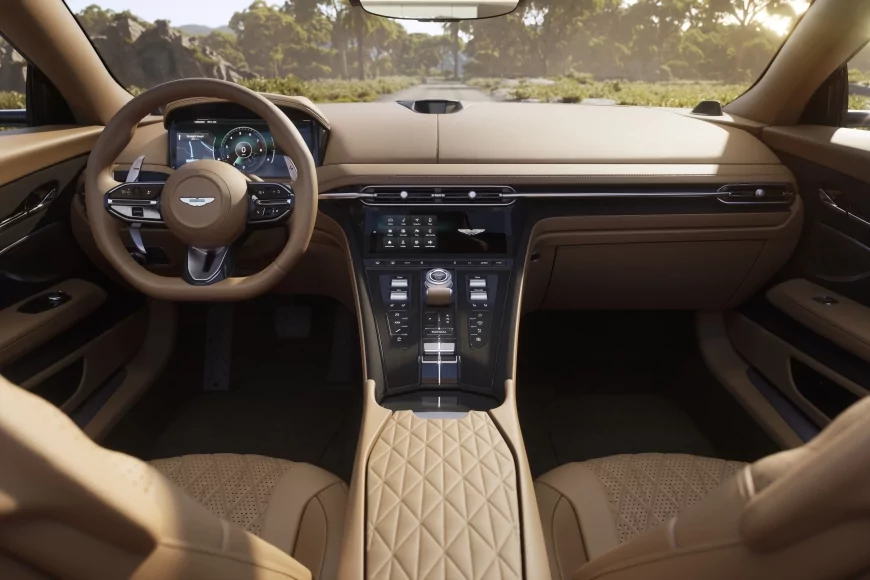 The roof operation takes 14 seconds to open and 16 seconds to close and can be used at speeds of up to 31mph and into a 31mph headwind. For additional convenience and pleasing theatre, the roof mechanism can be operated via the remote keys as long as you are within a two-meter radius of the car.
There are four different exterior hood colors to choose from. Black is standard, selecting Red, Blue, Black, and Silver options. This palette allows for a wide variety of customization and ensures a shade complements the near-endless choice of body and interior colors.
Visually the DB12 Volante puts its unforgettable spin on the Coupe's bold and assertive exterior design. Exploiting the low-line packaging made possible by the brilliant K-Fold roof mechanism, the Aston Martin design team has achieved a sleek and athletic form that looks sensational with the roof raised or lowered. Unlike convertibles with folding metal roofs, the taut fabric hood lends the Volante a distinctive look. Once dropped and concealed beneath the sculpted hard tonneau, the Volante plays its trump card, the sleek uninterrupted beltline giving a tantalizing glimpse of the opulent interior and culminating in a lithe and muscular tail that puts the lumpen efforts of package-compromised rivals to shame.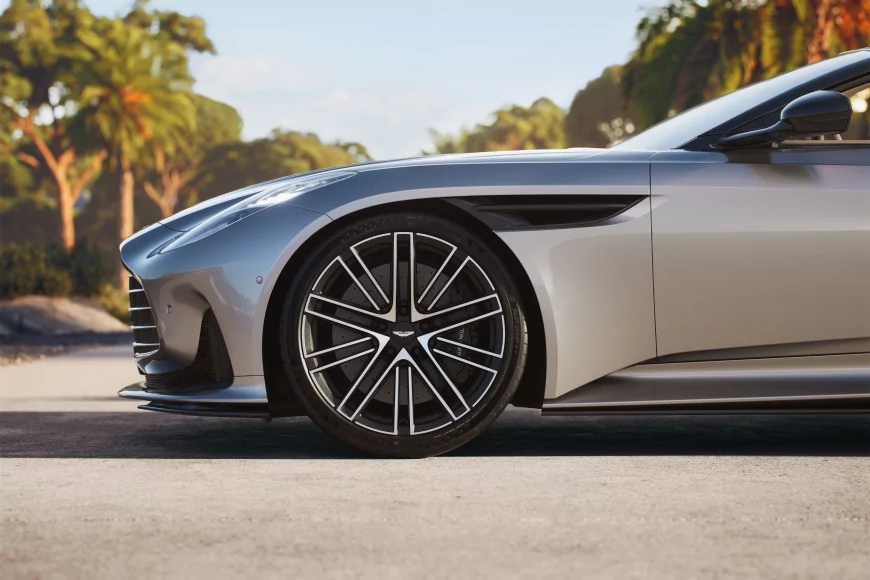 High performance and style are intrinsic to the DB12 Volante, but so are exceptional comfort, quality, and craftsmanship. One delightful detail distinguishes the Volante interior from its Coupe counterpart; wood veneer or carbon fiber panels on the seatbacks matched to the door trim inlay create an extra layer of visual interest and luxury when the roof is lowered. 
This ultra-luxury environment delivers an all-encompassing experience for both driver and passengers throughout. Clean, contemporary design and the finest materials create a look and feel unique to Aston Martin, with the DB12's bespoke infotainment, Bowers & Wilkins surround sound hi-fi, and HMI systems immersing occupants in a fully connected state-of-the-art experience.
The DB12 range is the first to receive Aston Martin's next-generation infotainment system. It is Aston Martin's first in-house system, entirely bespoke and developed from scratch with industry-leading hardware, UI, UX, and audio systems suppliers. A new Aston Martin customer connectivity app also supplements it. Designed for iOS and Android, it allows interaction, control, and feedback to and from the customer's DB12 via their device.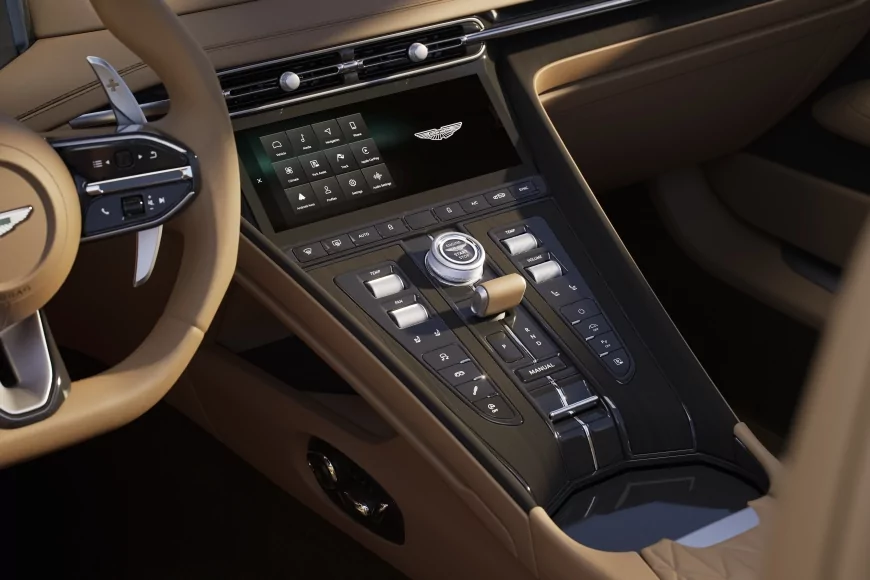 The new system is a fully integrated multi-screen system with full online connectivity. It is displayed using 10.25" Pure Black touchscreen technology with complete capacitive single and multi-finger gesture control. Understanding the need for balance between touchscreen commands and the positive tactility of physical switches, buttons are retained for the vital mechanical operations of gear selection, drive selection, heating, and ventilation. There are also override switches for Chassis, ESP and Exhaust, Lane Assist, and Park Distance Control, ensuring the most used controls are always conveniently to hand.
The all-new navigation system for DB12 features online connectivity for a more intelligent, quicker, and informative experience. The new 3D mapping gives intuitive, explicit instruction with lane guidance and real-time traffic overlays. Connected dynamic routing avoids unnecessary delays, and satellite view is available for those who like to see details, dynamically downloaded to visualize the surrounding area as you drive. And for pinpoint accuracy anywhere in the world, DB12's navigation system and the new Aston Martin connected app feature WHAT3WORDS destination input. With Wireless Apple CarPlay and Android Auto, occupants can access their device applications seamlessly.
The DB12 Volante also offers a new experience in listening enjoyment thanks to Aston Martin's new audio partners, Bowers & Wilkins. The standard-fitment 390w 11 speaker audio system provides a Surround sound mode and employs QuantumLogic's sound processing to create a soundscape and audio performance designed to match DB12 perfectly. For true audiophiles, Aston Martin has developed an optional halo system taking technologies and innovations found in Bowers & Wilkins' world-class domestic hi-fi.
Acoustically engineered for the DB12 interior volume and shape, this 15-speaker, double amplified 1,170W surround sound system features high-performance loudspeakers such as Aluminium Double Dome tweeters and Continuum midrange speakers together with dedicated 3D headline speakers and a powerful subwoofer to immerse occupants in their favorite music.
Q by Aston Martin; the ultra-luxury personalization service allows those who wish to put their stamp on the DB12 Volante. By accessing the skills of Q's designers and craftspeople, customers enjoy a one-off personal commissioning journey that can encompass everything from a single small distinguishing detail to full-scale engineering and production of entirely bespoke components. With Q by Aston Martin on-hand to realize a customer's vision for their ultimate DB12 Volante, the sky is the limit.
Production of DB12 Volante is due to commence in Q3 of 2023, with first deliveries scheduled to begin during Q4 of 2023.