Bentley Bentayga Diesel
The first diesel model in the iconic British brand's history - the Bentley Bentayga Diesel. At the heart of the world's fastest and most powerful luxury diesel, SUV is an all-new triple-charged, 4.0-liter 32-valve V8 engine.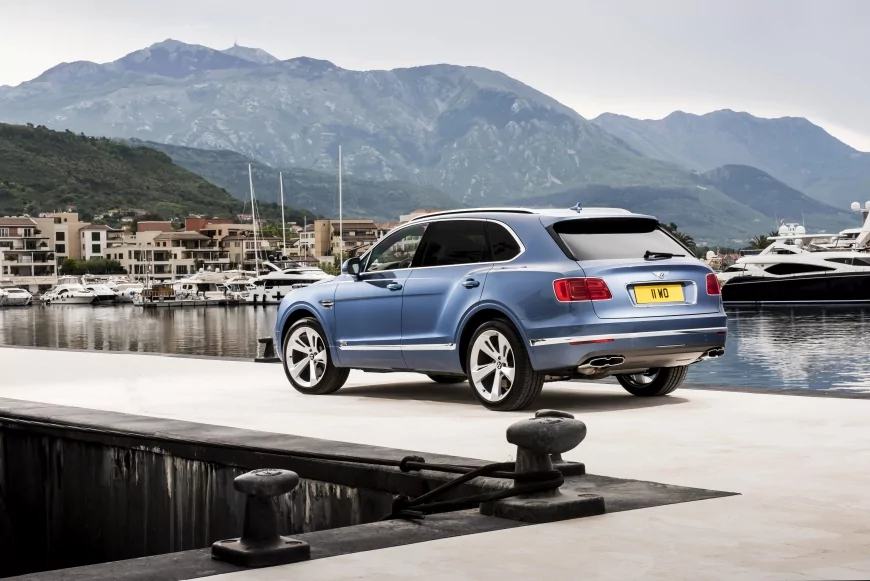 Photo by Bentley Motors
New clean technology gives the Bentayga Diesel the lowest CO2 emissions of any Bentley, as well as a range of over 1,000 km (621 miles) - allowing owners to, for example, drive from London to Verbier, Bordeaux or the Scottish Highlands on a single tank.
Inside, the Bentayga Diesel retains the innovative features, advanced technologies, and handcrafted luxury for which the Bentley Bentayga is renowned.
Wolfgang Dürheimer, chairman and chief executive of Bentley Motors, said: "The Bentayga Diesel represents a moment of immense significance in Bentley's history, by giving the world its fastest luxury diesel SUV. Immense power, grand touring capabilities, and superb refinement - this is a true Bentley. Only Bentley could produce a car so powerful, yet so refined."
Clean, Powerful Performance - V8 Engine Offers Sublime Capability
The Bentayga Diesel retains the dynamic performance of the Bentayga W12 while introducing clean technologies and enhanced range.
The next-generation 4.0-liter V8 engine, mated to a ZF eight-speed automatic transmission, develops a class-leading 435 PS (429 bhp) and 900 Nm (664 lb. ft.) of torque. Variable-geometry, sequential twin-scroll turbochargers are powered by the exhaust gases, while a third electric supercharger - powered by Bentley's innovative 48V system - spools up within 30 microseconds to eliminate turbo lag. The effect is effortless, seamless power delivery across the entire engine-speed range - the quintessential Bentley driving experience.
An immense amount of torque is available from very low speeds, with peak torque achieved from just 1,000 rpm, for both seamless on-road performance and exemplary off-roading ability. The immediate flow of power complements the traditional, class-leading refinement and performance customers have come to expect.
The new model has also been made with a number of specific developments to provide peerless refinement. For example, the bespoke exhaust system has been acoustically engineered to be as quiet and refined as possible.
The addition of Selective Catalytic Reduction contributes to lower nitrous oxides. Combined with Bentley's stop-start system; class-leading CO2 emissions of 210 g/km; and an impressive range of over 1,000 km between fuel stops, this technology puts the Bentayga Diesel at the forefront of advanced engine efficiency.
Contemporary, Luxurious British Design
The Bentayga Diesel demonstrates the same authentic and modern British luxury design as its W12-powered stablemate, while also benefitting from a number of unique styling additions.
A V8 Diesel badge is embedded on the lower front door edge, complemented by a new Bentley 'twin-quad' exhaust tailpipe design, which provides a further subtle reminder of the new engine specification.
Further distinctive external styling cues include a bold, black matrix grille with chrome surround and central bar, which serves as a signature for the powertrain that lies behind. A new optional Mulliner Driving Specification 21" wheel - available in a silver or grey painted finish (the latter with machined accents to the spoke and rim) - can be specified, with a 20" ten-spoke alloy wheel offered as standard.
The Bentayga's cockpit sets new standards for both luxury and precision, with meticulous tolerances between the exquisite veneered woods and metal elements.
The hand-selected veneers - including a new Liquid Amber finish introduced with Bentayga Diesel - form pure and elegant surfaces throughout the cabin. Each of the 15 pieces is shaped by Bentley's artisans and finished with trademark Bentley's attention to detail.
As with all Bentleys, the Bentayga Diesel can be handed over to the highly skilled craftspeople at Mulliner, Bentley's bespoke coachbuilding department, who will respond to individual customer requirements.
The Bentayga is available with an exquisite integrated Mulliner Hamper Set, complete with refrigerator, bespoke fine Linley china cutlery, crockery and crystal glass, and storage area for dry goods. For comfort in the great outdoors, sections of the hamper can be removed and used as seats.
A bespoke mechanical Mulliner Tourbillon by Breitling clock can also be specified. The most complex of watch mechanisms, the Mulliner Tourbillon is automatically wound periodically by a dedicated high-precision winding mechanism within the car. This masterpiece is machined in solid gold (customers can select from either rose or white gold), with a choice of either a mother-of-pearl or black ebony face and decorated with eight diamond indexes.