Critical Realism & Stored Experiences by Alexander Church
Alexander Church goes solo for the latest installment in his excellent Configurations of Self series. Gai Barone and Vincenzo offer remixes.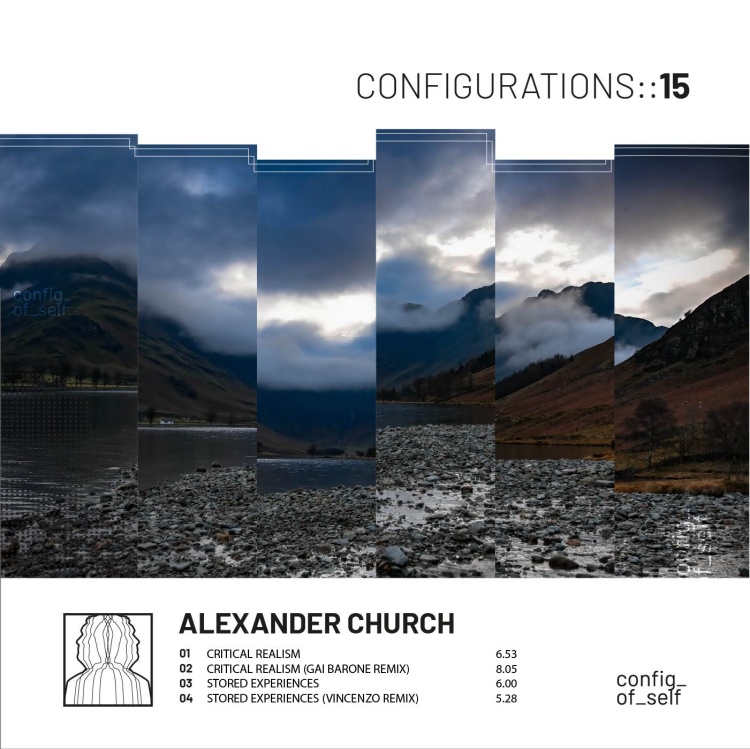 Art by Configurations of Self
This label has become a bastion of techno innovation thanks to Church's always forward-thinking sounds. They come after 20 years in the scene which has seen him make everything from melodic soundscapes to industrial techno under a range of aliases. The deep thinking producer who also runs the Life Scripts label often collaborates with James Welsh but goes solo for this latest EP.
Church kicks off with "Critical Realism", a deep electronic track steeped in synth mysticism. The buried drums roll the track forward, while lush pads and arcing chords make for grand architecture. Remixer Gai Barone has rightfully earned his place as a leading figure in the progressive house and trance scenes. The Italian has a long history and brings all that to his excellent remix of "Critical Realism". It is a cavernous rework with bottomlessly deep and dubby drums. Wispy pads suspend you in mid-air, and a soft acid line runs through the whole elegant tune to mesmeric effect.
The second original is "Stored Experiences". It is built on a crisp beat that rocks back and forth and firmly locks you in. Eerie pads weave their way in and out, and the bold bass notes add weight to this most inviting of mid-tempo atmospheres. Remixing is Dessous label regular and house mainstay Vincenzo. He is a real allrounder that can do deep, soulful, or electrifying sounds with equal style. His innovative version is a haunting and late-night house roller. Gurgling pads, brighter chords, and muffled bass all intertwine to make for a meditative groove.
Alexander Church - Critical Realism & Stored Experiences
Release Date October 2021
Label Configurations Of Self
Tracklist
1. Critical Realism
2. Critical Realism (Gai Barone Remix)
3. Stored Experiences
4. Stored Experiences (Vincenzo Remix)