Dream Colour by Circle Sky
Electronic music maestros Richard Norris and Martin Dubka are to release Dream Colour, a much-anticipated debut album under their Circle Sky alias.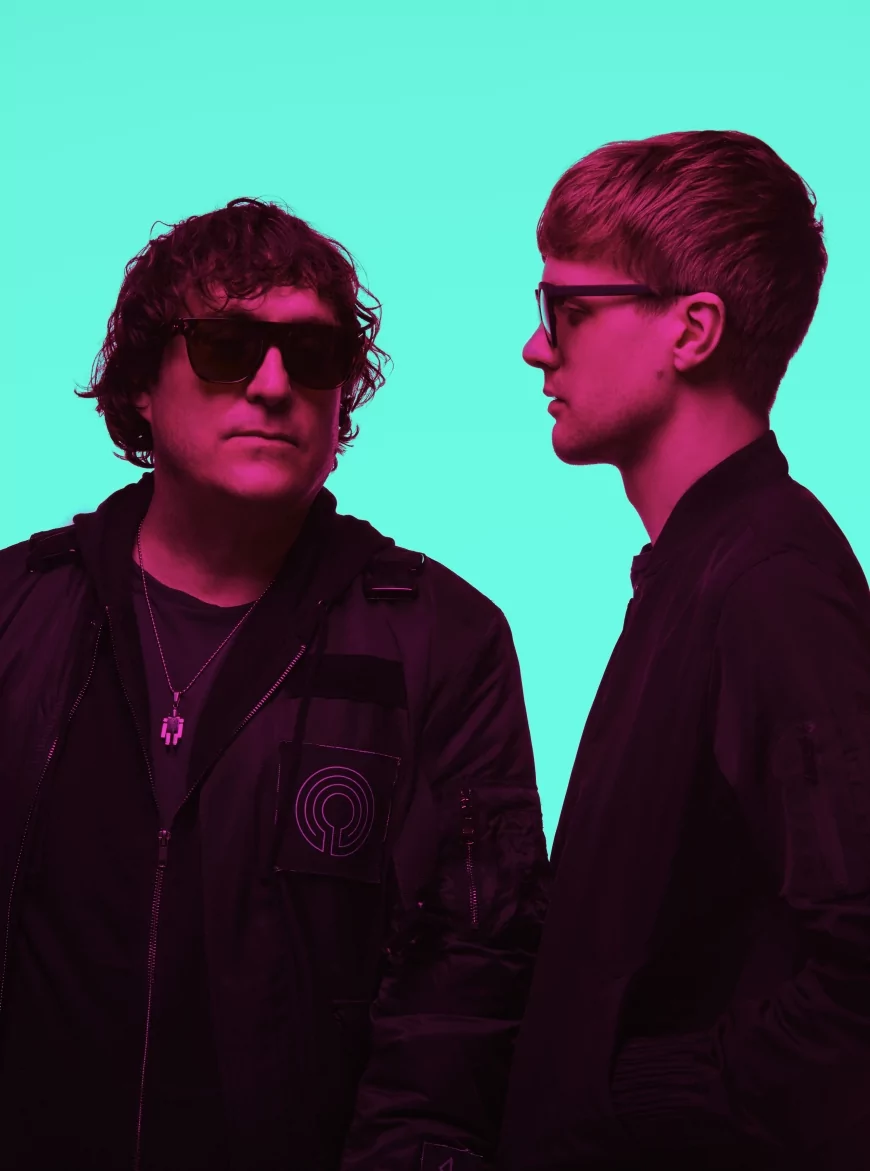 Photo by Richard Stow
Norris and Dubka met when the latter joined the bill at one of Richard's renowned "Throne of Blood" events in Shoreditch, bringing along his array of modular synths for an improvised electronic live set. Richard Norris has a long and revered history in electronic music, from his seminal work as The Grid alongside Soft Cell's David Ball, through work with the Pet Shop Boys and Bryan Ferry to his partnership with Erol Alkan as Beyond the Wizard Sleeve. He has been a true pillar of the UK scene. Martin Dubka is a highly respected producer who has worked with artists including Ali Love and Lou Hayter.
As Circle Sky, the pair are found most nights of the week locked away in an abandoned space in London's docklands. It is there that they construct music that is live and improvised for endless hours, each song embracing sonic hypnosis, twisted loops, and human emotions with an array of tomorrow's electronic equipment. When this accomplished pair play, the analog warmth of the past meets the most advanced digital technologies and results in music to get lost in, melodies to sing, music to dance to. The first single "Love Hertz" was released on Valentine's Day 2019 and re-released on Valentine's Day 2021 after something of a hiatus. Now though, the pair is back with a bang.
Circle Sky opens up with the bittersweet cosmic disco of "If I Let Go", a track with aching vocal hooks and bright melodic motifs tumbling through a night sky over slinky grooves. The slightly darker "Ghost In the Machine" ups the ante with its twinkling lights and hypnotic beats wrapping around each other to a beautifully hypnotic effect. There are plenty of irresistible hooks and charming pop sensibilities to "Holding On" with its dreamy vocal sounds and expansive rhythms. The title track picks up the pace with a more heads-down and rooted groove that marries warm, pulsing bass with skittish electro beats and more lush vocal elements.
The exquisite "E23" is a fine centerpiece that takes you on an undulating electronic journey through modulated synth phrases and silky beats and bass. It's a track to get lost in during the dead of night, while the super single "Love Hertz" is a go-slow jam with leggy drum work and the sort of warm, diffuse chords that melt any heart. After the soothing cosmic ambiance of 'White Lodge' come the subtle but celebratory chords and heavenly vocal harmonies of "Your Name", which cannot fail to lift the spirits. The emotional highs continue with "Salvation", which layers rolling rubber drums underneath bright starry skies and yawning chords that sink you in deep. The fantastic "Home" closes with sad robots singing over more heart-warming chords and mid-tempo grooves that send you off filled with hope and optimism.
Dream Colour by Circle Sky is an exquisite album of emotive machine music that brims with character and genuine human feelings from front to back.
Circle Sky - Dream Colour
Release Date October 2021
Label Research & Development
Tracklist
01. If I Let Go
02. Ghost In the Machine
03. Holding On
04. Dream Colour
05. E23
06. Love Hertz
07. White Lodge
08. Your Name
09. Salvation
10. Home