Eastern Electrics Festival reveal the plans
Eastern Electrics Festival reveal plans for high-jinks at this year's Electric City with Flash Daddy, Tropical Tea Party, Magic Door, and the Funk School Disco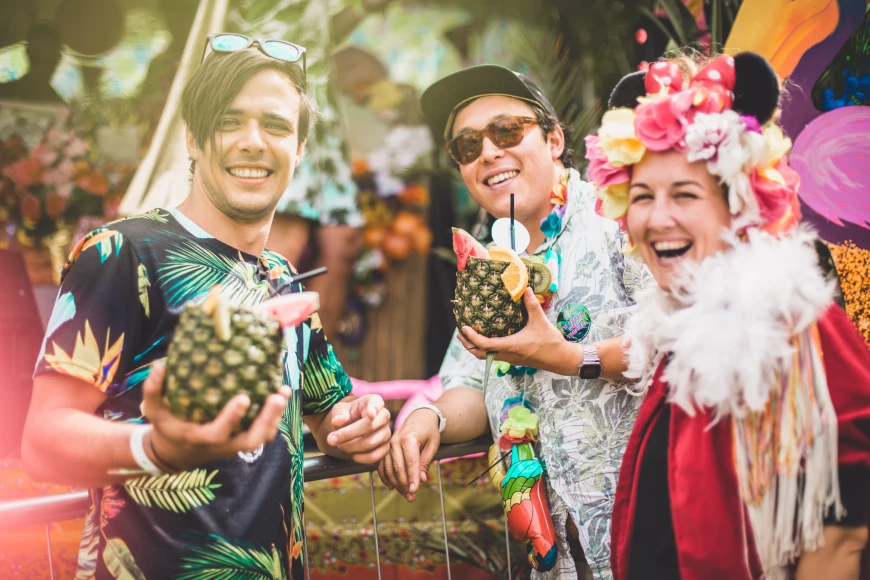 Photo by Eastern Electrics Festival
With the clock ticking until the doors open for the 2015 edition of Eastern Electrics Festival, the infamous party starters announce the full schedule of non-musical high-jinks set to take place on Saturday August 1st. Taking the madness to a next level, the EE crew are going all out with extra curricular activities, with secret raves and mischievous glitter-doused fun with Magic Door gang, plus Tropical Tea Parties, Funk School Discos and even the worlds first uglyproof photobooth Flash Daddy. With over seven years experience creating the baddest parties in the capital, Eastern Electrics this year will deliver full on debauchery and dress-up antics soundtracked by the house, garage and techno elite.
 
Unadulterated fun is the theme of the day, as Okuru Events present a paradise of light and colour with their Tropical Tea Party. Part rave and part cocktail bar, TTP bring a carnival vibe with palm tress, flamingoes and Hawaiian shirts. There'll be no shortage of glitter as Birmingham faves Magic Door head to Hatfield with their brand of psychedelic disco, party experiences notorious for fancy-dress fun and guest DJs in secret locations.  
 
For a souvenir like no other visit swag lords Flash Daddy at the 'worlds first uglyproof photobooth' for a makeover packed with gold, leopard print and spandex, plus a photo memory to take away. And for ravers wanting to get glam, lippy ladies Miss Lippy are armed with glitter pallets and paint brushes for all your beauty needs. Back to the music, By The Rivers bring a reggae and ska twist to the Electric City, plus Funk School Disco revitalise their parents vinyl collections with a spin on nu-disco and classic sounds.
 
Fast becoming known as the biggest celebration of house and techno in the UK, Eastern Electrics Festival unites the most celebrated artists from the underground across eight stages. The EE main stage brings groove master Joris Voorn, Panorama Bar resident Cassy, tech house don Matthias Tanzmann and Guti together for a global extravaganza, plus Nick Curly, FUSE bossman Enzo Siragusa and innovator Jamie Jones stepping up for the headline slot. Skream takes over the Big Top with a full crew in place for Skreamizm including  Boddika, Midland, Floorplan, Richy Ahmed, Jasper James and the man himself. Eastern Electrics institution The Switchyard will host tINI and her gang - Bella Saris, Delano Smith and Jichael Mackson, plus FUSE residents Seb Zito & Rossko and DJ collective Die Holländer from Berlin's Club De Visionaire.
 
Sankeys presents a killer line-up headlined by Steve Lawler, and Hot Creations family Miguel Campbell plus a selection of underground talent including Sidney Charles, Santé, plus beloved residents Jozef K and Manu Gonzalez. UK revolutionaries Black Butter Records bring a bassier edge with garage pioneer DJ EZ as well as Black Butter break out stars, Melé, My Nu Leng, Applebottom, Woz, Wayward and Tazer. Decadency comes in troves from XOYO & Sink The Pink 'Gloria's Cabaret' featuring Totally Enormous Extinct Dinosaurs and his eclectic boogie selections, plus Citizenn, Crazy P and Godfather of House Lil Louis. Severino, The 2 Bears and newcomer Joshua James all join forces with the London Queens. At the Star of EE pub you'll find musical legends Matt Jam Lamont, Mike Skinner and more, whilst disco thrills will preside over the VIP area with the Kubicle crew representing with special sets from Miguel Campbell, Geddes and many more selectors bringing the vibes from day through to night.
FULL LINE UP
Eastern Electrics Main Stage
Jamie Jones / Joris Voorn / Cassy / Matthias Tanzmann / Guti (Live) / Nick Curly / Enzo Siragusa
 
Skreamizm hosts the Big Top
Skream / Boddika / Midland / Robert Hood presents Floorplan / Richy Ahmed / Jasper James
 
tINI and The Gang in the Switchyard
tINI / Bella Sarris / Delano Smith / Jichael Mackson (Live) / Seb Zito & Rossko / Die Holländer
 
Sankeys
Steve Lawler / Miguel Campbell / Sidney Charles / Santé / Jozef K / Manu Gonzalez
 
Black Butter Records in The Forest
DJ EZ / Melé / My Nu Leng / Applebottom / Woz / Wayward / Tazer
 
XOYO & Sink The Pink present Gloria's
Totally Enormous Extinct Dinosaurs (DJ Set) / Citizenn / Crazy P (DJ Set) / Lil Louis / Severino / The 2 Bears (DJ Set) / Joshua James
 
Star of EE Pub
Matt Jam Lamont / Mike Skinner / Jon Carter / Waifs & Strays / Jaymo & Andy George / Ryan O Gorman / Michael Bibi / Two and Eight / Capulet /Jordan Mina
 
Kubicle VIP Disco
Miguel Campbell (hip hop set) / Matt Tolfrey & Geddes (back2back) / Remi Mazet / Robert Outch / Andrew Baxter / Johnny Hunter
Tickets
All Tickets are now almost completely SOLD OUT. Final Standard Tickets available at 59.95 GBP. VIP Tickets 79.95 GBP.