Lamborghini Centenario Roadster
One-off limited edition of 20 roadsters following the introduction of the coupé, all sold, at a start price of 2 million euros plus tax. So you can't get one.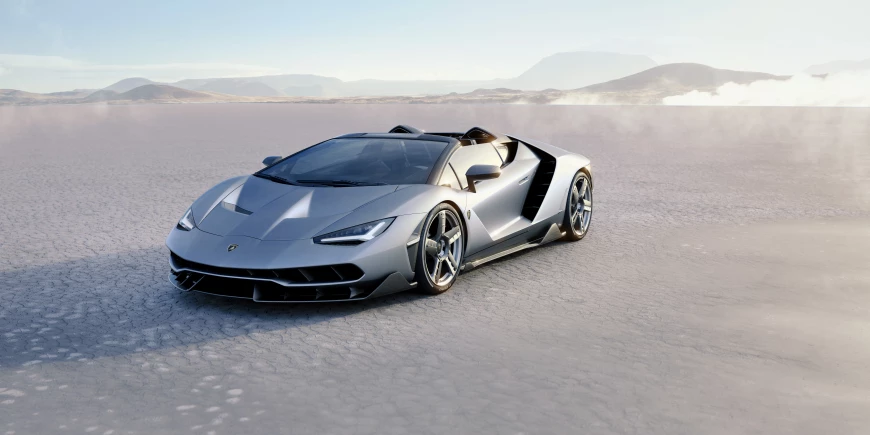 Photo by Automobili Lamborghini
Following the introduction of the Centenario Coupé, Lamborghini unveiled the open version of its latest one-off creation to fervent collectors and enthusiasts at Monterey Car Week in California on the occasion of the event "The Quail, A Motorsports Gathering". A natural successor to its coupé counterpart, the Centenario Roadster is also limited to 20 units worldwide and represents a true illustration of Lamborghini's commitment to advancing automotive design to new, inspirational heights.
"Lamborghini prides itself on the relentless pursuit of experimentation. We are proud to unleash Centenario's further potential in the form of a classic roadster; the perfect harmony between innovation and timeless design. This unique engineering achievement is a befitting tribute to Lamborghini's extraordinary past and a preview of its brilliant future. Centenario Roadster embraces the cutting edge characteristics of its coupé sibling and embraces the freedom of a true open-top super sports car for a pure drive experience" Stefano Domenicali, Automobili Lamborghini Chief Executive Officer, said.
The Italian icon continues to honor the centenary of its dynamic founder, Ferruccio Lamborghini, with this special commemorative series. Designers were given the freedom to create an open design that embodies the progressive qualities of Lamborghini's visionary founder and shines in an elegant environment. This next-level Roadster embodies a new design direction for Lamborghini accentuated by clean surfaces and superb reflections as "form follows function" - true to Lamborghini's core design DNA. Centenario's silhouette features low overhangs in the front and rear creating a clean, sensuous, mono-body shape.