Lamborghini loans monocoque to European Patent Office
Lamborghini Aventador LP 700-4 carbon fiber monocoque on display at the European Patent Office in Munich.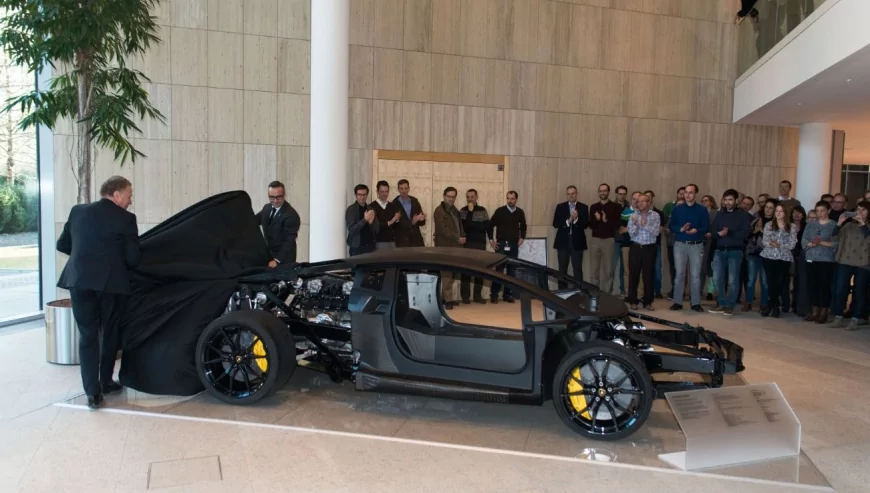 Photo by Automobili Lamborghini
Automobili Lamborghini has loaned its carbon fiber monocoque rolling chassis, of the Lamborghini Aventador LP 700-4, to the European Patent Office of Munich, Germany for a special event also attended by Luciano De Oto, Head of Advanced Composite Research Center.
The rolling chassis exhibition highlights the leading edge position that Automobili Lamborghini holds in carbon fiber composite materials technology, and is testimony to the many years of liaison between Lamborghini and the European Patent Office (EPO).
The EPO is an intergovernmental organization through which Automobili Lamborghini has applied for numerous patents, including those related to the production processes of carbon-based materials such as Forged Composite®, CarbonSkin®, and CarbonFlex® and other innovative technologies on the Aventador LP 700-4.
The monocoque of the Lamborghini super sports car is "single shell". Different to other solutions, it combines the cockpit, floor, and roof of the carina single structure, ensuring high torsional stiffness and thus maximum performance in terms of dynamic behavior and passive safety. The monocoque module weighs only 147.5 kilograms.
Automobili Lamborghini is the only automotive manufacturer that manages the entire process of carbon fiber machining internally: from the 3D design to the computerized simulation, production, testing, and quality control and repair service by Flying Doctors, all taking place within an ultra-modern industrial process of the highest quality.