Monkey Ice Cream EP by Darksidevinyl
The release, Monkey Ice Cream EP by Darksidevinyl, features one solo track and one track with producer Theus Ferreira and vocalist and lyricist Ayah Tlhanyane.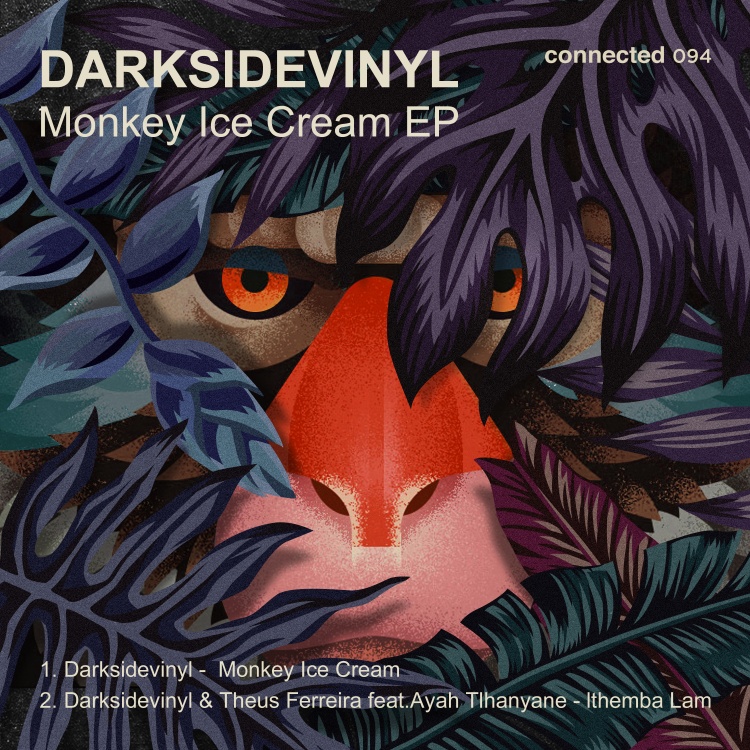 Art by connected
Darksidevinyl is currently based in Greece but hails from Egypt and has spent time in St. Petersburg and Vienna. He brings rich Afro qualities, captivating melodies, and stylish contemporary grooves to his work on labels like Mo Black, Go Deeva, and Selador. Once again here he explores fresh new ground from a unique perspective.
The opener "Monkey Ice Cream" lays down sparse drums and interlocking percussion with lush pads and chugging Moog bass. A subtle spoken word vocal draws you in deeper after the drop as a more dance floor-orientated groove evolves with pulsing angular arps and tablas. It is pure electronic perfection.
On "Ithemba Lam," Darksidevinyl pairs with Brazilian DJ and producer Theus Ferreira and regular partner and South African vocalist and lyricist Ayah Tlhanyane. There is lots of space surrounding the drums and wandering bassline as the soul-searching vocals ring out over resonant chords and bluesy piano refrains. Like the telling of a story, the music opens and closes, rises and falls with a mixture of free organic sounds and slick digital sequences.
Darksidevinyl - Monkey Ice Cream EP
Release Date January 2022
Label connected
Tracklist
1. Darksidevinyl - Monkey Ice Cream
2. Darksidevinyl & Theus Ferreira feat. Ayah Tlhanyane - Ithemba Lam