Montreux Jazz Festival 2016
The Montreux Jazz Festival is as diverse as it is a festival one simply can't miss. 2016 marks the 50th anniversary of the festival in Montreux, Switzerland.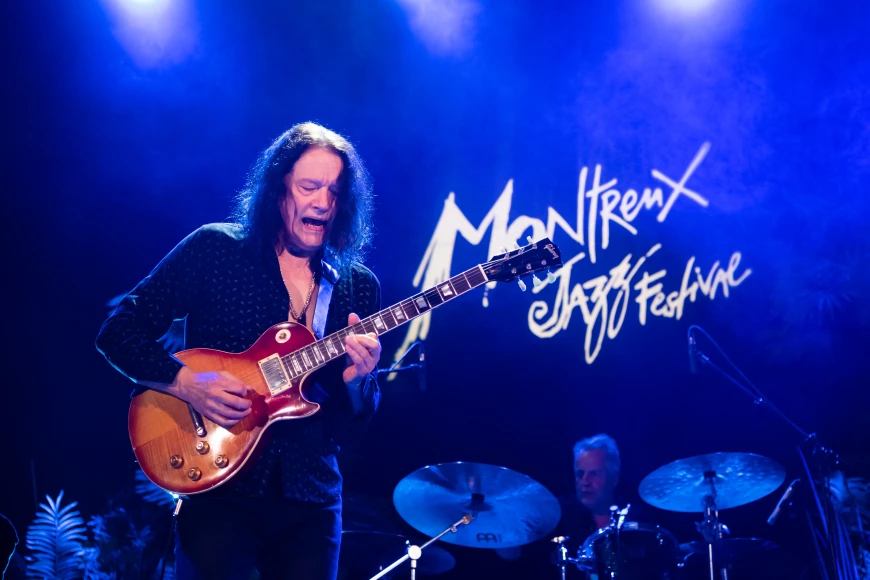 Photo by Lionel Flusin/Montreux Jazz Festival
Over 50 years the Montreux Jazz Festival has become a singular rendezvous in the world of music. For this edition, the Festival intends to tell its story and affirm its values and specificities in order to better project itself into the future. From its creation in 1967 by Claude Nobs, who would have turned 80 this February 4th, the Festival rapidly earned a reputation for fantastic concerts, unbelievable artistic collaborations, rare moments, improbable anecdotes, audacity, ambitious projects, and impulsive decisions.
The Festival has welcomed legendary artists into its idyllic embrace. Some, like Prince and Deep Purple, contributed to penning the legend of Montreux through their songs, while others, like David Bowie, Nina Simone, and Freddie Mercury came and lived in the region, or recorded albums here. The Festival has mixed all musical genres and discovered and nurtured talented young artists, carving out a permanent mark on the world map and in the hearts of the public. The Festival continues today to bring to life the unreasonable dreams of its founder.

Lineup
A Bu / Air / Al Jarreau Duo / Alfredo Rodriquez / Alina Engibaryan / Allah Las / Angelique Kidjo / Anohni / Antonio Farao / Apollonia / Aruan Ortiz Trio / Asap Ferg / Asgeir / Aurora / Avishai Cohen / Basia Bulat / Beirut / Bill Evans / Bireli Lagrene / Black Coffee / Brazilian Dream / Buddy Guy / Cecile Mclorin Salvant / Charles Bradley / Charles Lloyed New Quartet / Chico Freeman Plus Tet / Christian Scott / Curtis Stigers / Darryl Jones / Daughter / Dave Holland / Deep Purple / Dennis Chambers / Dj Shadow / Ernest Ranglin / Feu Chatterton / FKJ / Floating Points / Flume / Four Tet / Francois Lindemann / French Quarter / Future / Gary Willis / Georgio / Glen Hansard / Gogo Penguin / Gramatik / Gregoire Maret And The Inner Voice Ensemble / Grimes / Halos / Harold Lopez Nussa Trio / Jack Broadbent / Jacob Collier / Jamie Cullum / Jamie Jones / Jean-Michel Jarre / Jeanne Added / Jiro Rantala / John Mclaughlin And The 4th Dimension / Jose Gonzales / Kenny Barron / Keren Ann / Kiasmos / Kurt Vile And The Violators / Lana Del Rey / Laolu / Laurent Garnier / Lenny White / Lisa Simone / Lou Doillon / M83 / Mac Demarco / Mandekan Cubano / Manu Katche / Marcus Miller / Matt Corby / Max Cooper / Max Jury / Meshuggah / Mhd / Mike Stern / Moderat / Mogwai / Montreux Jazz Academy Project / Monty Alexander / Mura Masa / Muse / Nathaniel Rateliff And The Night Sweats / Neil Young / Nekfeu / Other Lives / Patti Smith / Pedro Martins / Petit Biscuit / Pj Harvey / Pnl / Quincy Jones / Rag'n'Bone Man / Randy Weston / Richard Bona / Robben Ford / Ry X / Santana / Scofield Mehldau Guilana / Selwyn Birchwood / Shemekia Copeland / Sigur Ros / Simply Red / Slayer / Steps Ahead / Ulf Wakenius / Vald / Van Morrison / Vintage Trouble / Volcan / Woodkid / Zappa Plays Zappa / ZZ Top