Rolls-Royce Ghost
More than six years ago, a team of luxury intelligence specialists, designers, engineers, and craftspeople assembled to begin the development of the new Rolls-Royce Ghost.
Photo by Rolls-Royce
Post Opulent design
As with the first Goodwood Ghost, launched in 2009, this collective would work obsessively to ensure that New Ghost would hold its own place in the Rolls-Royce portfolio and represent a unique set of client values.
Since the introduction of Ghost, which became the most successful Rolls-Royce in history, the marque's unique proximity to its clients afforded the team access to a large body of information. It revealed the divergent interests, opinions, and changing taste patterns within Ghost clients' appreciation of luxury. This primary research allowed them to create a product focused on the requirements of these remarkable men and women. These insights informed the designers, engineers, and craftspeople at Rolls-Royce as they moved into the development phase of the highly progressive new Ghost.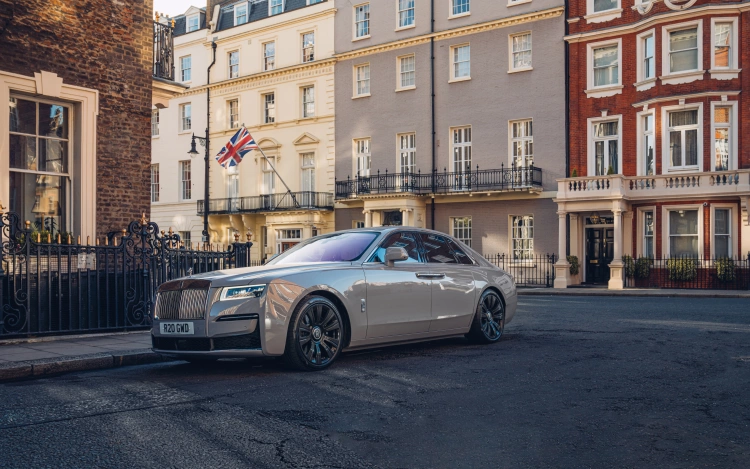 Moving forward
The first Goodwood Ghost reflected a layer of clients who use their Rolls-Royce in a completely unique way.
When these clients were informed that Rolls-Royce would begin developing a new Ghost, their request was simple: deliver a motor car that they could use even more; something even more refined to be driven in and even more enjoyable to drive.
To fulfill this challenging brief, Rolls-Royce's engineering experts rejected the use of a pre-existing platform. Instead, they configured the marque's proprietary spaceframe architecture to incorporate elements of the brand's existing model portfolio such as all-wheel drive and all-wheel steering, while adapting the structure to accommodate significant advances in Rolls-Royce's hallmark magic carpet ride and dynamic abilities.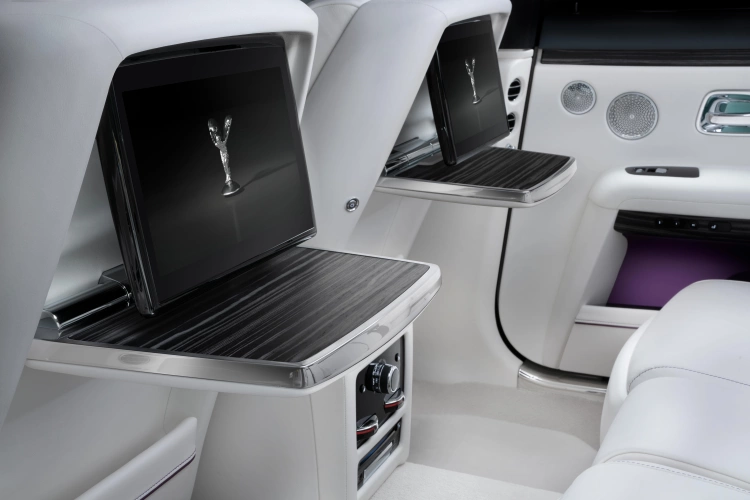 Formula For Serenity
When reviewing client feedback from the first Goodwood Ghost, it was clear that its cocooning, near-silent acoustic properties were of the utmost importance. These men and women operate in complicated business worlds and value the sense of calm and wellness that their Rolls-Royce creates. Therefore, in creating the new Ghost, the marque's team of acoustic specialists was obsessively focused on this highly complicated engineering task.
To achieve a sense of absolute serenity, the acoustic team began by adapting the marque's proprietary aluminum spaceframe architecture, which itself offers benefits owing to the metal's higher acoustic impedance compared with steel and its construction from complex forms rather than flat, resonant surfaces. A double-skinned bulkhead section was selected to insulate the cabin from the already near-silent 6.75-liter V12 engine and cavities in the roof, boot, and floor were created to fill with more than 100kg of sound-absorbing materials. Additionally, double-glazed windows with a clear composite center sheet were used as well as tires lined with lightweight acoustic insulation foam.
Once the sound stage was created, every component was obsessively interrogated for its acoustic properties. Those that produced unacceptable levels of noise were discarded and completely redesigned at the Home of Rolls-Royce in Goodwood, West Sussex, to better serve the client's desire for serenity. Even the inside of the air conditioning ducts was smoothed to better insulate clients from intrusive noises.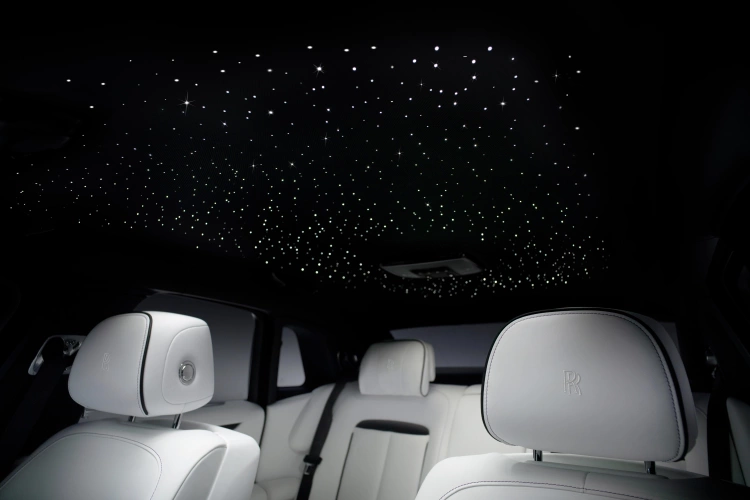 Illuminated nameplate and star cluster first Bespoke feature for the new Ghost
Developed over the course of two years and more than 10,000 collective hours, Illuminated Fascia brings an ethereal glowing Ghost nameplate surrounded by more than 850 stars into the interior suite of the new Ghost. Located on the passenger side of the dashboard, the constellation and wordmark are completely invisible when the car is not in operation. This world-first Bespoke innovation subtly echoes Starlight Headliner, which has become as much a part of Rolls-Royce iconography as the Spirit of Ecstasy, Pantheon Grille, and Double R monogram.
Illuminated Fascia was formed following the marque's decision to pursue a Post Opulent design direction with new Ghost: itself, a direct response to feedback provided by Ghost clients prior to the motor car's development. Busy, superficial detailing was rejected in favor of more refined means for customers to realize their Bespoke visions. In this spirit, the Bespoke Collective chose not to use simple screen technology to achieve the effect they desired. Instead, they embarked on creating a highly complex and authentic true luxury innovation.
The illumination itself is achieved by way of 152 LEDs mounted above and beneath the fascia, which are meticulously color-matched to the cabin's clock and instrument dial lighting. To ensure that the Ghost graphic is lit evenly, a 2 millimeter-thick light guide is used, featuring more than 90,000 laser-etched dots across the surface. This not only disperses the light evenly but creates a twinkling effect as the eyes move across the fascia, echoing the subtle twinkle of the Starlight Headliner.
The stars travel with you
The collective result is the new Rolls-Royce Ghost. This is a motor car precisely tailored to its clients, that appears perfect in its simplicity, that is underpinned by remarkable substance, that is less but better.