Spirit of Ecstasy - The Story
The Spirit of Ecstasy has graced the prow of Rolls-Royce motor cars since 1911. Today, she remains one of the world's most famous symbols, a true icon embodying beauty, luxury, style, and perfection.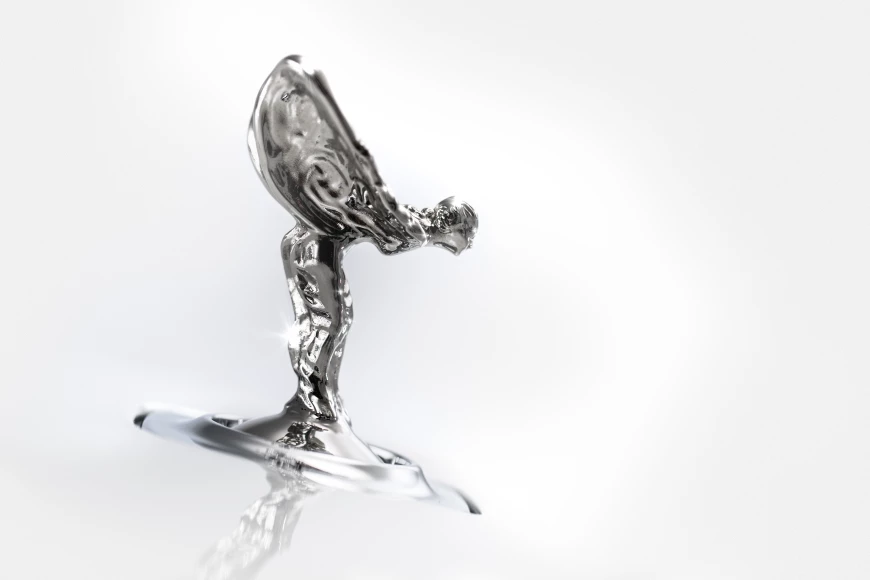 Photo by Rolls-Royce Motor Cars
In a company that always seeks to innovate, the "Flying Lady" is one of the few things that has remained constant. There could be no more fitting symbol for the feats of engineering, works of art and objects of desire that constitute the world's finest motor cars.
The Lady Behind the Legend
Lord Montagu of Beaulieu was one of Britain's motoring pioneers. As founder and editor of The Car Illustrated magazine, he employed an illustrator, Charles Sykes, and a private secretary, Eleanor Valesco Thornton.
In 1909, Lord Montagu commissioned Sykes (who was also a sculptor) to make a mascot for his Rolls-Royce Silver Ghost. Using Eleanor as a model, Sykes produced a bronze statue of a young woman in fluttering robes, which he named "The Whisperer". The figure is holding a finger to her lips, which some claim is a reference to Lord Montagu's close relationship with Eleanor. Others suggest, more prosaically, that it relates to the engine's quietness.
Whatever the truth, "The Whisperer" went on to adorn every Montagu Rolls-Royce. Soon, other owners were having their own ornaments made, much to the displeasure of Rolls-Royce General Managing Director Claude Johnson. In 1911, he commissioned Sykes to make an "official" mascot to protect the company's products from these unsightly additions. The ever-practical Sykes subtly reinterpreted The Whisperer and created what became known as the Spirit of Ecstasy.
Sykes' original design has evolved over the years. Originally seven inches tall, she's now a more petite three inches high and made from many materials. In 1934, Sykes created a kneeling version for the Sports Saloon, which also graced the Silver Wraith and Silver Dawn into the 1950s.
In the 1970s, some countries tried to ban the Flying Lady on safety grounds. In Switzerland, for example, customers weren't allowed to display her at all, and on receiving their cars found her languishing in the glove compartment! Rolls-Royce's typically elegant and ingenious solution was to mount the mascot on a spring-loaded base, allowing her to sink into the radiator out of harm's way at the merest touch.
As for Eleanor, she never saw her likeness achieve global fame. In 1915, she was killed when the P&O liner SS Persia, on which she and Lord Montagu were travelling to India, was torpedoed off Crete. Lord Montagu, presumed drowned too, survived and, on his return to England, enjoyed the rare pleasure of reading his own obituary in The Times!
To this day, it's still unclear whether The Whisperer or the Spirit of Ecstasy was truly based on Eleanor. Sykes never spoke publicly about her, while his daughter Josephine confined herself to saying, "Eleanor was a lovely person. It is an interesting story, and if it makes you happy, let the myth prevail." Something Rolls-Royce is said to happy do for another 100 years.
Spirit of Innovation
In preparation for the launch of Phantom in 2003, BMW Group rejuvenated the Spirit of Ecstasy, marking a new chapter in the company's history, while maintaining a crucial link with its unique heritage.
Until 1999, the figurines were made by "lost wax" casting, which dates back over 5,000 years. Amazingly, Charles Sykes himself, assisted by his daughter Josephine, personally cast, inscribed and finished every Spirit of Ecstasy right up until 1939. Today, they're produced using the more modern investment casting process, by a specialist company in Southampton, England.
The first step was to digitally "map" the original Spirit of Ecstasy, manipulating and enhancing individual details to create a perfect three-dimensional computerised image. To ensure even the finest details were precisely replicated, the injection mould was formed by skilled craftsmen using cutters measuring just 0.2mm in size. This cast tool was used to produce a highly accurate wax model of the figurine, which was then coated in ceramic. After this coating had dried, the wax was melted away, leaving a perfect 'female' mould from which the new cast would be taken.
Each figurine is made by filling the mould with molten stainless steel, at a temperature of 1600°C. Once the steel is cool, the mould is opened to reveal the Spirit of Ecstasy in all her glory. The final transformation takes place in the Finishing department, using a process called peening. The casting is blasted by millions of stainless steel balls just 17 thousandths of an inch (0.04mm) in diameter, which help to polish the surface without being abrasive. After machining, final mirror polish, and stringent quality assurance checks, the completed figurine is sent to Goodwood to take her rightful place above the iconic Rolls-Royce grille.
Celebrating in Style
Launched in January 2011, The Spirit of Ecstasy Centenary Collection provided a fitting tribute to the company's world-famous mascot. Limited to just 100 Bespoke Phantom models, the collection featured exclusive body colours, leather combinations, wood veneers and interior details. All featured a specially commissioned Spirit of Ecstasy in solid silver, with six hallmarks (including two designed specifically for Rolls-Royce Motor Cars) on a black-gold plated illuminated base. The Centenary Collection cars are now being enjoyed by 100 favoured customers around the world.
Capturing the Spirit
In 2011, Rolls-Royce commissioned leading British portrait and fashion photographer Rankin to mark the Spirit of Ecstasy's centenary with a series of 100 images inspired by the famous figurine.
The original 36 x 24-inch prints have been seen by customers and colleagues at Rolls-Royce events around the world. They've also been shared digitally with countless fans and enthusiasts via the Rolls-Royce website and social media.
Bespoke Commissions
Rolls-Royce Motor Cars Bespoke lets customers create a car that's absolutely unique, with every detail customised and personalised exactly as they wish. But when it comes to the Spirit of Ecstasy, their choices are to solid silver, illuminated, or, for the ultimate statement, 24-carat gold-plated. In 2011, Mouawad Jewellers created a diamond-enrobed centenary model, valued at $250,000.
100 Years and Counting...
For over a century, the Spirit of Ecstasy has been a constant for Rolls-Royce owners, enthusiasts and employees. Her magic, symbolic power and mystique remain as strong as ever and will do so for the next 100 years and beyond.