TAG Heuer Monaco V4 Phantom
The TAG Heuer Monaco V4 Phantom is totally black, totally matt, stylish, uncompromising, and almost stealthy. A watch that has more flair and style than most others.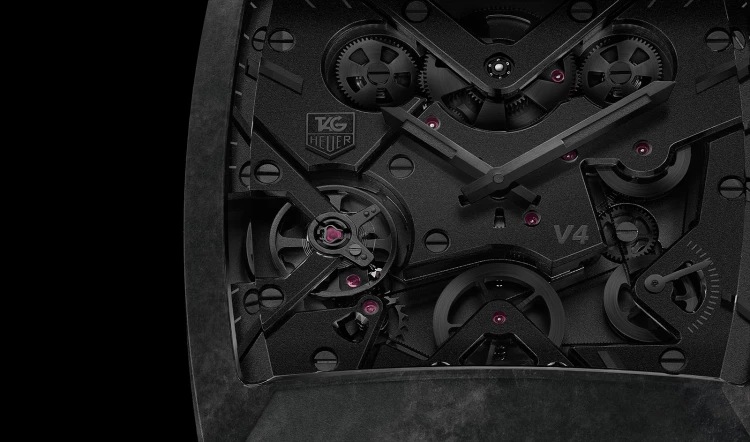 Photo by TAG Heuer
Made entirely from carbon fibre, its case is equipped with the famous microscopic toothed micro-belt transmission (the size of a hair, no wider than 0.07 mm) with its linear weight which moves on a rail and its ball bearings: let us introduce the Monaco V4 Phantom.
The new feature of the 2015 version is found on the case, which is made from CMC (Carbon Matrix Composite) and the 7 bridges of its movement, also in CMC. A specific technique was used to create them in "directed carbon", which means that the carbon fibres are placed in a certain direction in the mould, then micro-blasted, giving them a regular and particularly elegant "matt black vertical brushed" appearance. The entire dial is composed of shades of dark grey and black. For example, the hands are faceted and satin-finished, with a Titanium Carbide Coating and anthracite grey SuperLuminova™. Only the jewels (a total of 48 stones in the movement) reveal discreet little touches of red.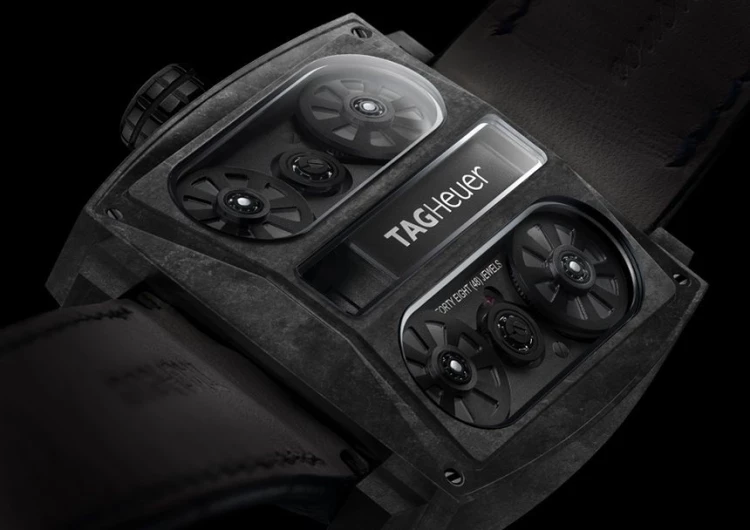 Combining a cutting-edge mechanical movement design, technical performance using carbon fibre and horological expertise in the development, production and hand assembly at TAG Heuer in La Chaux-de-Fonds, Switzerland, the Monaco V4 Phantom is a stylish, modern version which is ultra-lightweight and offers extra shock resistance. Its sharp design is particularly unusual for a grand complication watch.
The first Monaco V4 was unveiled eleven years ago, in 2004. The name V4 refers to the V-shaped main plate which carries the four barrels mounted in two adjacent pairs on ball bearings. Angled at +/-13°, they are reminiscent of the cylinders in a Formula 1 engine. With its belt transmission and linear weight, which moves on a straight rail (patented) rather than the usual rotational movement, the Monaco V4 turns the fundamental principles of horological mechanics on their head.

Housed in the square case of Monaco worn by Steve McQueen in the unforgettable film Le Mans, in 1971, the first Monaco V4 was awarded the Red Dot Design Award in Germany, the Watch of the Year prize by Wallpaper magazine and the Best of What's New prize by Popular Science magazine.