The New Rolls-Royce Phantom
From the moment Sir Henry Royce introduced the Rolls-Royce Phantom in 1925 it was judged The Best Car in the World by the cognoscenti. As the next chapter in Rolls-Royce's story opens, the New Rolls-Royce Phantom points the way forward.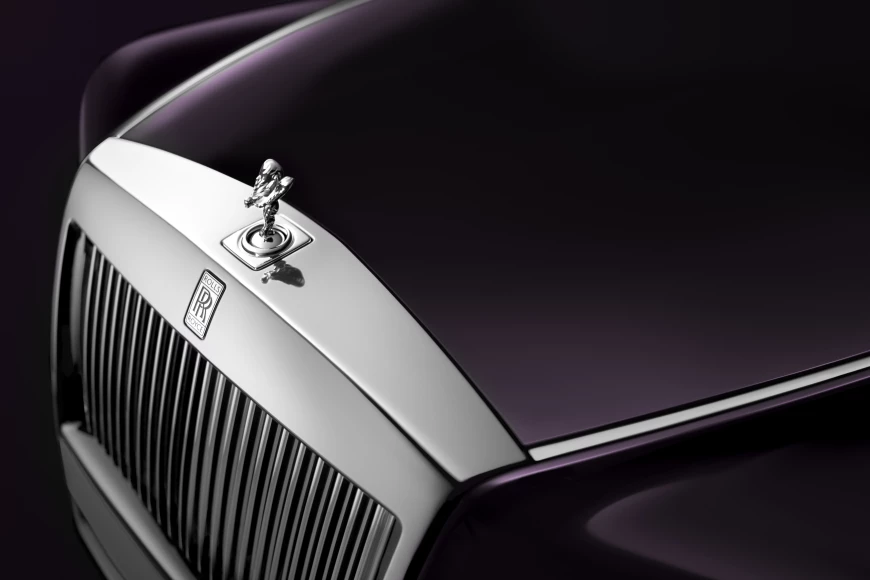 Photo by Rolls-Royce Motor Cars
Every new Phantom that has subsequently appeared has successfully retained the title of "Best Car in the World" as a result of Rolls-Royce's tireless pursuit of perfection, visionary engineering, aesthetic acuity, and deep understanding of what the world's leading luxury item should be. Quite simply, Rolls-Royce has innovated for almost a century to set the benchmark and satisfy the most discerning luxury patrons.
A new benchmark will be set today as the New Phantom - the eighth generation of this great nameplate - arrives. Not satisfied with simply launching a motor car that is a wholly contemporary design interpretation of Phantom DNA and a technological tour de force, Rolls-Royce has revolutionized the luxury car industry itself by shifting away from the status quo of shared platforms to an entirely new luxury business model.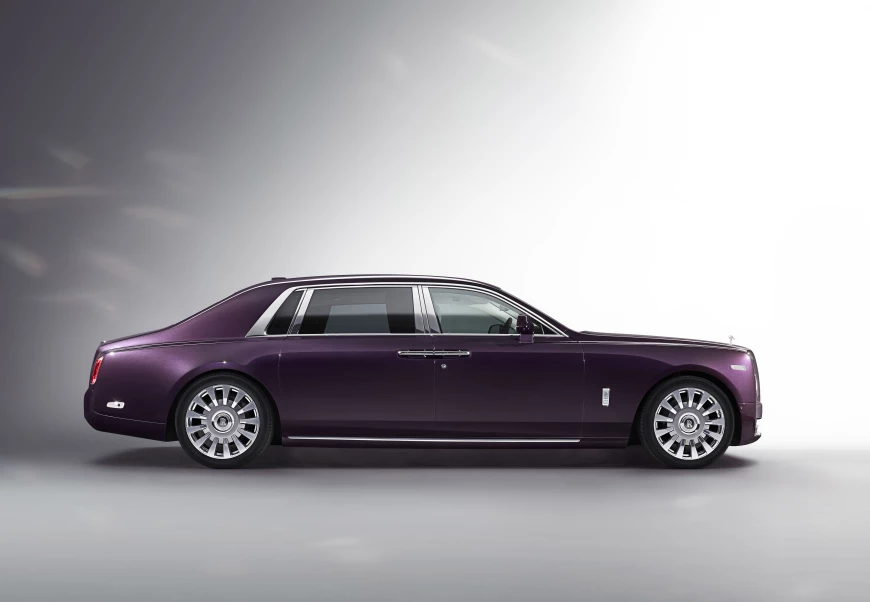 As the next chapter in the Rolls-Royce story opens, the New Rolls-Royce Phantom points the way forward for the global luxury industry.
"The global introduction of a new Rolls-Royce is always a very special moment within the BMW Group. This particular occasion is all the more special because we are introducing an all-new Phantom, the flagship of the Rolls-Royce brand, and the world's foremost luxury product. New Phantom is a powerful statement of design, engineering, and Bespoke expertise and I am delighted with the response we have received from our many highly discerning customers worldwide. The BMW Group remains fully committed to the future of Rolls-Royce Motor Cars and is proud of the many achievements made by the brand since its acquisition." - Peter Schwarzenbauer, Chairman of Rolls-Royce and Member of the Board of the BMW Group
The Genesis of New Phantom
Quite contrary to how other so-called luxury manufacturers are trying to realize economies of scale by sharing platforms with mass-market manufacturers, Rolls-Royce concluded that the future of true luxury lies in true small-volume manufacture of a dedicated 'Architecture of Luxury'.
"This realization was a moment of clarity about the destiny of Rolls-Royce," reflects Torsten Müller-Ötvös, Chief Executive Officer of Rolls-Royce Motor Cars. "Every one of our customers - each a connoisseur of luxury in the extreme - was asking for something more individual to them, not less. We were adamant that that was what they should have."
"Key to Rolls-Royce realizing its vision of being the world's leading luxury brand, today and in the future, is an architecture that spans the entire Rolls-Royce family," comments Philip Koehn, Director of Engineering. "The Architecture of Luxury will carry every future Rolls-Royce, not just the New Phantom. Project Cullinan and eventually the next Ghost, Wraith, Dawn will ride on this architecture, as well as future coach-build projects."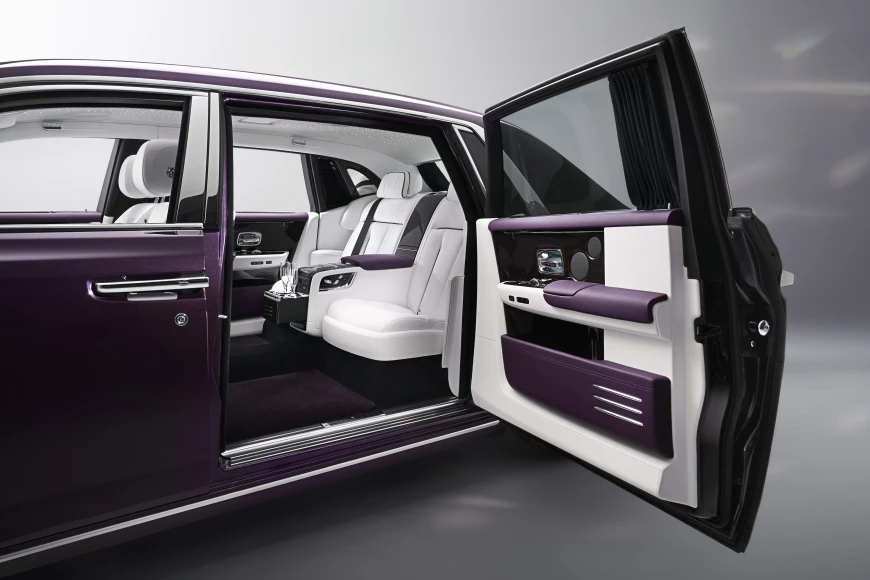 "Phantom VII's spaceframe architecture was a good starting point and inspiration, but we wanted to do much more," adds Giles Taylor, Director of Design. "The Architecture of Luxury gives me the canvas to protect the lineage and brand integrity of Rolls-Royce without compromise. Starting with New Phantom, I have the framework to create a future range of true Rolls-Royces. In essence, this is one big coach-build project."
"Our approach has been to forge long-term relationships with smaller suppliers run by families that will focus on us, giving us much more attention and therefore results that live within a quality expectation far beyond any other automotive concern," continues Koehn. "For a brand to operate in such a manner within a larger automotive group is unheard of and truly revolutionary."
What is the Architecture of Luxury?
The Architecture of Luxury is an all-aluminum spaceframe architecture designed by Rolls-Royce engineers that will underpin every future Rolls-Royce beginning with the New Phantom. As such, no future Rolls-Royce will be of monocoque construction as used by mass manufacturers and some mass-luxury brands.
It is a truly revolutionary approach for the motor industry and one that is informed by Rolls-Royce's standing as a luxury house in the business of cars. Whilst the majority of so-called luxury manufacturers are limited to sharing individual platforms in a specific sector with mass brands for say their SUV or GT offerings, thereby introducing unacceptable compromise, Rolls-Royce will be uncompromising in only using its own architecture across all its motor cars, whatever the sector.
It has been designed and engineered from the ground up in such a way as to be scalable to the size and weight requirements of different future Rolls-Royce models, including those with different propulsion, traction, and control systems, thus underpinning the long-term future product roadmap.
Approximately 30 percent more rigid than the spaceframe architecture on which sat Phantom VII, the new architecture is at the heart of how the next generation of Rolls-Royces delivers the Rolls-Royce experience in terms of ride comfort, acoustic comfort, seat comfort, exterior presence, and interior space.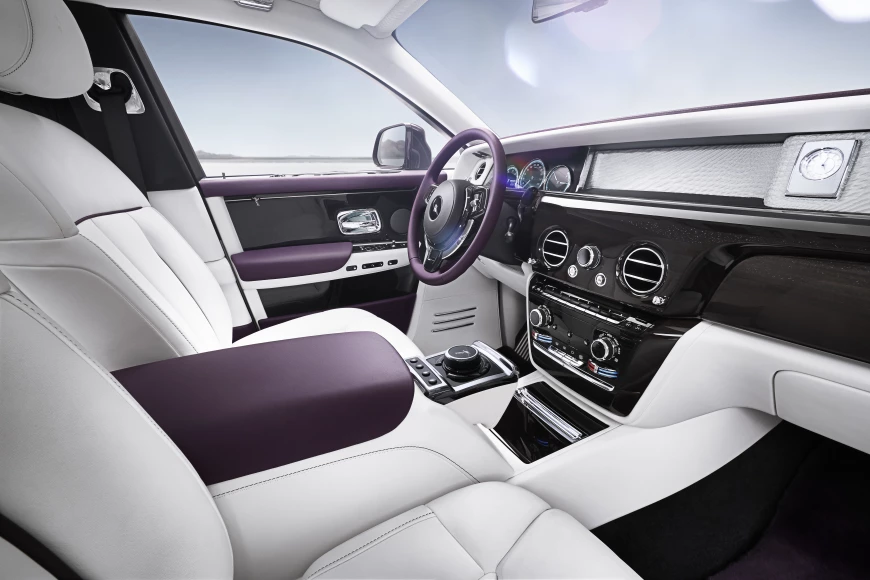 The heart of a Rolls-Royce - the magnificent V12 reinvented
At the heart of every Rolls-Royce of the modern period lies the power of a V12 engine. At the beginning of this next chapter of Rolls-Royce's existence, and with the creation of the Architecture of Luxury, the New Phantom also benefits from a completely new engine.
With the focus on creating the most silent motor car in the world, a completely silent engine was also required, and that meant more low-end output at lower revs to ensure that silence. Hence a completely new, 6.75-liter V12 powertrain has been engineered for New Phantom, in place of the previous naturally aspirated V12 engine.
The new V12 Phantom engine employs two turbochargers that contribute to a low-end torque output of 900Nm at an incredibly low 1,700rpm whilst also delivering 563bhp or 420kW of power, resulting in calm low-speed progress associated with state occasions and an unfussed surge of power when one needs to press on. The addition of Satellite Aided Transmission (SAT), married to a ZF 8-Speed gearbox also ensures that the driver is prepared for whatever the road has in store for them.
The most silent motor car in the world
The incalculable effort was expended to create 'the most silent motor car in the world' including 6mm two-layer glazing all around the car, more than 130kg of sound insulation, the largest ever cast aluminum joints in a body-in-white for better sound insulation, and use of high absorption materials.
Acoustic insulation from road noise has been helped by the employment of double-skin alloys on areas within the floor and bulkhead of the spaceframe. This is a feature unique to New Phantom. Further noise insulation by inserting dense foam and felt layers between these skins to provide sound insulation not witnessed before in the car industry.
In addition, high absorption layers within the headliner, in the doors, and in the boot cavity have further aided insulation and reduced reverberation. Rolls-Royce also worked closely with its tire supplier to invent 'Silent-Seal' tires - which feature a specific foam layer placed inside the tire to wipe out tire cavity noise and reduce overall tire noise by 9db, meaning that conversation within the car is completely effortless.
All in all, it is a perfect 360° cocooning effect in a motor car that is approximately 10 percent quieter than its predecessor at 100km/h. Indeed, when Rolls-Royce's acoustic test engineer first reviewed results of road and vibration tests, the sound levels were so low they had to check their instruments were calibrated correctly.