Tiefschwarz presents The Mix Collection
Renaissance is proud to announce that Tiefschwarz has stepped up to compile the latest instalment of their The Mix Collection series. It seemed a perfect fit to bring their wide set of influences together for a set of two mixes.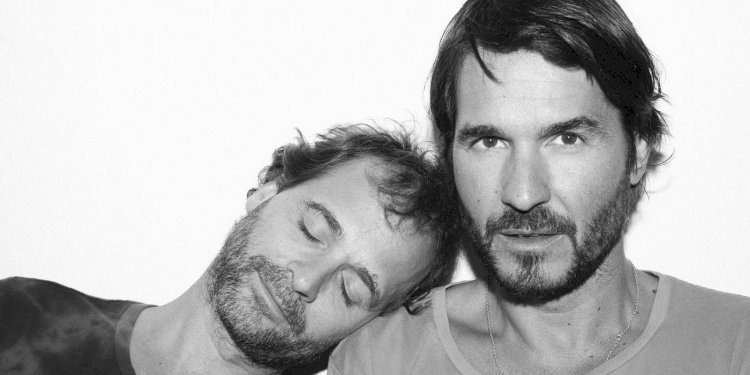 Photo by Renaissance
Renaissance are proud to announce that Tiefschwarz have stepped up to compile the latest instalment of their "The Mix Collection" series. With a DJ and production career spanning over 16 years, releases on Cocoon, Wave Music, Souvenir and remix work as far ranging as Depeche Mode, Roxy Music, Booka Shade, Madonna and Plastikman it seemed a perfect fit to bring their wide set of influences together for a set of two mixes.

"We love doing compilations because it's a great opportunity and challenge for us to dig deep in the huge ocean of music, using your own personal filter and taste to find the music we love. For this Renaissance Mix Collection it was even better because we got the chance to do two mixes and really explore our sound. Obviously there is a lot of crap music out there, but more importantly there are also tons of beautiful, inspiring tracks and it's a real pleasure to go through our collection and find the right ones. Musically this time we wanted to stay in the here and now - the slower and deeper mix on CD1 is an atmospheric journey - melodies, vocals and more abstract tracks help to create the vibe. CD2 is more club orientated – it's a hybrid between house and techno and shows a bit of what we love to play as DJs these days." - Tiefschwarz

CD 1 kicks off with an introduction from Tiefschwarz themselves before quickly delving into the uplifting sounds of Clarian and Axel Boman. Richard Fearless' remix of Bot'ox's 'Basement of Love' and Ewan Pearson's Bachar Mar-Khalife remix focuses the groove, while the vocals on Michael Mayer's 'Good Times' and the beautiful Eric Volta & Jonny Cruz's 'Sunrise' provide euphoric highs. The ominous territory of Spada's 'Norah' and Mario Basanov's 'Red Line' work in perfect contrast to the tropical sounds of Acid Pauli & Laura Weider's 'Oregano' and Knox's blissful 'Mornings' - precisely the sort of stylistic shifts you'd expect from the veteran duo.

CD 2 is a mix of contrasts. Ruede Hagelstein's 'Detuned' acts as a statement of intent, followed by upbeat cuts from Terranova, Hanfry Martinez & Javier Carballo, Daze Maxim and Slove before Dauwd's 'Heat Division' takes a step back from the dancefloor. Next up are previous Renaissance contributors Tale Of Us, whose 'Another Earth' features before Tiefschwarz' own 'Voices' (exclusive to this mix album). The near-indecipherable vocals of Elon's 'Andres' blend seamlessly into Mathew Jonson's 'Automaton', while the acid-tinged textures of Sonodab's 'Dose Rhythm' sit perfectly with Jay Haze's rerub of 'Don't Rush' by Michal Ho. Kenny Leaven's 'Rocket' is an intense gateway to the serene '11 a.m. (After)' by Marco Freivogel, which acts as a beautiful closer for a pair of mixes that explore all areas of the mind, not just the body.

From their initial experience as DJs running and playing at their own clubs to the formation of Tiefschwarz in 1997, the duo joined the fast lane with their debut single and album on Francois K's Wave Music label. Upon being licensed to London's Classic Recordings, their jump towards international recognition was imminent. Through touring, high profile remix work and their varied releases the duo have always the ability to effortlessly shift sounds without staying in one place too long, making the journey into creating and running their 'Souvenir' label an effortless transition. This chameleon-like approach to DJing, creating and promoting music add more reasons why their Renaissance Mix Collection release is an essential listen.
Tiefschwarz - The Mix Collection
Release date July 2013
Label Renaissance
Tracklist
CD1
1) Tiefschwarz - Introduction
2) Clarian - Destroy, She Says
3) Axel Boman - Cubic Mouth
4) Bot'ox - Basement of Love (Richard Fearless Mix)
5) Bachar Mar-Khalife - Machins Choses Feat. Kid A (Ewan Pearson Remix)
6) Justus Köhncke - Timecode (Axel Boman Mix)
7) Aqob - All Moving Over the Earth (Dischords Remix)
8) Michael Mayer - Good Times
9) Isolée - Allowance
10) Eric Volta & Jonny Cruz - Sunrise feat. Jacques Canziani
11) DJ Koze - Royal Asscher Cut
12) Spada - Norah
13) Acid Pauli & Laura Weider - Oregano
14) Mario Basanov - Red Line
15) Knox - Mornings

CD2
1) Ruede Hagelstein - Detuned
2) Terranova - Wunderbar Feat. Jennifer Cardini
3) Hanfry Martinez & Javier Carballo - Vamos Mi Niño
4) Daze Maxim - Farbfilm (Dyed Soundorom remix)
5) Slove - Flash (Pachanga Boys Remix)
6) Dauwd - Heat Division
7) Ten Walls - Gotham
8) Tale Of Us - Another Earth
9) Tiefschwarz - Voices
10) Elon - Andres
11) Mathew Jonson - Automaton
12) Sonodab - Dose Rhythm
13) Michal Ho - Don't Rush (Jay Haze Return of the Pony Mix)
14) Kenny Leaven - Rocket
15) Marco Freivogel - 11 a.m. (After) feat Elif Bicer