Aston Martin Valkyrie AMR Pro
Aston Martin has played the ultimate Top Trumps card with the world debut of the Aston Martin Valkyrie AMR Pro - a bonkers track-only evolution hypercar.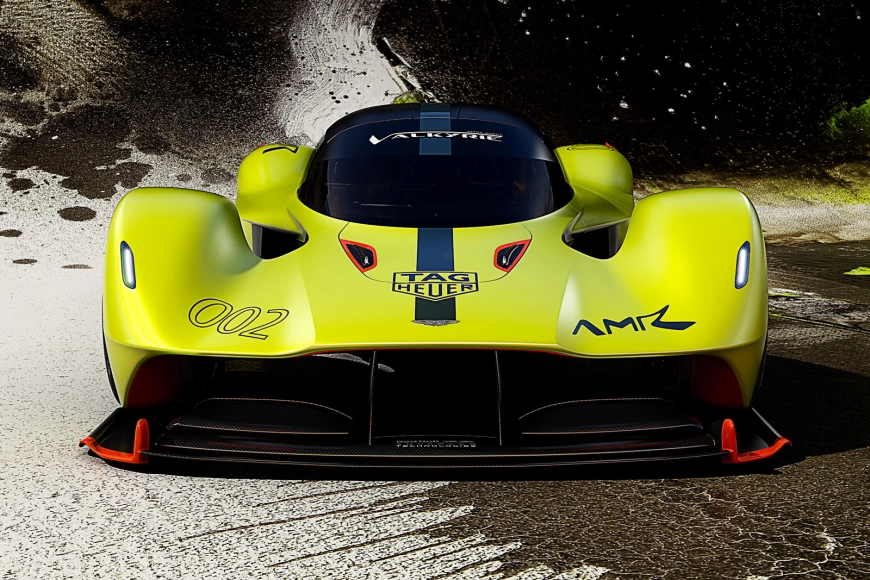 Photo by Aston Martin Lagonda Limited
Taking the world's most extreme road car as its basis, the AMR Pro version distills the combined knowledge, expertise and aspirations of Adrian Newey, Chief Technical Officer of Aston Martin Red Bull Racing, and Aston Martin's most talented design and engineering teams, led by Marek Reichman - Aston Martin's Chief Creative Officer - and David King - Chief Special Operations Officer - to create a car with the performance capabilities of a current Le Mans LMP1 prototype or Formula One car.
Full technical details of the Valkyrie AMR Pro will be revealed in due course, but those headline figures that can be disclosed provide a remarkable statement of intent. Key to the car's unprecedented track performance are its lightweight construction and high-downforce aerodynamics - a combination that will result in a car that weighs 1000kg, yet is capable of generating more than its own weight in downforce.
To achieve this remarkable figure all the Aston Martin Valkyrie AMR Pro's aerodynamic surfaces have been revised in the pursuit of significantly increased downforce. The most obvious changes are wider bodywork and much larger front and rear wing elements, which together with revised active aerodynamic control strategies tailored for the demands of track driving. In order to save weight, this bodywork uses a lighter construction of carbon fiber. Likewise, the removal of items such as the heater/de-mister blower and infotainment screens fitted to the road car, and through the fitment of new ultra-lightweight track-specific components such as a polycarbonate windscreen (with heater elements) and side windows, carbon fiber suspension wishbones, molded race seats, and a lighter exhaust system ensure the AMR Pro hits its 1000kg weight target.

Calibration changes to the 6.5-liter naturally-aspirated V12 engine's emission control systems and re-programming of the Energy Recovery System control software will result in a combined power output of more than 1100bhp - more than the Valkyrie road car and a figure than comfortably exceeds the magic 1:1 power-to-weight ratio. That's to say more than 1bhp to propel every kilogram of mass.
The single-minded pursuit of top speed has never been part of the Valkyrie ethos, yet even in high-downforce track configuration, the AMR Pro is still capable of hitting 225mph. Of far greater benefit to lap time is the track-only Valkyrie's ability to achieve lateral acceleration in excess of 3G - a figure far beyond that of any other car derived from a fully homologated road car.
Red Bull Racing's Chief Technical Officer, Adrian Newey said: "The Aston Martin Valkyrie road car draws extensively from the knowledge I have gained during my career in Formula One, but the AMR Pro version has allowed me to work beyond the constraints of road legality, or indeed practicality! We've told a few of its secrets but by no means all. I will leave it to the public to ponder the lap time predictions. Suffice to say they're quite impressive."
Just 25 Aston Martin Valkyrie AMR Pros will be built. Deliveries are expected to commence in 2020. All cars are sold.