The Aston Martin Valour
The Aston Martin Valour celebrates the brand's 110th anniversary by honoring its unique tradition of superlative special edition front-engined sportscars.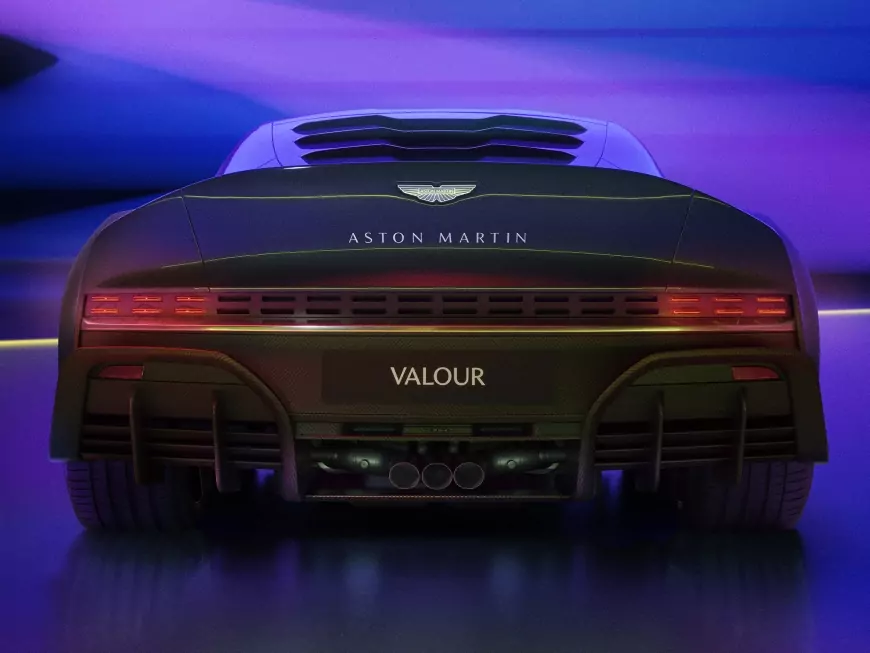 Photos by Aston Martin Lagonda
In celebration of its 110th anniversary, Aston Martin is proud to reveal Valour - a spectacular, ultra-exclusive V12-engined, manual transmission special edition built to honor the marque's long tradition of excellent front-engined sports cars and delight purists who crave undiluted and visceral driving experiences.
Aimed squarely at those who relish a truly involving driving experience, Valour's commitment to era-defining performance and stimulation is second to none. The only front-engined V12 sports car available with a manual transmission, its purist approach is unique in 2023 and a thrilling tribute to a golden era of driving.
Motivated by this rich heritage, Valour has been realized using the latest technology, methods, and materials; as such, it is a fusion of the essential qualities that have come to define Aston Martin's most outstanding front-engined models. Glorious throwback and contemporary masterpiece, Valour is the best of Aston Martin's past and present and the antidote to cars that seek to isolate drivers from the process of driving.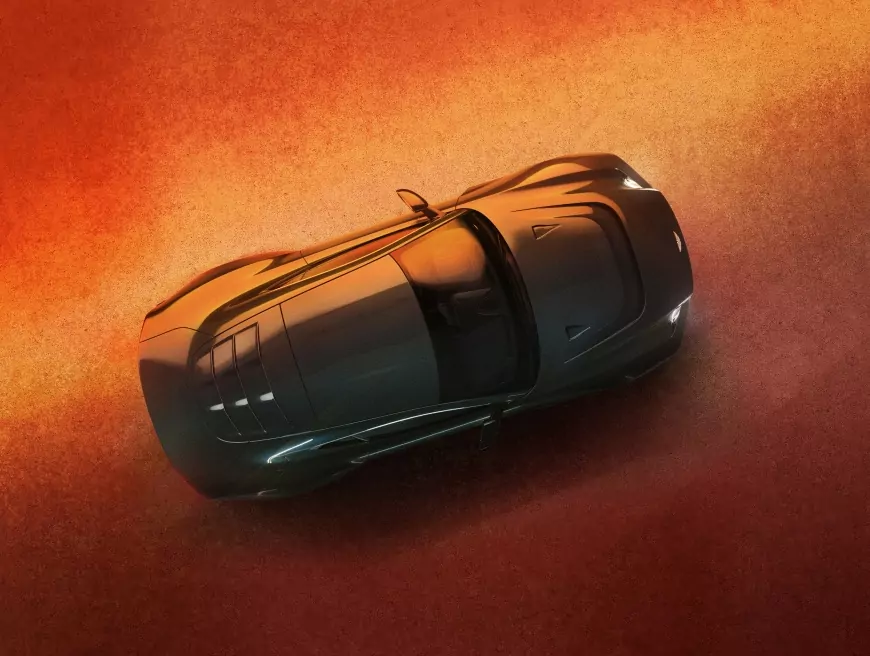 Valour's bloodline is second-to-none. Inspired by the original V8 Vantage and magnificent Vantage-based RHAM/1 "Muncher" Le Mans racer from 1980, it boasts the unbridled brawn typical of Aston Martin's ultimate sports cars. Machines like the 1990s twin supercharged V600 Vantage were the world's most powerful production car for a time. Immaculate design and flawless execution echo the exquisite One-77 supercar's intense driver-centric character, connecting Valour to the one-off Victor.
With production limited to 110 cars globally, Valour's rarity ensures it will be amongst the most collectible of all Aston Martins. A mouth-watering end-of-an-era specification - which mates the epic 715PS/753Nm twin-turbocharged 5.2-litre V12 to a bespoke six-speed manual transmission for the very first time - guarantees a genuinely absorbing experience and secures Valour's place in the pantheon of all-time great driver's cars.
Benefitting from a unique powertrain calibration, Valour's immense power and torque outputs are unrestrained, offering the driver full performance and utmost control in every gear. A mechanical limited-slip differential enhances the direct analog connection between car and driver, with the added support and reassurance of electronic traction and stability control systems. Valour's Driving Modes - Sport, Sport+, and Track - have also been tuned to offer meticulously judged throttle response, torque management, and sound character.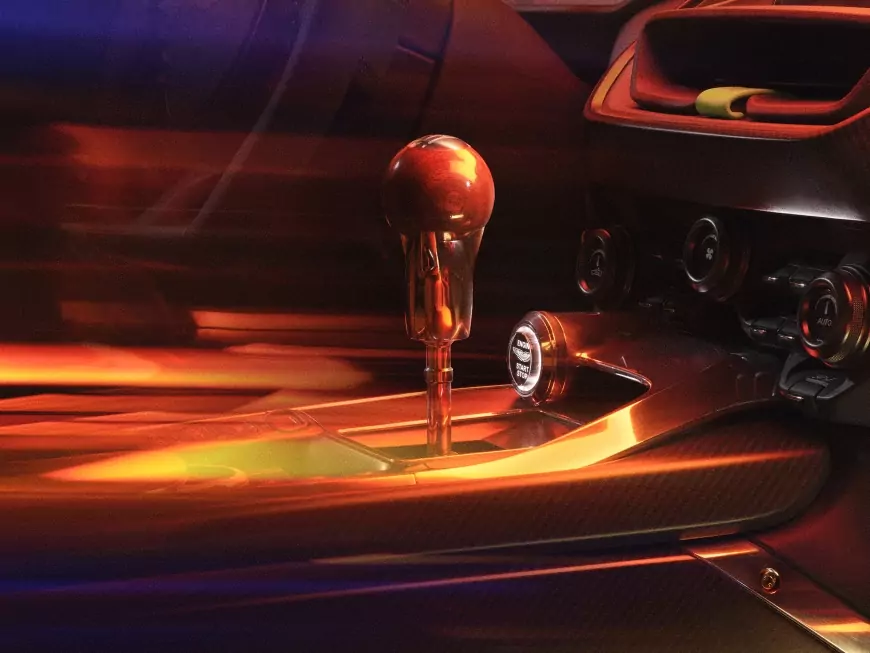 Underlining its dynamic credentials, Valour has received a bespoke suspension, with adaptive dampers, springs, and anti-roll bars all explicitly honed to the car. Wheel alignment geometry has dedicated camber, castor, and toe settings. These characteristics ensure Valour possesses distinct and clearly defined ride and handling qualities. First, a road car means successfully striking a sporting balance of taut, precise vertical body control and persistent resistance to roll while offering the compliance to shine on great driving roads.
Further honing its unique dynamic character, Valour's custom body structure features front and rear shear panels, a rear suspension tower strut brace, and fuel tank bracing. These elements maximize torsional and lateral stiffness, providing the suspension with an optimized platform for more precise body control and increased refinement. In addition, a new steering system removes unwanted sources of compliance to give the driver an even greater sense of detailed feel, connection, and immediacy.
With standard-fit Carbon Ceramic Brakes, Valour has ample stopping power courtesy of front discs measuring 410mm x 38mm and gripped by 6-piston calipers. At the rear, 360mm x 32mm discs are paired with 4-piston calipers. Offering increased braking performance and a significant 23kg reduction in un-sprung mass versus steel brakes, these CCB discs are engineered to resist brake fade at temperatures up to 800 degrees, enabling the driver to explore Valour's full performance potential with maximum confidence and precise control.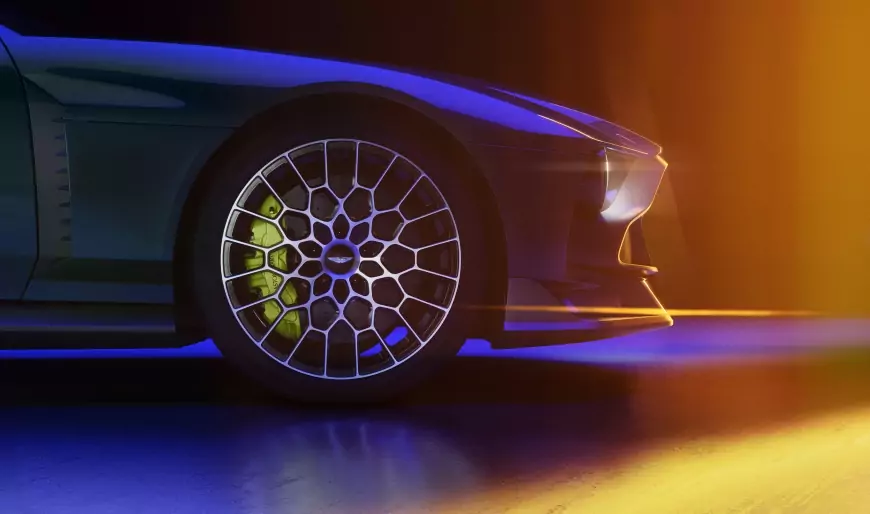 Completing Valour's impressive hardware package is a set of beautiful 21" lightweight forged alloy 'Honeycomb' wheels, which are fitted with the latest AML-specific Michelin Pilot Sport S 5 tires - 275/35 R21 front tires and 325/30 R21 on the rear - for inspired handling and road-holding in wet or dry conditions.
Valour's broad stance and highly developed physique vividly express those immense performance capabilities and intense driving characteristics. Made entirely from carbon fiber, the bodywork marries Aston Martin's contemporary design language with instantly recognizable cues from the iconic 1970s V8 Vantage. The result is bold and unmistakable from any angle.
The clamshell bonnet features a large 'horse shoe' vent and twin NACA ducts to provide ample ventilation for the twin-turbocharged V12 that sits beneath. Aston Martin's iconic grille shape has evolved to enhance form and function. Aluminum strakes define its central section, while large carbon fiber intakes on either side feed the engine and brakes with cool air. They also frame the classically inspired round LED headlights, unique to Valour, which sit beneath a rakish eyebrow-like grille with a menacing effect.
Modern aerodynamic thinking has been effortlessly incorporated into the design, with expert airflow management optimizing stability while achieving a uniquely assertive design. The prominent front splitter and fender vents incorporated into Valour's flanks work harmoniously with the rear screen panels featuring vortex-generating exoblades, and elegantly upswept Kamm tail and prominent diffuser to achieve aerodynamic balance.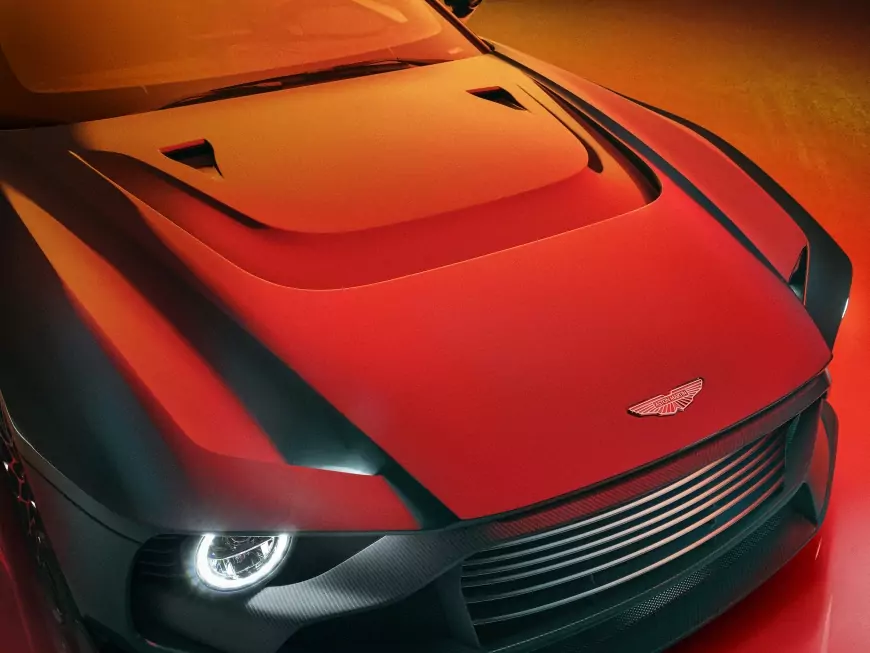 The rear end also features a dramatic tail-light graphic, with clusters of LED light blades (six on each side) echoing the ground-breaking Valkyrie hypercar. A full-width aluminum accent - milled from a solid billet and polished to a flawless finish - delineates the rear end, dramatically separating the upper and lower sections. Positioned between the deep elements of the rear diffuser is the centerpiece of Valour's extraordinary rear design; a triple tailpipe exhaust system fabricated from lightweight stainless steel. With a wall thickness of less than 1mm, this special tubing saves a 7kg weight versus a traditional system yet emits a gloriously heavyweight soundtrack.
Valour's celebration of Aston Martin's heritage continues inside, with a timeless two-seater cockpit of uncommon simplicity and seductive tactility. Central to this is the manual transmission gear lever with a choice of machined aluminum, titanium, carbon fiber, or walnut for the gear stick and an exposed shift mechanism to emphasize the mechanical connection - Valour majors on delivering the physical and emotional engagement lost to progress.
The masterful use of materials has long been an Aston Martin hallmark, so it's no surprise that Valour's interior shines with original and highly effective combinations from which customers can create unique specifications. For example, traditional woolen tweed inspired by the seat coverings of Aston Martin's 1959 Le Mans-winning DBR1 provides a beautiful contrast against the high-tech weave of carbon fiber used to form the shells of Valour's lightweight performance seats, bespoke door cards, fascia air vents, upper center console, and transmission tunnel.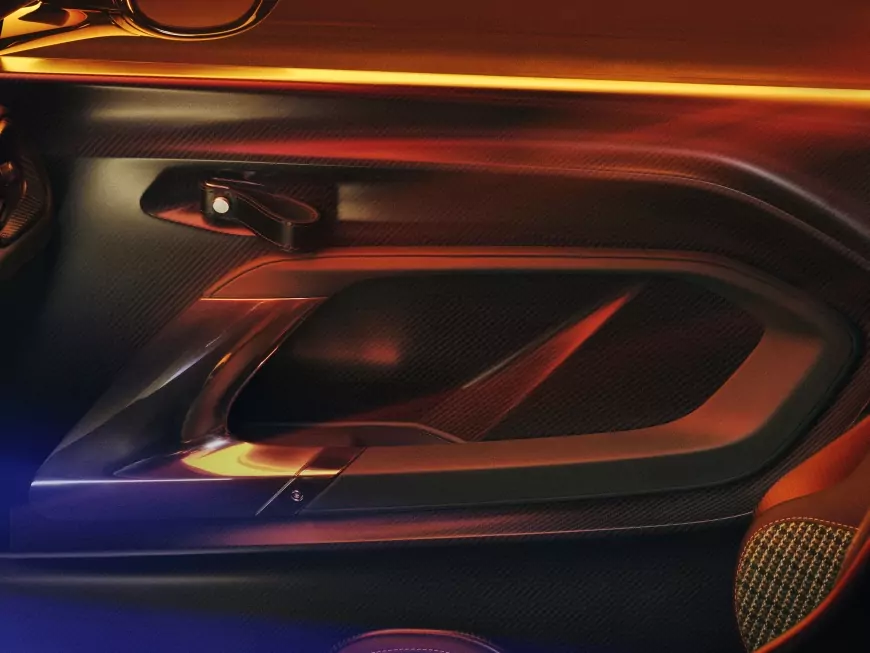 Further personalization comes in the form of a flexible method of livery customization. By separating Valour's body into four areas - front, bonnet, sides, and rear - clients may choose from an extensive array of hand-painted stripes and graphics designs, which can be applied in any of the 21 paint colors available.
Should a customer wish to go beyond the standard palette of Valour options, then they may engage the services of Q by Aston Martin to create a genuinely bespoke specification. Examples of this include the design of a one-off livery, fully exposed 2x2 twill carbon fiber bodywork with a choice of a red, blue, or green tint, painted wheels, Mokume carbon fiber interior detailing, or a choice of Johnsons of Elgin tweed and cashmere fabrics for the seats and headlining.
The Aston Martin Valour production will commence at Aston Martin's Gaydon Headquarters in Q3 of 2023, with first deliveries scheduled for Q4 2023. Poised to become one of the most coveted cars in Aston Martin's unrivaled canon of iconic front-engined special series sports cars, Valour is a precious collector's piece that demands to be driven.