New Jaguar E-Pace
With a refreshed exterior, enhanced interior, the latest Pivi Pro infotainment, new vehicle architecture, and a choice of powerful and efficient engines - including an advanced Plug-in Hybrid Electric Vehicle (PHEV) powertrain.
Photo by Jaguar Land Rover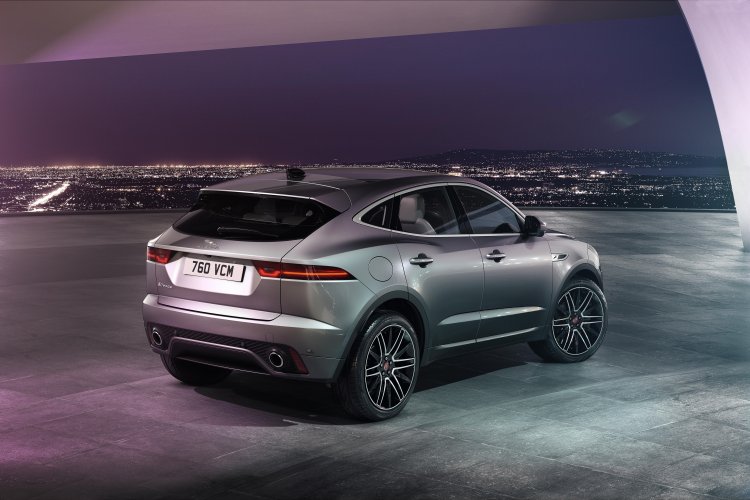 Photo by Jaguar Land Rover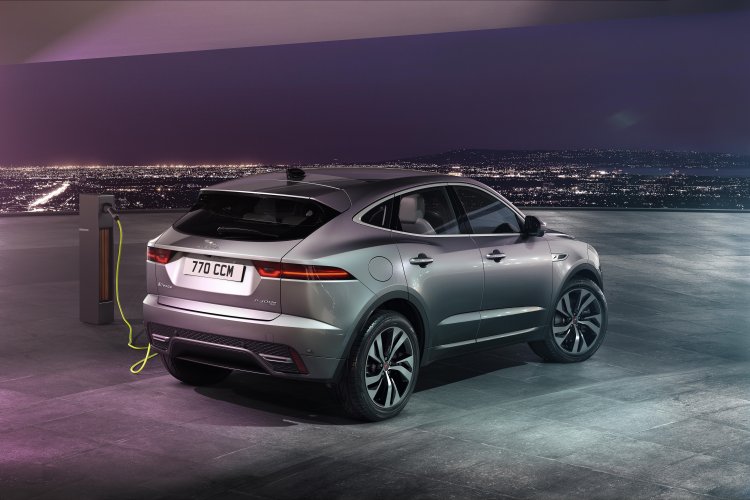 Photo by Jaguar Land Rover
The exterior design enhancements give Jaguar's compact performance SUV a more assertive stance and luxurious appearance. At the front, the changes include a revised lower aperture incorporating a distinctive blade element. A new grille mesh design with diamond detailing is influenced by the Jaguar heritage logo and features a contemporary Noble Chrome finish, while new side fender vents feature the iconic Leaper emblem.
New all-LED headlights feature Double J Daytime Running Light (DRL) signatures, which are available with optional Pixel LED technology, delivering increased resolution and brightness. Adaptive Driving Beam capability evaluates the road ahead and automatically adapts the high beam pattern by selecting different LED segments to mask oncoming traffic or traffic signs, to optimise visibility and reduce glare without distracting other drivers.
Advanced LED technology is fitted to S models, while Premium LED headlights with Auto High Beam Assist feature on SE and HSE vehicles. The technology uses the forward-facing camera to automatically switch between high and low beam, to avoid dazzling oncoming drivers. Rear Animated Directional Indicators are standard on S, SE and HSE models with front Animated Directional Indicators fitted to SE and HSE derivatives.
At the rear, the lower bumper features a new mesh insert which sits between the integrated tailpipes that are standard with four-cylinder petrol engines. All other engine derivatives gain new slim horizontal blade finishers. The all-LED rear lights are inspired by the all-electric I-PACE and feature Jaguar's chicane graphic, showcasing the advanced technology and modernity of the overall design.
In purposeful R-Dynamic specification, the new E-PACE features a series of distinct design elements for a more performance-focused look, while all models are available with the additional Black Exterior Pack, which delivers an even more dynamic appearance with bespoke elements finished in Narvik Black.
Beautifully crafted interior
The interior of the new E-PACE features heightened luxury, enhanced connectivity and greater refinement.
At the heart of the new interior is the integrated 11.4-inch curved-glass HD touchscreen at the centre of the dashboard, which controls the new Pivi Pro infotainment system. Chemically strengthened, the glass screen features two coatings; one which is anti-glare and a second which resists fingerprints.
The driver-focused interior also provides easier access to the larger storage area in front of the new Drive Selector that houses the 15W wireless device charger. Driver touchpoints around the cluster are now wrapped in soft-touch materials whilst the knee side contact area has been sculpted to provide improved luxury and comfort.
The new Drive Selector - just one of the many beautiful details - is lower and wider and features an upper section finished with 'cricket-ball' stitching, the lower part is made of precision-engineered metal for enhanced tactility.
Focus on materials extends to the metallic speaker accents and metallic vent finishes which, along with elements such as the metallic rotary dials, exemplify the premium interior.
A new steering wheel, which is influenced by the design in the all-electric I-PACE performance SUV, features hidden-until-lit switches and metal gearshift paddles.
Heightened attention to detail is provided by an embossed Jaguar Leaper on the headrests while 'Est.1935 Jaguar Coventry' upholstery tags reference the history and heritage of the brand. Additional beautiful details include Jaguar animal print pattern in the central cubby area and in front of the drive selector.
Plug-in power and performance
New E-PACE utilises Jaguar's Premium Transverse Architecture, which has been designed and engineered to accommodate the latest electrified powertrain technologies.
Diesel
- 163PS 2.0-litre four-cylinder turbo, six-speed manual, FWD
- 163PS MHEV 2.0-litre four-cylinder turbo, nine-speed automatic, AWD
- 204PS MHEV 2.0-litre four-cylinder turbo, nine-speed automatic, AWD
Petrol
- 160PS MHEV 1.5-litre three-cylinder turbo, eight-speed automatic, FWD
- 200PS MHEV 2.0-litre four-cylinder turbo, nine-speed automatic, AWD
- 249PS MHEV 2.0-litre four-cylinder turbo, nine-speed automatic, AWD
- 300PS MHEV 2.0-litre four-cylinder turbo, nine-speed automatic, AWD
- 309PS PHEV 1.5-litre three-cylinder turbo, eight-speed automatic, AWD
The advanced 1.5-litre three-cylinder petrol engine is the latest member of the modular, flexible Ingenium engine family, and is available in E-PACE with both PHEV and MHEV technology.
The lightweight new aluminium engine - 33kg lighter than the four-cylinder - delivers strong performance and refinement with low levels of friction which contribute to excellent efficiency and fuel consumption. The exhaust manifold is integrated into the aluminium cylinder head, this contributes to the rapid warm-up times and minimises the distance from the exhaust ports to the turbocharger's turbine wheel for improved responses.
The new P300e PHEV powertrain combines the 200PS 1.5-litre three-cylinder Ingenium petrol engine and a 109PS (80kW) Electric Rear Axle Drive (ERAD) motor. This ensures impressive performance and efficiency, with 0-60mph in 6.1seconds (0-100km/h in 6.5 seconds), CO2 emissions from 44g/km and fuel economy up to 141mpg (2.0 l/100km) (WLTP TEH combined).
Chassis and transmission
Significant updates to the body architecture of the new E-PACE deliver enhanced dynamics, comfort and convenience. The new Premium Transverse Architecture features new engine mounts, which contribute to an improvement in throttle response.
The new architecture also provides improved front suspension attachment point stiffness, delivering a more comfortable ride while retaining trademark Jaguar agility. The structure reduces vibration and harshness across the whole cabin, making it a tranquil sanctuary for all occupants, while also reducing cabin noise for enhanced comfort and refinement.
The majority of models feature Jaguar's intelligent all-wheel-drive system, with three-cylinder AWD models mated to eight-speed automatic transmissions, four-cylinder models using nine-speed automatic transmissions. Ratios are closely-spaced for an immediate response, with manual control facilitated by using the zinc-alloy steering wheel shift paddles for added driver engagement. A six-speed manual gearbox is fitted as standard on the front-wheel-drive 163PS diesel derivative.
The new E-PACE's AWD system utilises second-generation Standard Driveline technology, which automatically distributes the torque between the front and rear wheels to ensure traction is always maximised.
For the first time, Standard Driveline features Driveline Disconnect technology. During steady-state cruising, the setup disengages the AWD system, sending power only to the front axle, delivering increased fuel efficiency.