Bentley Brings More Power to the Ice in 2014
Bentley returns to the snow-covered wilds of the far north of Finland this winter with a new and extended edition of its Power on Ice driving experience with 4 times World Rally Champion and honorary Bentley Boy, Juha Kankkunen.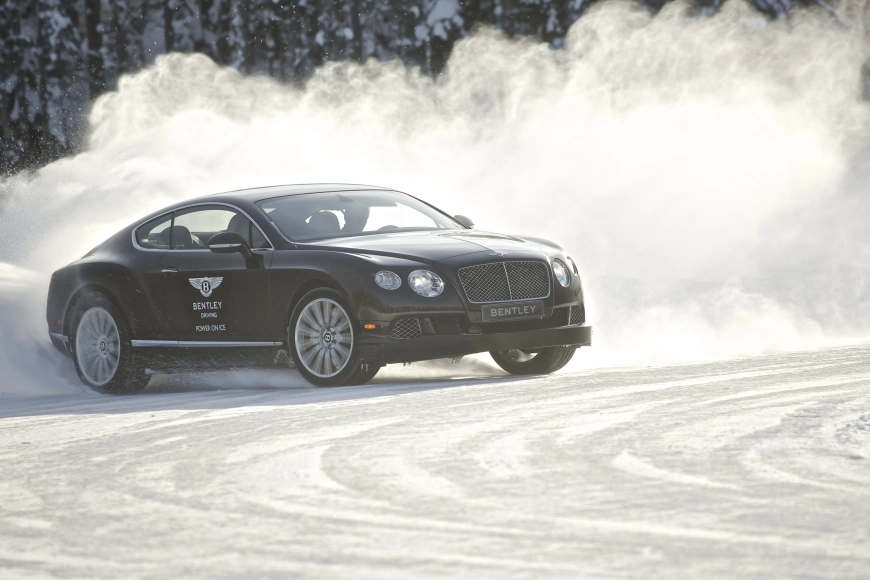 Photo by Bentley Motors
A further highlight of Power on Ice 2014 (6 February - 6 March 2014) is the debut of the new Flying Spur sedan on the series of challenging and exhilarating snow and ice circuits especially designed by Kankkunen, who in addition to his 23 world rally victories, has twice broken the world ice speed driving record behind the wheel of Bentley's Continental cars.
Acclaimed for its exquisite levels of craftsmanship and luxury, the new Flying Spur effortlessly combines this refinement with all the potency of Bentley's 6.0 litre W12 twin-turbocharged engine delivering 616 bhp (625 PS) and a 200 mph (322 km/h) top speed that makes it the world's fastest luxury four-door production car.
A state-of-the-art all-wheel-drive system, constantly adjusting the levels of power to the front and rear wheels depending on available traction, ensures the Flying Spur delivers optimal grip regardless of road or weather conditions and is one of the very few ultra-luxury sedans capable of conquering this kind of 'off-piste' driving challenge.
"The Flying Spur is going to be an excellent addition to the Power on Ice experience and we're looking forward to showing what it is capable of. There's going to be something special about driving a luxury car you'd expect to see in Monte Carlo or London across the snow and frozen lakes," comments Kankkunen.
The Flying Spur will join an array of Bentley Continental GT coupes in Finland (powered by the company's 6.0 litre W12 and 4.0-litre V8 engines) and Kankkunen will work with Bentley's own factory-trained driving experts who will offer in-depth tuition designed to allow drivers to broaden their range of driving skills when faced by testing road and weather conditions.
Away from the thrill of learning how to drive the Bentley of their choice at high-speed on ice, the four-day adventure in Finland offers guests the chance to unwind in the exclusive and luxurious surroundings of the Ruka Peak resort.
Situated just 60 km from the edge of the Arctic Circle, the resort offers a wide selection of hotel and private chalet accommodation options and the mountain resort is widely believed to offer some of the finest, unbroken views of Finland's spectacular winter scenery. Open fires, saunas, first-class local cuisine and flying to and from Helsinki by private jet help to complement the first-class experience.