Bentley Momentum Unlimited
Bentley Momentum Unlimited - a new addition to its best-selling Momentum line. A fresh, bracingly masculine fragrance with a sleek, modern presentation, Momentum Unlimited will be launched in April 2018.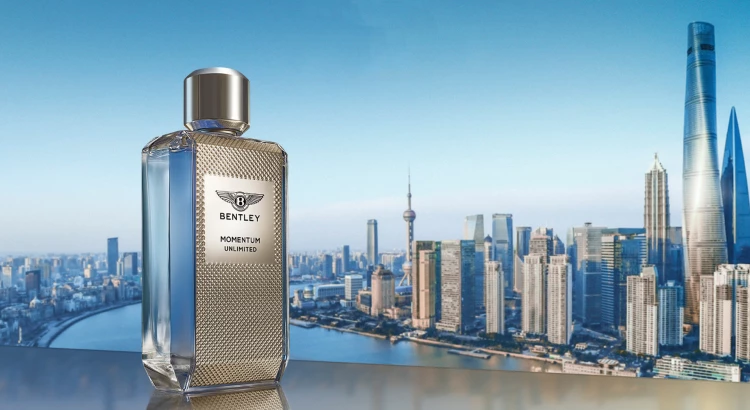 Photo by Bentley Fragrances
A modern scent for urban voyagers
A global traveller for business or pleasure, the Momentum Unlimited man enjoys the ultimate luxury: freedom. Successful, style-conscious and driven, the Bentley Momentum Unlimited man is inspired by the challenge. For him, the sky is the limit. His fragrance reflects his vision and expresses his personality. Its name, Bentley Momentum Unlimited, celebrates his force, speed and impetus - his momentum - but also his extraordinary freedom.
Thrilling contrast of crisp fruit and smooth leather
Crafted from the best-quality ingredients by Michel Almairac, one of the world's most acclaimed scent designers, Momentum Unlimited is a fresher interpretation of the Momentum line. This vibrant fragrance distils the thrill of travelling into an exciting contrast of fresh and sensuous notes.
The scent takes off in a fruity burst of bracing grapefruit and tart green apple, boosted by the citrusy brightness of cardamom. The heart notes reveal the signature accord of Bentley Fragrances: the wood and leather notes inspired by the luxurious interior of Bentley models. Three sophisticated essences, polished cedarwood, mysterious vetiver and sensuous sandalwood enhance the rich, yielding texture of the leather note. In the dry down, the scent lands smoothly in a sensual trail of skin musks and ambroxan, a quintessentially masculine amber note.
A fresh, polished fragrance, Bentley Momentum Unlimited expresses the exhilarating lifestyle of a contemporary man.
A contemporary twist on Bentley's signature knurling
In a bold variation on the sleek design of the original Bentley Momentum, the new Momentum Unlimited bottle is clad front and back with an interpretation of the marque's signature knurling. The trademark motif was conceived to be pleasant to the touch as well as to the eye. Embossed in shiny silver plates covering the bottle from base to neck, it adds sensuous tactility and strikingly graphic style to the flacon. In contrast, the bottle is crowned with a smooth, silver cap. Through the smooth, transparent glass flanks, the cool azure tint of the fragrance reflects the freshness of a wide-open sky.
Decorated with the iconic "B Wings" Bentley logo and the name of the fragrance, the front of the box reprises the knurling motif in shiny blue-tinged silver, framed by smooth matte silver.
Bentley Momentum Unlimited is offered as 100ml Eau de Toilette:
GBP 59 / USD 99 / EUR 82 / CHF 94