Black Hole Recordings presents Glace
If you're ready for something entirely different to draw the year to a close, Glace by J-Soul presents Andy Jaar could very well be it. Welcome to the consciously, delightfully leftocentric, kaleidoscopic world of J-Soul.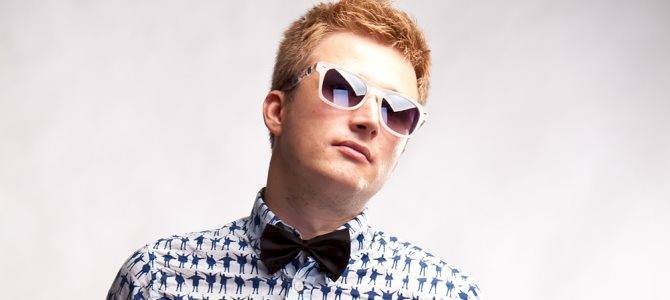 Photo by Black Hole Recordings
'A mystery wrapped in an enigma, bound in a monkey-puzzle', was how one journalist recently described him. 'An audio androgyny', 'a prodigy', 'a musician unregulated by stylistic borders' - even 'a genre-philanderer'. However he's dubbed, one thing's a given, he defies any pigeonhole. Welcome to the consciously, delightfully leftocentric, kaleidoscopic world of J-Soul.
As a musician, J-Soul's intriguing sound waves have been emanating out of his native Russia with ever-greater resonance throughout the last half-decade. Over that time he's cast an eclectic, electric musical spell through a string of releases and remixes on forward thinking labels like Re-Zone, Twisted Frequency, Curvve Records, Anjunadeep and a half dozen more besides. It is through Holland's Black Hole Recordings though that he's elected to make the jump to sophomore artist album. In a reversal of convention, highly characteristic of the artist, on 'Glace' J-Soul's pulled off the mask to present Andy Jaar - the man behind these routinely breath-stealing stylistic leaps. The core to his music still echoes through his pen name though. This is music made of many elements, served many different ways, but always sourced from the Soul.
'Glace' the album starts fittingly enough with 'Glace' the track. A chasm-deep progressive journey, it's alive with funkified bass, melancholically evocative analogue synthery, all wrapped in nouveau disco chic.
Going vocal, 'Glace' fields 'Not My Guy', which features the bluesy tones of songstress Creole. Her cooler vibe is subversively modified by Andy's pitch-wheel machinations and dubsteppin' distortions. With Matvey Emerson on its exceptional, upliftingly accessible song, 'Only Music Is Real' provides a fast ride into classily sculpted, yet beautifully discordant synth-scapes.
'Placed In The Dark' slides the album coolly onto echoing, crisply percussive techno territory. These melodies might appear minimal, but their cumulative effect exacts a big impact club-side. Further in 'Cube' uses the similarly tightly toned loops, but atypically through its super-heated pads, chords and glacial FX, it installs a magical dreamlike, almost filmic quality to its drop.
At that point the album shifts off the tech-tonic plate and flows into pastures new. Through its dazzling drum arrangements, visceral distortion and plenty of floor-ward facing EDM grind, recent single 'Akulla' rises from its early depths and at its apex explodes into euphoric trance life.
Pumping the album's brakes momentarily, tracks like 'Running Man' and 'Guitar Fish' take Andy's second album periodically into beatific, harmonic chillout territory. 'Hey' meanwhile updates the jacking old-skool house sound, mounting it on a rolling house groove, whilst simultaneously advancing the track with infectiously catchy vocal hooks. With an astonishing vocal & lyrical performance from Leusin at its core, 'Morning Light' escalates rapidly into a ripping electro-fired ride. Its sweeps plough in combusting FX and electric guitar thrash to seal its potent thrill.
An audio collage, a musical mosaic, even, unifying all these seemingly disparate elements into a cohesive, contemporary, start-to-finish long-playing listen is no easy task. As the fantastically spirited aura of the Moroder-esque 'Esoterique' triumphantly signs the album off though, you'll be in no doubt that its not only possible, but on 'Glace' a reality. If you're ready for something entirely different to draw the year to a close, 'Glace' could very well be it.
J-Soul Presents Andy Jaar - Glace
Release date December 2013
Label Black Hole Recordings
Tracklist
01: Glace
02: Not My Guy (with Ruslan Sever Featuring Creole)
03: Only Music Is Real (Featuring Matvey Emerson)
04: Placed In The Dark
05: Akulla
06: Running Man
07: Hey
08: Morning Light
09: Cube
10: Guitar Fish
11: Esoterique