Celebrating the 60th anniversary of the legendary E-type
Jaguar is celebrating the 60th anniversary of the legendary E-type in fitting style, with the release of an exclusive watch set and a rare whisky.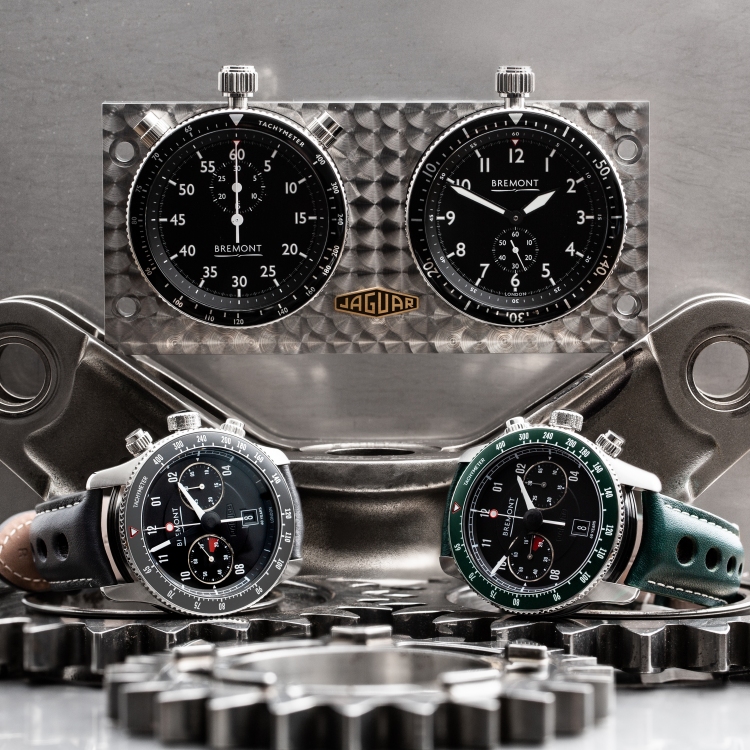 Photo by Jaguar Land Rover
British watchmaker Bremont has created a chronograph and rally-timer to mark six decades of the iconic sports car. The Glenturret distillery has released an E-type whisky, specially crafted to evoke its unique spirit.
Both commemorative items are strictly limited. There are only 120 examples of the Bremont watch box set - 60 each in green and grey, one for each year of the car's existence. The whisky is limited to 265 bottles, representing the horsepower of the launch-specification E-types, two of which completed demonstration drives in Geneva 60-years ago.
Each E-type-inspired Bremont Watch and Rally Timer Box Set includes a bezel chronograph in green or grey, the colors of the two cars that made their way to Geneva 60 years ago, as well as Bremont's first ever rally-timer. The combined stopwatch, tachymeter, and clock can be displayed on a stand or fitted to a customer's car.
All 120 customers will also get to drive three classic E-types on an exclusive visit to Jaguar's Fen End facility.
The Glenturret E-type 60th Anniversary Single Malt Scotch Whisky is crafted at Scotland's Oldest Working Distillery to evoke the E-type's charisma and spirit. Each bottle bears a design from Jaguar Classic and is presented in a custom wooden box together with a bespoke book and key ring.
It has a complex nose, sweet and oily with dark fruits, dried ginger and clean oak. Toffee apple and caramel coat layers of fruit with syrup and sweet spice.

Wood spices quickly accelerate on the palate then brake suddenly. Darker fruits pull forward, liquorice sweeps in and sweetness flows throughout. Maturing oak intertwined with wood spice is last to arrive bringing a sweet, spicy, and warming finish.
Bob Dalgarno Glenturret Whisky Maker
The Jaguar E-type was unveiled at the Geneva Motor Show, Switzerland, in March 1961. An Opalescent Gunmetal Grey 3.8-litre Fixed-Head Coupe registered 9600 HP was one of the first two E-types unveiled to invited guests. Driving flat out to Switzerland from Coventry the night before the launch, public relations manager Bob Berry arrived with minutes to spare.
With the overwhelming demand for drives with Berry, the legendary Jaguar test and development engineer Norman Dewis then drove a British Racing Green 3.8-litre roadster registered '77 RW' overnight to Geneva.