Timeless Luxury Defines New Bentley Iconic Classics Collection
The Iconic Classics collection of refined apparel and luxurious accessories embodies the essence of the Bentley marque with a new range of ladies' handbags.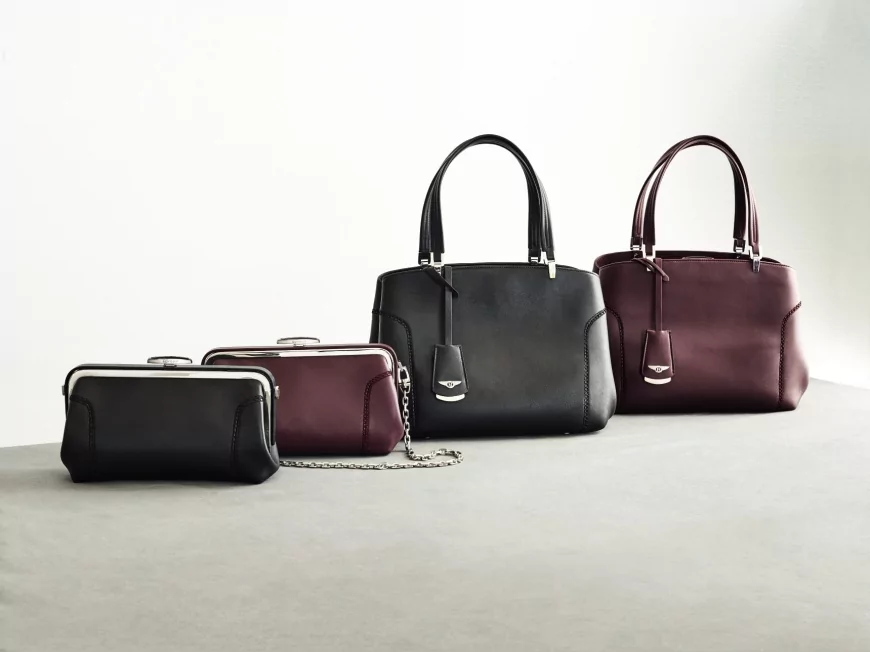 Photo by Bentley Motors
Drawing on the craftsmanship for which Bentley is renowned, and echoing the sleek, contemporary lines of the Continental GT, each sumptuous handbag has been meticulously crafted to exude sublime style and elegance. Subtle features, including leather cross-stitching and the unmistakable matrix grille pattern, discreetly echo the inimitable design of Bentley's celebrated grand tourer.
Bentley sources the finest Italian leather for its handbags and leather goods, handcrafted by skilled Tuscan artisans. Renowned as a world center of the finest quality leather production the area between Florence and Pisa continues traditional processes today, with leather being cut, fitted, sewn, and stitched by highly skilled artisans in "pelletterie" workshops.
Each bag takes between 15 and 20 hours to create, typically using 1.5 to 2 square meters of leather and incorporating impeccably fitted handbag frames. The exquisite cross-stitching detail is executed by hand, an extension of the meticulous artistry found within Bentley's car interiors.
Mary P Bag
The luxurious calf's leather bag, with a plush lamb's leather interior, combines a generous, natural shape with practical features such as three compartments, slip pockets, a detachable shoulder strap and a detachable wrist pouch. Bentley hallmarks include a removable wings emblem charm with polished metal mirror, diamond-quilted lamb Nappa leather on the central zipped compartment, Bentley wing-inspired front panels, and cross-stitched handles. The Italian-crafted bag is inspired by the adventurous and intrepid spirit of Mary Petre Bruce, a record-breaking motorist, speedboat racer, and aviator in the 1920s and 1930s. In Beluga, Rich Plum, Light Graphite.
Mini Mary P Bag
The mini version of the Mary P bag embraces many of the same exquisite features in a neat, bijou format. The leather-lined interior conceals a slip pocket for mobiles and a side zip pocket. Bespoke metal embellishments include a detachable charm featuring the Bentley wings emblem, polished metal mirror, and bespoke palladium plated metalware. Cross-stitched handles and a detachable shoulder strap complete the look. In Beluga, Rich Plum.
Mary P Tote Bag
The elegant tote is spacious yet elegant. Practical features within the diamond-quilted Nappa leather interior include a wide side zip pocket, slip pockets for mobiles, and detachable wrist pouch and shoulder strap. A removable wings emblem charm and polished metal mirror, bespoke palladium-plated metalware, and front panels that echo the Bentley wings silhouette complete the look. In Beluga, Rich Plum, Light Graphite.
Diana B Handbag
Combining irresistible elegance with superior functionality, this classic handbag is sculpted from supple yet enduring calf leather and features beautiful hand cross-stitching, echoing Bentley's styling lines to the exterior. It offers three compartments, including a closed center section with diamond quilt lining, secured with a baguette-shaped clasp featuring the Bentley knurl pattern. It also features a reassuringly soft opening and closing mechanism. The Italian-crafted bag is named after the pioneering aviator and daughter of Bentley Chairman Woolf Barnato. In Beluga, Rich Plum.
Diana B Clutch
Classically chic, the luxurious leather clutch is enhanced by elegant hand cross-stitching on the front panels, a baguette-shaped clasp featuring the Bentley knurl pattern, and a soft opening and closing mechanism. The diamond-quilted interior contains a mobile phone slip pocket while a detachable chain adds versatility. In Beluga, Rich Plum.
All Bentley's leather goods bear a hallmark of unsurpassed quality and excellence, mirroring Bentley's own commitment to the highest standards of luxury.

Pricing  
Mary P & Diana B Handbags
£1,550 - £2,750  (incl. VAT)
$2,165 - $3,840  (excl. tax)
€1,670 - €2,960  (excl. tax)