Cosmic Gate presents Back 2 The Future
Cosmic Gate presents Back 2 The Future - The Classic From 1999-2003 Remixed. Due for release January 24th, 2011.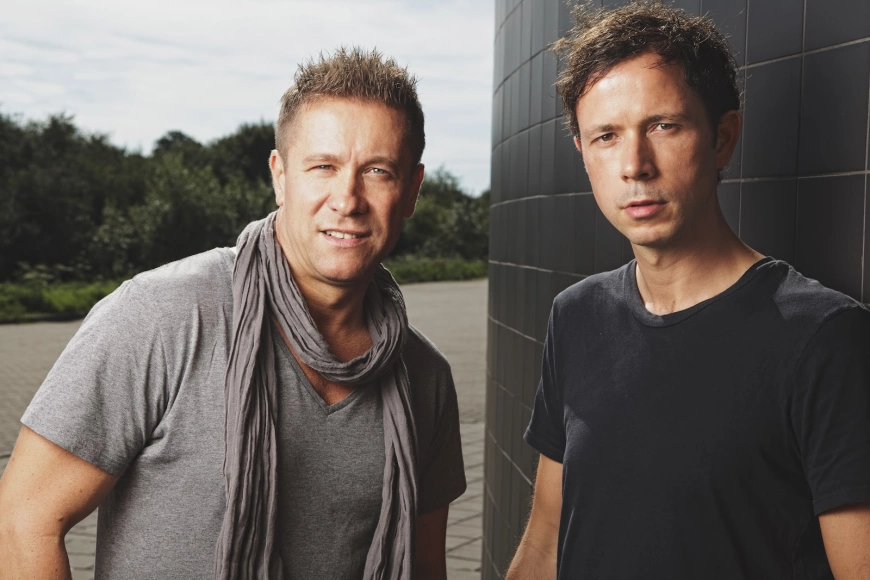 Photo by Black Hole Recordings
With the Deluxe Edition of their mega-selling 'Sign of the Times' album now released, world-class production outfit Cosmic Gate (Stefan 'Bossi' Bossems and Nic Chagall) decided it was time to take a retrospective remix look at the tracks that shaped the first phase of their musical partnership.
"Back 2 The Future is an album born largely out of a necessity for us" says Bossi. "Wherever we DJ we're always met with requests to play tracks from the first two Cosmic Gate albums. As time has gone by sounds have changed, music's changed and it's become progressively tougher to program many of them into our sets. We still love them; the audience still loves them, but in their current form they no longer sit right… so we decided to remedy the situation."
Nic continues: "We thought we'd start by testing the water with a couple of tracks that we'd reworked ourselves. The responses we got were really something and that pushed us on towards a full album. Both Bossi and I are continually inspired by many different types of electronic dance music, so whilst we wanted plenty of trance remixes on there, we also felt it would also be good to spread the mixes wide and bring other styles into play".
From there they collectively drew up a wish-list which came to include some of the world's most respected remixers. There were assembled and began to update the music that played a key part in the first four years of their careers. The albums 'Rhytm & Drums' and 'No More Sleep' were the musical resources and across the two long-players eight tracks were selected.
Likely needing no introduction, 'Fire Wire' was long ago ushered into the electronic dance music hall of fame. From the trance quarter Rank 1 and the Cosmics themselves have both got to grips with it reworking it using tougher, leaner more minimal methodology, while Wippenberg delivers a more atmospheric, progressive vision. Expanding its range further brothers Dimitri Vegas & Like Mike give it a dramatic, thudding tech-elec treatment whilst DJ Delicious (of Till West & DJ Delicious - 'Same Man' fame) ups the house ante with spring-loaded bass & funked out, rhythms, turning Fire Wire into a fully fledged (and never previously envisioned!) rump shaker.
Cut originally from much the same musical cloth, 'Exploration of Space' has been given a bang-up-to-date trance overhaul from C.G. , while Dirty Herz, works it over into a stripped-back, growling electro thriller and German pair Spencer & Hill plump for an atypical funkin' version-excursion.
A couple of names on Nic and Bossi's remix shortlist also happened to be two of Miami's best-known producers and, quite by chance, they both elected to revisit the same track. While they might live in the same city, style-wise what they've done to 1999's 'The Drums' is worlds apart. Markus Schulz uses bellicose beats, snares, rimshots and modulating synths to bring it into the main room… and for peak-time. On his 'Juicy Mofo' Mix, Robbie Rivera lowers 'The Drums' tempo and uses a synth stabs and fiery distortion riding atop of rocking beats to create equal amounts of mayhem for bouncier, housier floors.
Jumping forward to 2002 (or Back, depending on which way you look at it!) a trio of bright, young remix things were sent to tackle 'Human Beings'. Arnej, Estiva and Daniel Kandi have re-pointed the track into tech, melodic and euphoric directions respectively. If you like your trance, bottom line: there's a remap here for you!
Again emphasizing the broader range of remixology on the album, Russia's Arty delivers a hypnotizing melodic middle to his mix of 'Back To Earth' (2001) but bookends it with thudding, tempestuous beats and wave after wave of distortion. Jochen Miller keeps things smoother in the build, before letting rip with a strident, tubular synth out in the break.
Bringing the compilation to its conclusion, the four final remixers selected their favourites from the C.G. archives. Germany's Duderstadt takes 'Raging' (2000) on an effortlessly beautiful, hypnotic/melodic trip, whilst Russia's Alexander Popov uses Jan Johnston timeless vocals to give the track a more main-room flavour. John O'Callaghan goes pedal-to-the-production-metal on 'Melt To The Ocean' (2000) with a mix that first booms, then pounds, and ultimately reaches force 10 coming out of the drop. Last and by no means least Tobias 'Cold Blue' Schuh flexes his production muscles with a bass-racing, pulse-quickening re-rendering of 2002's 'The Truth'.
'Back 2 The Future – The Classic From 1999 – 2003 Remixed' provides the consummate bring-back for the music that set the scene for Cosmic Gate's illustrious production career. It's out on January 24th, 2011.
Cosmic Gate - Back 2 The Future – The Classic From 1999 - 2003 Remixed
Release date January 24th 2011
Label Black Hole Recordings
Tracklist
CD 1
01. Exploration Of Space (Cosmic Gate's Back 2 The Future Remix)
02. Fire Wire (Cosmic Gate's Back 2 The Future Remix)
03. Raging feat. Jan Johnston (Duderstadt Remix)
04. Back To Earth (Jochen Miller Remix)
05. Human Beings (Estiva Remix)
06. The Truth (Cold Blue Remix)
07. Fire Wire (Rank 1 Remix)
08. The Drums (Markus Schulz Remix)
09. Melt To The Ocean (John O'Callaghan's Main Room Remix)
CD 2
01. Back To Earth (Arty Remix)
02. Fire Wire (Wippenberg Remix)
03. Raging feat. Jan Johnston (Alexander Popov Remix)
04. Exploration Of Space (Spencer & Hill Remix)
05. The Drums (Robbie Rivera Juicy Mofo Remix)
06. Fire Wire (DJ Delicious ReWire Fire Mix)
07. Human Beings (Daniel Kandi's Human Society Remix)
08. Exploration Of Space (Dirty Herz Rave-O-Lution Remix)
09. Fire Wire (Dimitri Vegas & Like Mike Remix)
10. Human Beings (Arnej Remix)