Cri Du Coeur presents Big Blocks EP
Arkham XXX label boss Cri Du Coeur announces a weighty techno EP with remixes from Umwelt, Florian Meindl, Hush & Sleep, and more.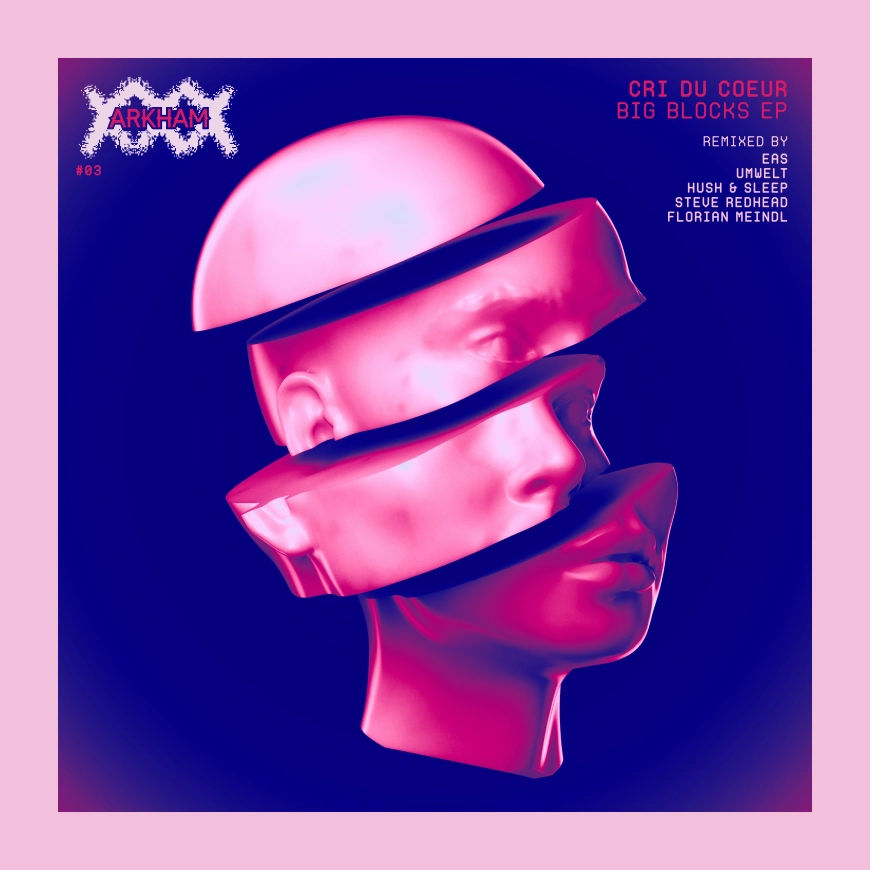 Art by Arkham Audio/Arkham XXX
The alien sequencers of "Mopar" open up Cri Du Coeur's "Big Blocks EP" with droning drums and elusive acid. Intensely hypnotic elements are balanced faultlessly with rugged drums, as is the case in "Hemi," where vibrant, hallucinogenic synths counteract the immense weight of the kick. "Duster" picks up the pace, breakbeats footing its rhythm as distorted signals move up and down throughout, after which "Flathead" rounds off this spacey yet functional set of tracks, warping in with a rough edge, bright squelch and intense groove before a star-studded cast of artists remixes the package.
First up, Umwelt lends his dystopian sound to "Mopar," amping up its drums with an extra layer of crunch and providing the track with mythical scale via overpowering synths. LA's EAS is up next with a remix of "Hemi," turning it into an ardent hard techno track, with FLASH Recordings boss & sound design wizard Florian Meindl providing a new version of "Duster," maintaining the original's trippiness via mesmerizing vocals while introducing firmness through solid drums. Lastly, "Flathead" gets remixed twice, first by Belgian techno veteran Steve Redhead, who infuses it with a fresh dose of acid, and a second time by Ellora Records honchos Hush & Sleep, who offer their signature hardcore techno sound to the release.
Jerome Delfosse, AKA Cri Du Coeur, is known for his outstanding contribution to Belgium's dance music scene. He's behind aliases such as G-Rome and The G, bookings at festivals such as Les Ardentes and Transardentes, and events such as Defcon, LGNDZ UNLTD, and Tape Tape before ultimately starting his imprint Arkham Audio and its sublabel Arkham XXX under his current moniker. The latter has already hosted local talents such as Bad Brahmin and H! Dude, accompanied by remixers like D.A.V.E. The Drummer, Tred, Rudosa, and many more, with this follow-up release from Jerome cementing the new outlet as one of the most promising techno labels coming out of Belgium.
Cri Du Coeur - Big Blocks EP
Release Date 30th June 2023
Label Arkham xxx
Tracklist
01. Mopar
02. Hemi
03. Duster
04. Flathead
05. Mopar (Umwelt Remix)
06. Hemi (EAS Remix)
07. Duster (Florian Meindl Remix)
08. Flathead (Steve Redhead Remix)
09. Flathead (Hush & Sleep Remix)