Digital Beings L.P (Sampler) by Suso Flores
Ahead of the release of a full-length album from Suso Flores, the Igloo Records label serves up a mouthwatering teaser sampler, which features five brilliant tracks from the LP.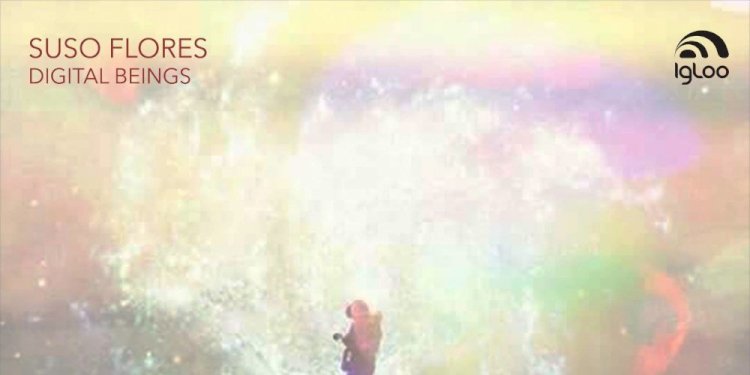 Photo by Igloo Records
Suso Flores has been firmly entrenched in the London electronic and experimental scene for years, with music coming on prestigious Canadian Labels such as Achipel and Kalimari. He is a devoted circuit bender plus an improv performer and experimental vocalist, toying with vocal resonance and tonalities within his compositions. With a passion for DIY electronics he has left behind his former, straighter house and techno sounds for more weird and wonderful sonic experiments and live gigs using his own gear. His mind is as colourful and expressive as his music and he is able to express a beautiful melody with ease, as this taster EP proves.
Playful opener 'Giraffe' is a freaky cut with lithe synth lines and elastic drums that dart and shoot about in all directions. It makes for synapse firing listening and some wordless vocals also get wrapped up in the mix along with what sound like seagulls, fax tones and many more well designed sounds. The loose electronic beat that is 'Travelling In Timeless Space For Real Love' feat. Christa Duran is tripped out and space-y, with tumbling drums, more ad libbed vocals and plenty of golden, modulated synth lines wiring the whole thing up. It sounds like little else and is a truly dynamic concoction.
The deliciously deep 'Future Nostalgia' with James Le Roux is a tender affair with twinkling, late night and starry melodies dappling a supple and subtle house groove. Full of warmth and human emotions, it's a beautiful bit of work. 'Digital Beings' continues to confound expectations, with dolphin calls and rugged bass lines, harmonic chords and hi hats slithers, this one is a fine fusion of many different sounds and styles and is as elegant and ornate as electronic music comes. Closer 'Reunion (Higher Fusion Self Mix)' once again shows Suso's love of a free-floating synth, expansive atmosphere and glassy key line.
This EP, and thus the forthcoming album overall, is somehow organic yet synthetic, and the whole thing stirs emotions that dance music doesn't normally reach.
Suso Flores - Digital Beings L.P (Sampler)
Release Date 15th February 2016
Label Igloo Records
Tracklist
1. Giraffe
2. Travelling In Timeless Space For A Real Love
3. Future Nostalgia
4. Digital Beings
5. Reunion