Dimensions Festival 2021
The Dimensions Festival 2021 is an underground electronic music festival held in Croatia, perhaps one of the most amazing festival locations ever imagined.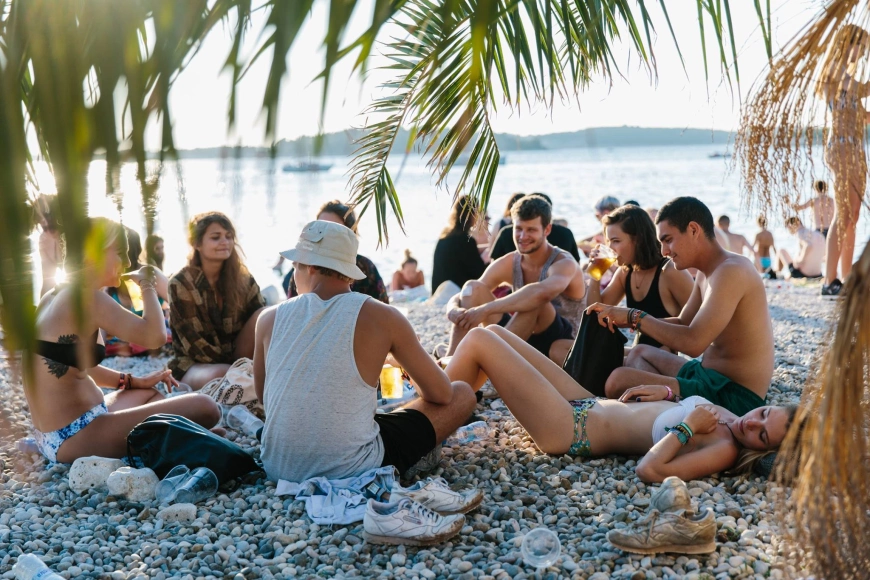 Photo by Kate Berry
Heading down the Croatian coast, Dimensions 2021 will take place between the 1st-5th of July across three stunning locations; the idyllic Garden Resort in Tisno, a fortress-top Amphitheatre in Sibenik in addition to starlit dancing at the world-famous Barbarella's Discotheque.
Dimensions' next chapter will be a continuation of the festival's heritage, with the same commitment to programming, sound quality, spirit, and a continued nurturing of a close-knit community of labels and club partners will remain - adding the signature Dimensions touch to the Garden Resort.
A slice of paradise nestled on the Dalmatian coastline, the Garden is blessed with crystal clear azure Adriatic waters, baking sunshine, and star-lit night skies. It's an intimate setting that has become a sought-after destination for a global crowd of music lovers.
Located just a ten-minute walk away, the local town of Tisno is a lovely fishing village, blessed with beaches, great restaurants bars, and bakeries, and high-quality hotel and apartment options. It's the ideal base from which to do Dimensions in style.
When 2nd-6th of September 2021
Where The Garden Tisno, Ul. Petrića Glava 34, 22240, Tisno, Croatia
Lineup
Aletha / Ash Lauryn / Awesome Tapes from Africa / Batu / DVS1 / Kosh (live) / Zip / Margaret Dygas / Francesco Del Garda / Evan Baggs / Donna Leake / Liquid Earth / Pangaea / Overmono (live) / Stevie Cox / Sugar Free / Marcellus Pittman / OK Williams / Nicolas Lutz / Helena Hauff / DJ Stingray / Le Chocolat Noir / Zarkoff (live) + many more