The Ferrari Roma
The Ferrari Roma, the new mid-front-engined 2+ coupé, features refined proportions and timeless design combined with unparalleled performance and handling.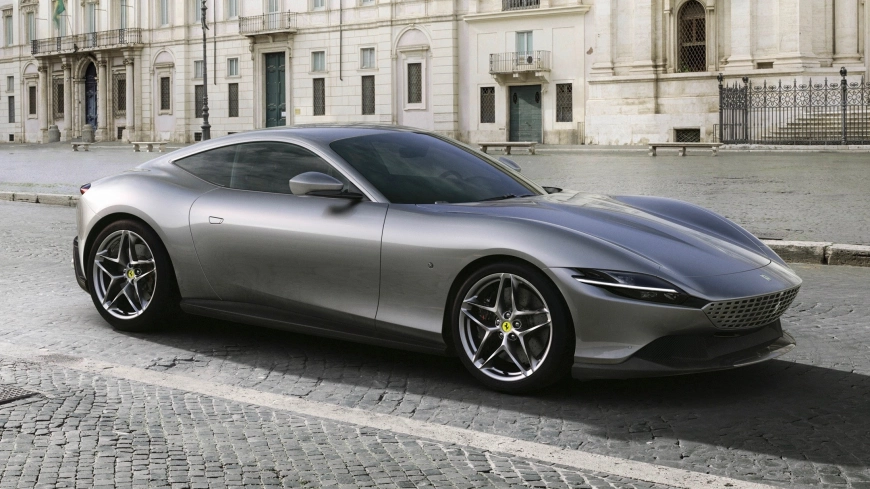 Photo by Ferrari
With its distinctive flair and style, the car is a contemporary representation of the carefree, pleasurable way of life that characterised Rome in the 1950s and '60s. More specifically, it's a nod to the foundational Ferraris from the mid-twentieth century, cars like the 250 GT and the 275 GTB, which were born in a time when Italian film and fashion and design made everyone drool with desire and lust.
The approach was taken by the Ferrari Styling Centre for the Ferrari Roma's exterior centres around clean design and absolute symbiosis between its various elements with harmonious proportions and pure, elegant volumes. To underscore that formal minimalism, all superfluous detailing has been removed.
The Ferrari Roma represents the pinnacle of performance in this category, thanks to its turbocharged V8 from the family of engines that have won the overall International Engine of the Year award four years running. In this version, the engine reaches 620 cv at 7500 rpm and is coupled with the new 8-speed DCT gearbox that was introduced on the SF90 Stradale.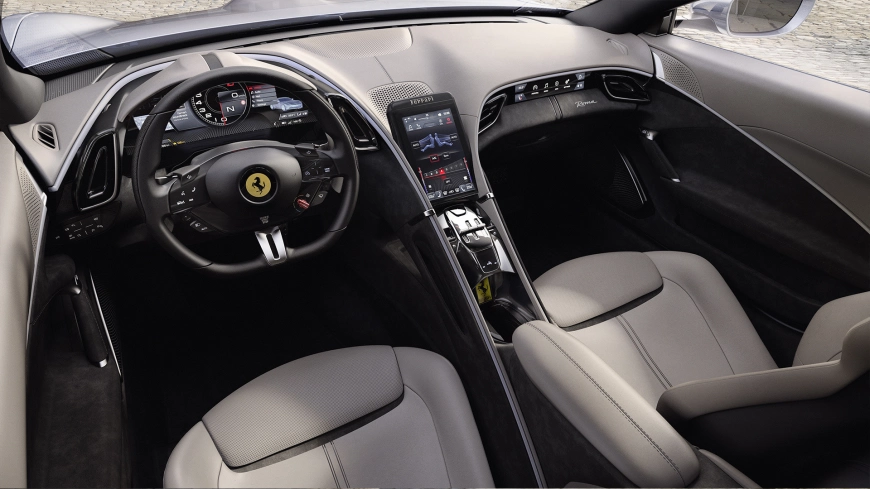 The Ferrari Roma's chassis benefits from the modular technology developed by Ferrari for its new generation models. Both the bodyshell and chassis have been redesigned to incorporate the latest weight reduction and advanced production technologies. In fact, 70% of its components are entirely new. The mid-front-engined 2+ Ferrari Roma has the best weight/power ratio in its segment (2.37 kg/cv) which enhances handling dynamics and responsiveness.
The new formal approach to the interior led to the creation of two driver and passenger safety cells, an evolution of the Dual Cockpit concept. Surfaces and functions are organically distributed in the cockpit, which is defined by elements that unfold seamlessly around the concept and perception of space.
Unlike Ferrari sports cars, typically built around the figure of the driver, the cockpit of the Ferrari Roma has an almost symmetrical structure. This makes for a more organic distribution of space and functions so that the passenger feels extremely involved in the driving.
In line with the integrated architecture approach, the forms have been modelled plastically, defining a sculptural volume in which the interior elements are in material continuity with each other and a natural consequence of each other.
The two cockpits, created by slimming down the volumes and emphasised by straps that mark the perimeters, are enveloped in a volume that extends from the dashboard to the rear seats, organically integrating the dashboard, doors, rear bench and tunnel.