Ferrari SP 275 RW Competizione
Ferrari recently revealed the latest bespoke one-off car for a collector. The slightly bonkers, but equally beautifully executed Ferrari SP 275 RW Competizione, paying homage to the iconic 275 GTB from the 1960s.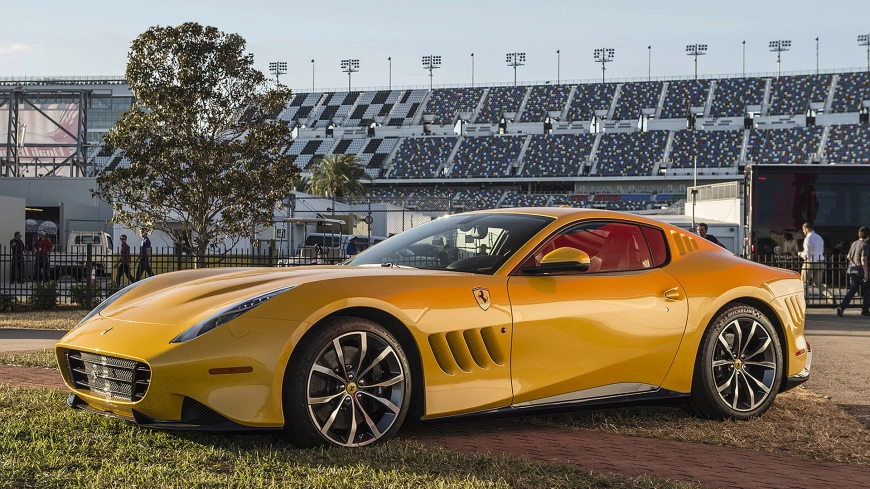 Photo by Ferrari
Designed under the direction of Ferrari's Styling Centre with the collaboration of Pininfarina, the latest Ferrari one-off model, the SP 275 RW Competizione, is built on the chassis of the F12berlinetta but equipped with the more powerful V12 engine and gearbox from the limited-series F12tdf.
Drawing inspiration from the 275 GTB, one of the most iconic front-engined V12 Berlinetta's of the 1960s, the SP 275 RW Competizione features a thoroughly modern interpretation of some of the themes that give the 275 GTB its Berlinetta connotation, such as the quest for the ultimate balance in proportions and the pure and curvaceous surface treatment.
The stance of the car, particularly in the muscular transition from the rear three-quarter panel to the wheel arch was carefully refined with a slightly wider track to express potency over the rear wheels and confer a rakish attitude.
The characteristic front engine-bay vents of the 275 GTB are an evident styling cue, as is the adoption of the triple louvres in the three-quarter panel in place of the F12berlinetta's B-post quarter lights. The louvres on the rear bumper, together with the pronounced nolder on the tail and milled aluminium fuel filler cap, recall instead the special competition-developed 275 GTB (chassis number 06885) that won the GT category in the 1965 Le Mans 24-Hour race, coming home an impressive third overall behind the winning 250 LM. The yellow paint scheme is also a tribute to that 275 GTB, echoing its Ecurie Francorchamps team colour.
The front features a closed perimeter Ferrari grille with a prominent yet smoothly integrated bonnet bulge, while the slim, vertically-stacked headlights and forged 20" alloys are unique to this car.