Future Disco presents Technicolour Nights
Iconic disco imprint, Future Disco start a new chapter with a first-ever heavyweight double vinyl album that comes with beautiful bespoke art and photography.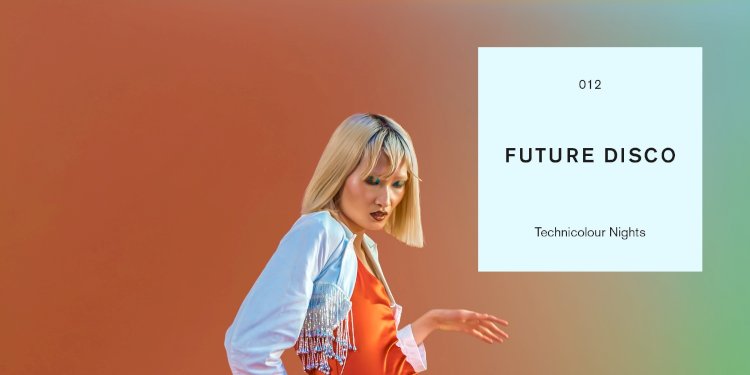 Art by Future Disco
The 17 track collection will also be available digitally and brings together the very best names in the game from Metro Area's Darshan Jesrani to Jamie Jones, Kraak & Smaak to Mylo, Art Alfie, and Cinthie, with a special launch party at Mick's Garage in London in early May.

It's been ten years since Future Disco arrived with the seminal first edition "A Guide To 21st Century Disco" and since then they have gone on to release over 20 albums and host countless worldwide parties and radio shows as well as serve up disco that is both party-starting yet deeply interesting. To mark a decade at the forefront of the scene, the label offers up this on-point selection of contemporary disco that comes with a solid nod to the past and features a striking new design.
So often with Disco, we look back with retro feeling, when in fact disco culture has always been about progression, pushing boundaries and new ideas. So much originated or flourished, within Disco; the remix, the 12inch record, mixed clubs, incredible club soundystems. We hope to continue that legacy with new ideas, new music and a new visual approach to keep pushing and breaking down those boundaries. With the new design collaboration, we hope we can truly live up to the name future disco.
Sean Brosnan
Across the fantastic collection, rising stars like Berlin's Cinthie, New Zealand's Flamingo Pier, and Paris's Yuksek all comfortably sit next to more established names like Jamie Jones who reworks Teddy Pendergrass, Metro Area's Darshan Jesrani who remixes Galaxians, and the original Destroyer of Rock and Roll, Mylo. There are plenty of exclusives too, with two Future Disco edits from compiler Sean Brosnan and two exclusive tracks, one from aforementioned superstar Mylo and one from rising star Kiwi.
All in all, this most cosmic and colorful collection covers plenty of different moods and grooves. It will take you up and bring you back down, dazzle with its uplifting grooves and also take you to deeper corners of the disco world.
Once again, Future Disco proves it is the only label lovers of disco past, present, and future need in their life.
Various Artists - Future Disco - Technicolour Nights
Release Date May 2019
Label Future Disco
Tracklist
1. Flamingo Pier - Hold It
2. Mylo, Louis Loche - Lovers (Mylo edit)
3. Bertrand Burgalat - Etranges Nuages (Yuksek Remix)
4. Teddy Pendergrass - Life Is a Song (Jamie Jones Remix) - bundle only
5. Arthur Reynolds - Something Strange (Nicolas Remix)
6. The Funk Hunters - Party rockin (Kraak & Smaak Remix)
7. Sink Ya Teeth - If You See Me (Future Disco Edit)
8. Galaxians - how Do U Feel (Darshan Jesrani Morning Remix)
9. Kiwi - Midnight Driver
10. Art Alfie - Bondkatten
11. Cinthie - Ada Lovelace
12. Gimbrére - A Thing
13. Darshan Jesrani feat. Charli Umami - Take Me
14. Life On Planets - Get Loose
15. Ridney - Goodbye Great Man (Future Disco Edit)
16. Khotin - Aloe Drink (Force Of Nature Remix)
17. Cults - Offering (Mike Simonetti Remix)