Interview with Miss Jarea
Proudly wearing the crown as Norway's Hardhouse bitch number 1, we caught up with Miss Jarea or Magdalena as her real name is. We figured a very angry girl with loads of attitude and balls like a real man, but we found a really nice girl; Miss Jarea.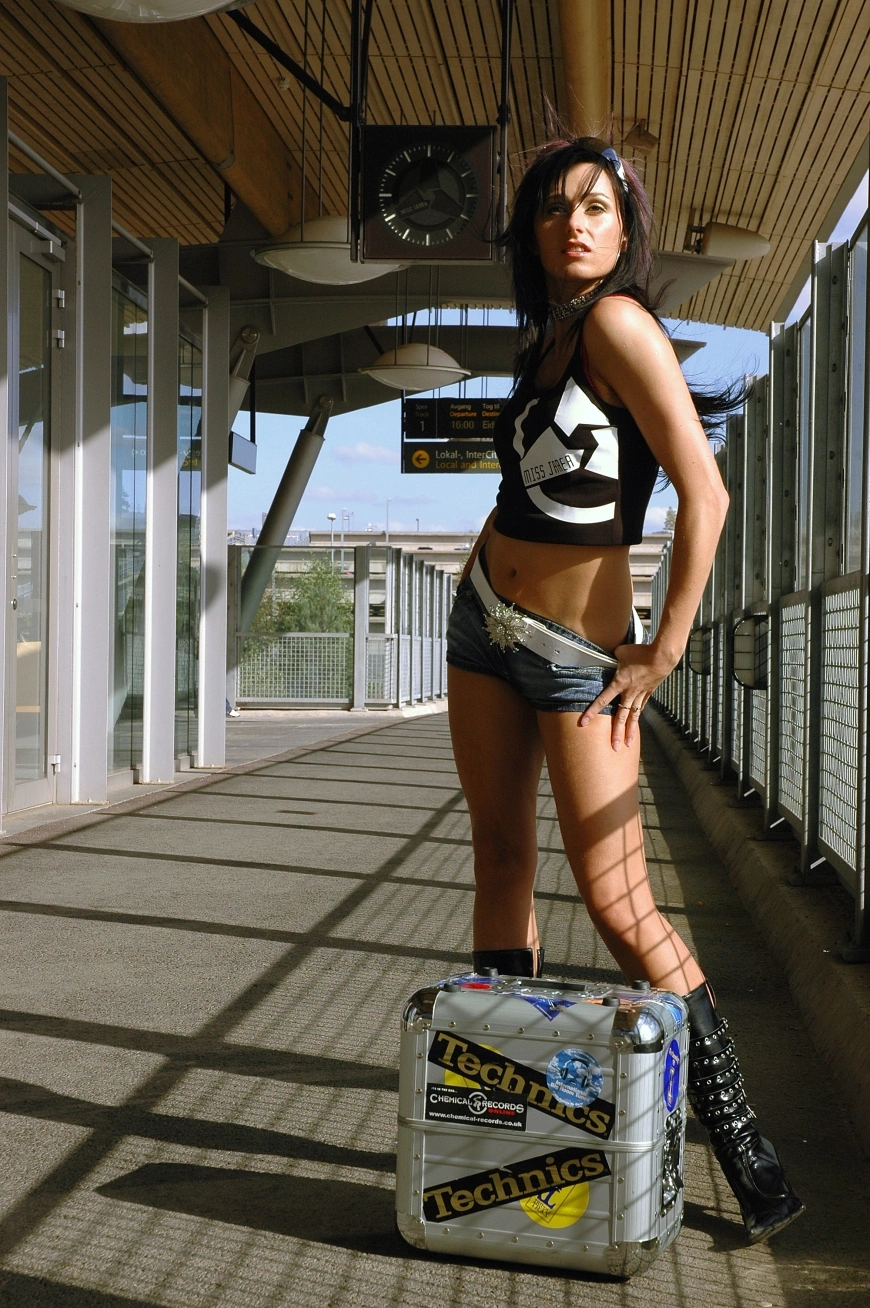 Photo by Magdalena Katarzyna Lipska
Proudly wearing the crown as Norway's Hardhouse bitch number 1, we caught up with Miss Jarea or Magdalena as her realname is. We figured a very angry girl with loads of attitude and balls like a real man, but we found a really nice girl, who is more down to earth, then most DJ's. Who would have thought that this lovely and sweet person is playing such hard and banging tunes as Miss Jarea does?
Well, things aren't always as they seem to be sometime, but nonetheless, Magdalena is a really good DJ and people person, who really knows what she wants and what she is looking for, when it comes to music, Djing, producing and achieve her goals. Magdalena has recently put out a track on Shock Records in the Uk together with the Dutch queen of Hardstyle; DJ Dulce, which is one of those tracks that really wants you to start moving.
Tell us about yourself, who is Miss Jarea?
As an artist, Miss Jarea is Norway only female UK Hardstyle DJ that has ever played abroad and produces her own music. Still it is my appearance that does the trick. Madly bouncing behind the decks as i become one with the music, rocking like mad so the needles jump, making the people scream for more...
On the private side, I'm as energic and hyper as behind the decks. Being a positive and funny person, extremely social, I always have a dozen balls in the air at all times. I love making new friends, and I talk A LOT, Running between cafes, meeting mates and fans, I love nerding on my laptop and i put allot effort in networking 24/7 to achieve my goals in the future. Besides I spend a great deal time in the studio, producing and learning to use the TB 303.
I'm almost done with my Master in Telecommunications at NTNU University in Trondheim, Norway. Also i work as an aerobics instructor in Amsterdam, where i have moved to now, due to producing and my residency on HardThrills.
You've worked as a go-go dancer as well, how come the switch to Djing?
HAHAHHA a gogo dancer??? HIHIHI that is the funniest thing i have ever heard, hihi, a go-go dancer is the same as a stripper, i can't seem to recall ever doing that... BUT before i begun spinning, a close friend of mine, Inge Nilsen aka DJ Lemon; owner of Hyperstate, BaiaBeach and FutureDome, asked me to dance on stage on those venues while the dj's played. Being a person who loves attention, i got the biggest thrill of my life rocking on the stage infront of 10.000 people!!! The kick i got was undescribeable!!!
After attending numerous parties all across Norway, i figured out that dancing didn't give me the desired attention on the stage, and so i seriously decided to learn how to spin. I went on the Internet, sent out thousands of emails requesting promo help as i just had started to spin. I begun ordering tunes from Chemical Records and started to work on my DJ skills. A couple of months later, I bought a set of Technics SL1210 and run off to London for some serious shopping. Returning to Norway with a big TidyTrax labelled Bag filled with the hottest Hardstyle and NuNrg records, most of them not even out yet. I will never forget the eyes of my co dj's when i spinned the first time at Club i.d, it was great to have promos 3 month before any release.
What would be your profession today, if you didn't start DJing? Would you still be dancing?
If it had not been for the djing, i think that i would by now be having my Master Degree in Telecommunication (that is not yet finished due to me focusing on the music and therefore late with my diploma). I would also continue having aerobic classes and breakdancing. I would think that i would not be dancing at the raves anymore. As my mates who were the organizers of the big venues, and who always payed all my travel expences to the partys, have retired. Nowadays people don't pay dancers in Norway, and i'm not gonna waste my cash on flight tickets to be able to dance.
Tell us, how is it being a female dj in the very man dominated DJ industry?
It's tough, very tough. As a female dj you are always accused of getting gigs due to looks, people claiming you sleep your way to the top, that you can't really spin and so on... There are many really good dj's out there, but unfortunately not all of them have that little extra spark in their eyes that make them a lust for the crowd, no matter if they are a boy or a girl.
How would you say that dance music has changed since you started, 3 years ago?
In my opinion, the good year 2000 trance has become to commercial pop music, my generation has somehow turned towards harder music or more relaxing music like techno or progressive house/trance. At the same time the younger generations hunger for faster and harder music. We are heading for a future where the hardcore is on it's way back, and to be able to hold on to the tempo, the drugs are becoming pop again. It's sad that people cant enjoy the music without them.
If you were to choose 5 producers that you would like to produce tracks with, which ones would it be?
BK- He's a fucking genius!!! Always ahead of every other prod. with his great and innovative sounds and tunes
Ed Real - Getting a Track signed for Nukleuz has always been a dream, having one with the owner of the label would be even greater
Fallout Boy - The guy never stops amazing me, his tunes on Bulletproof are my favourite tracks of all time. I include at least 2-4 of his tunes in every set.
Tony de vit, because he championed and almost single-handedly created the Hard House sound...he's a DJ Legend! Too bad he has passed away
Lisa Lashes. I'd like to see how a pro female dj is working with productions.
Which is the BEST memory you have from a DJ gig?
The best memory so far, is my gig in Luxembourg, The 7DJ's MIX Techno Event in June. Having 5000 people screaming for more with their hands in the air at the end of the set, was a kick beyond belief
Which is the WORST memory you have from a DJ gig?
In the break of one of the coolest white labels i have, one of the other dj's grabs the mic and says in a 'sleepy boring voice' "put ya hands up for dj mis jajeraaaaaaaaaaaaa"... (misspelling my name too), till this day I hear his voice in my head when i play the tune. Sadly.
What would you say is the best club you've been at or played at and why was it so good?
The best club I've ever played at was Potpurriet in Oslo, Norway. This is a gay club and I was playing on lady's night. After midnight the men were let in and the place was packed! Steam was raining from the roof and the mood in the club during 'Access' and 'Fuck Me' was awesome, In time and sexy.
What kind of setup do you have at home for practise and mix cd making?
DJM500 mixer, 2 Technics SL1210 MK3, 2 Technics MK2, GEMINI PS-626 3 Channel Mixer,SONY MDR V700DJ Headphones, CDJ800 cd player. All connected to a PC where the stream gets recorded.
As a producer, what are you looking for in a track, if you were to remix it?
Catchy groove and goosebumps when i hear the original version.
What kind of gear do you have in your studio?
PC (cubase, logic and all plugins included (KONTAKT ECT)) and TB303 (still learning how to use this little sexy thing)
What do you have planned for the summer of 2003, where can we hear you playing?
Recording a new demo (done), getting signed for a booking company in NL, passing my exams. Playing on Hard Thrills (NL) with Ed Real, then on an opening party in LA (US) in September, and spending time in the studio, learing to use the 303 so that i can use it on my gigs to impress ED and making 1-2 new tracks.
Please list your favourite all time top 5 tracks that have changed you and your music?
1. ACCESS - DJ Misjah
2. Future acid house - Lisa pin up
3. The witch - Lab4
4. Wanna ride - BK
5. Welcome to the club - X traxx