John Tejada presents Resound
Resound, is the latest creation from esteemed Los Angeles-based electronic artist John Tejada, and his 15th solo album.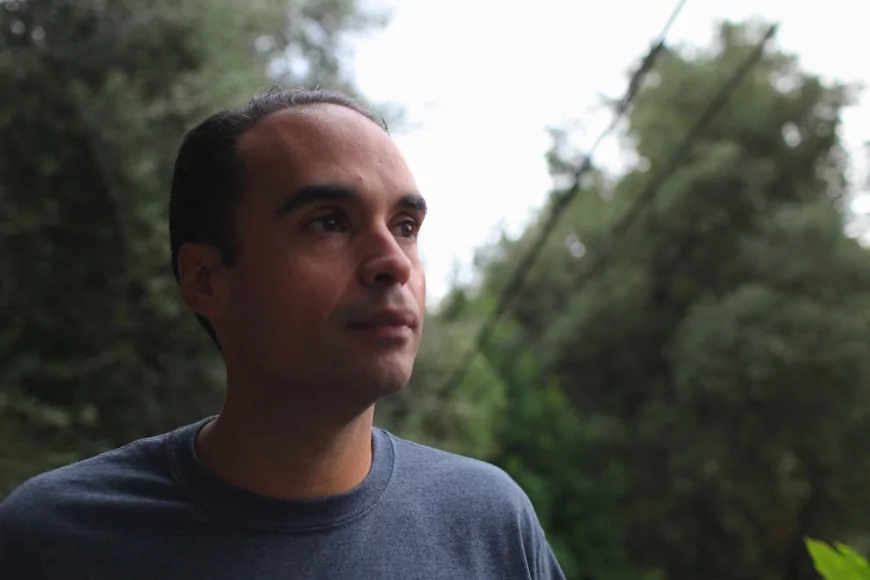 Photo by Palette Recordings
Palette Recordings presents Resound, the latest creation from esteemed Los Angeles-based electronic artist John Tejada, and his 15th solo album. With a November 3, 2023, release date, Resound is a sonic exploration weaving intricate layers of sound through walls of feedback and dirty delayed textures that have been integrated with classic analog drum machines. Synths are bent, stretched, and distorted, creating almost guitar-like tones that reveal a new experience with each successive listen. Resound will be preceded by the lead single, "Simulacrum," on October 20, 2023
The album spans a concise thirty-six minutes across seven tracks. Its brevity is a deliberate artistic choice. Tejada's decision to omit non-essential compositions results in a focused auditory experience. The LP marks a departure from past creative methodologies for the artist, embracing a newfound direction.
Resound draws from key - music, and film - inspirations from Tejada's own life. The musical influences are genres apart but blend into a perfect recipe. Amplified feedback, reminiscent of guitar-driven music, mixed with drum machines and techno basslines, crafts a unique aural signature that makes this Tejada's most personal album in years. A huge film fan, certain song titles pay homage to cinematic influences that have struck a chord with him. Echoing prescient sci-fi visions, the artist hopes to convey moods of reflection and discovery, mixing old with new.
The album's lead single, "Simulacrum," serves as an evocative prelude to the compositions that follow. Anchored by a potent drum track interwoven with breaks and an analog bassline, it embraces the intricate dance between twisting, detuned feedback, conjuring a bittersweet, yet harmonious, fusion of raw beauty and rhythmic intensity. "Someday" gives pause to the pace of "Simulacrum" as the most somber moment on the album. Soft synths become intentionally noisy and deteriorate through delays.
The track "The Disease of Images" occupies a sonic space between the preceding tracks, driven by a longer motif that sits on patinated synth textures that warp over time. "Fight or Flight" features March Adstrum on vocals, Tejada's partner in their band Optometry. Unlike Optometry's signature sound, this track pushes her vocals to the background as if she were a ghost. The lyrics, "Fight or flight, pick your battles," repeat throughout the song, while Tejada adds guitar, lo-fi drums, synths, and a driving bassline.
"Centered," the album's inaugural composition, marks a pivotal turning point for the veteran producer. Club-like rhythms, drenched in feedback, reveal a new direction signifying a departure from Tejada's previous work. "Trace Remnant" introduces itself with guitar loops, gradually expanding into a tapestry of sound driven by layers of real and synthesized drums. Lastly, "Different Mirrors" is a TR-909 drum machine jam that is gradually enveloped by Tejada's signature melodies, which gracefully dissolve into decay. The composition guides the listener to a hopeful finale, gracefully concluding the album.
John Tejada - Resound
Release Date 3rd November 2023
Label Palette Recordings
Tracklist
01. Simulacrum
02. Someday
03. The Disease of Images
04. Fight or Flight feat. March Adstrum
05. Centered
06. Trace Remnant
07. Different Mirrors