Lamborghini Urus
The Lamborghini Urus; creates a new niche in the luxury segment with power, performance, driving dynamics, unparalleled design, luxury, and daily usability.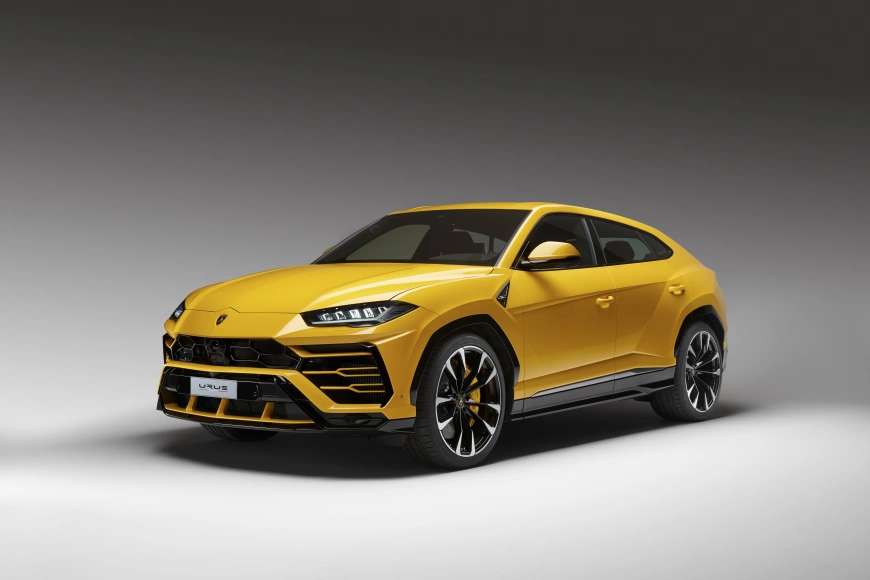 Photo by Automobili Lamborghini
The Urus features a 4.0 liter V8 twin-turbo engine delivering 650 hp (478 kW) at 6,000 rpm, a maximum of 6,800 rpm, and 850 Nm of maximum torque already at 2,250 rpm. With 162.7 hp/l the Urus claims one of the highest specific power outputs in its class and the best weight-to-power ratio at 3,38 kg/hp.
The Urus accelerates from 0-100 km/h in 3.6 seconds, 0-200 km/h in 12,8 seconds, and with a top speed of 305 km/h, it is the fastest SUV available.

"The Lamborghini Urus is a visionary approach based on the infusion of Lamborghini DNA into the most versatile vehicle, the SUV. The Urus elevates the SUV to a level not previously possible, the Super SUV. It is a true Lamborghini in terms of design, performance, driving dynamics, and emotion as well as drivable every day in a range of environments," says Stefano Domenicali, Automobili Lamborghini Chairman, and Chief Executive Officer. "The Urus fits perfectly within the Lamborghini family as a high-performance car. It is the culmination of intensive development and passionate skill to create a new breed of bull: a Super SUV that transcends the boundaries of expectations and opens the door to new possibilities, for both our brand and our customers."
Urus: a multi-faceted personality
The Lamborghini Urus is as much a luxury SUV as the most powerful, with a super sports car dynamism to be enjoyed by both driver and passengers.
Its low-line coupé styling and commanding road position belie the very comfortable ride, higher ground clearance, and luxurious space together with the latest technologies. The Urus provides easy driving in the city, maximum comfort during long journeys, thrilling super sports car dynamics on the road and track, and versatile off-road abilities in a range of environments. The Lamborghini Urus has a dual personality: it is multi-dimensional. It can be specified to be as sporty or as elegant as the owner wishes, and can equally be used as a daily luxury drive or provide an exhilarating super sports experience.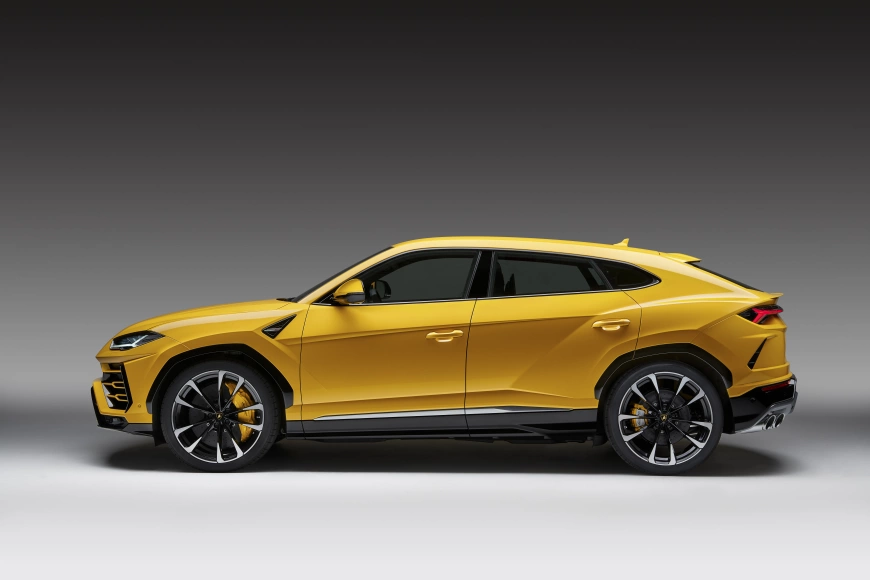 Name
As has long been the tradition at Lamborghini, the name Urus is derived from the world of bulls. The Urus, also known as Aurochs, is one of the large, wild ancestors of domestic cattle. The Spanish fighting bull, as bred for the past 500 years, is still very close to the Urus in its appearance.
Engine
The Lamborghini Urus sports a new front-mounted, 4.0-liter petrol V8 twin-turbo aluminum engine. The choice of a turbo engine, the first in a Lamborghini, reflects the desired usage range of the Urus. Especially in off-road conditions a high level of torque at low revs is necessary and can be guaranteed only by such an engine, providing optimal engine responsiveness and efficiency. Delivering 650 hp (478 kW) at 6,000 rpm, a maximum 6,800 rpm, and a maximum torque of 850 Nm at 2,250-4,500 rpm, the Urus has a specific power of 162.7 hp/l. With a curb weight lower than 2,200 kg the Urus is the SUV with the best weight-to-power ratio at 3.38 kg/hp.
The Urus accelerates from 0-100 km/h in 3.6 seconds, 0-200 km/h in 12.8 seconds, and reaches a top speed of 305 km/h. Braking is no less impressive: the Urus decelerates from 100 km/h to 0 in 33,7 m.
The compact engine optimizes the car's center of gravity through its low-mounted position. With a central turbo charger layout close to the combustion chambers, optimum engine responsiveness is assured. The twin-scroll turbochargers run in parallel, providing maximum power in full-load conditions. This reduces turbo lag and ensures maximum torque and smooth provision of power throughout the torque curve, even at low speeds. Two separate exhaust flows complement the cylinder firing sequence by eliminating cross-interference in the exhaust gas cycle. With a double overhead camshaft and variable valve timing, new cylinder-liner technology reduces weight while ensuring the highest performance from the eight-cylinder engine. Cylinder deactivation reduces fuel consumption for a perfect balance between vehicle performance and efficient engine function.
Transmission and gearbox
The Urus features an automatic eight-speed gearbox. The compact and efficient electro-hydraulically controlled planetary gearbox is tuned to provide very short low gear ratios and longer high gears. A highly efficient slip-controlled converter lock-up clutch and specially-developed torque converter guarantee a highly responsive engine, with an exceptionally powerful starting ratio for exciting acceleration, and high speed at low engine revs for optimal fuel consumption and emissions. Highly efficient gear braking is also assured.
Lamborghini four-wheel drive and torque vectoring: optimizing driving dynamics
The Lamborghini Urus' four-wheel drive system delivers safe, highly-responsive driving dynamics on every road and surface, in all weather. A Torsen central self-locking differential provides maximum control and agility in all driving conditions, particularly off-road. Torque is split 40/60 to the independent front/rear axle as standard, with a dynamic maximum torque of 70% to the front or 87% to the rear, enhancing traction to the axle with higher ground friction.
The Urus features active torque vectoring via a rear differential, enabling propulsive power to be instantly distributed to each individual wheel for enhanced traction, depending on the driving mode, driving style, and road grip. Torque vectoring also provides additional steering control: less steering effort is required, with enhanced agility allowing higher cornering speeds and a more sporty drive.
The Lamborghini DNA
A 360-degree approach to the engine, exhaust system, and chassis ensure daily usability with the reduction of unwanted mechanical noise while maintaining the emotive Lamborghini driving experience and inimitable Lamborghini sound.
Depending on the driving mode selected via the Tamburo, the V8 engine has been calibrated to vary the sound and feel of the Urus, from the quietest and most comfortable low-frequency sounds in STRADA mode to a sportier and more exciting Lamborghini sound and feedback in CORSA. A specially-developed exhaust system also customizes the sound output dependent on engine speed: at high acceleration, the Urus produces a more guttural, sporty sound and chassis feedback.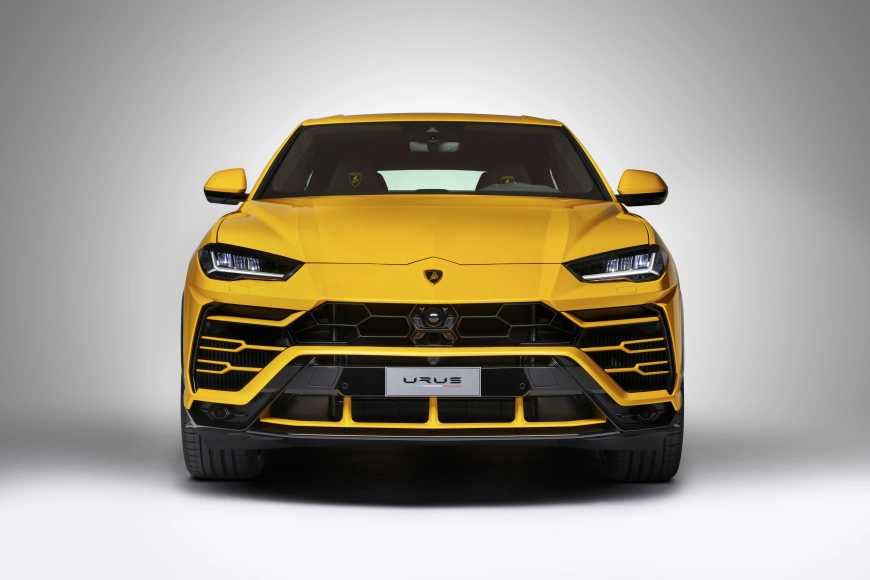 Exterior design
The Urus is undoubtedly a Lamborghini, taking cues from the LM002 as well as the super sports cars that are fundamental to Lamborghini heritage: the Urus has outstanding proportions, adopting the two-thirds body, one-third window ratio of Lamborghini super sports cars.
The Urus is a Lamborghini with luxurious space for up to five occupants. Its short overhangs communicate its strength, muscularity, dynamically assertive character, and commanding road position.
The Urus interior
The Urus is as much a luxury SUV as the most powerful, with a super sports car dynamism to be enjoyed by both driver and passengers. The interior's design and finish echo that of the exterior in terms of unmistakable Lamborghini design, colorways, and individuality. Inside, the Urus is as clearly a Lamborghini as it is from the outside, with a sporty yet luxurious design and finishes.
The Urus embodies the Lamborghini principle that a car's design, power, and dynamic capabilities mean every driver should feel like a pilot. The Lamborghini Urus is technologically advanced, yet intuitively operable. The driver and passengers are all afforded a low but extremely comfortable super sports car seat position, firmly integrated within the cabin, and for the driver, every cockpit control is within easy reach. Oriented around the driver, the slim Y design of the dashboard, like double silver wings and connected to the climbing center console, is inspired by the LM002 as well as by current Lamborghini super sports cars.

The Lamborghini hexagonal theme echoes throughout the interior, in elements such as air vents and door, handles, and even in items such as cup holders and airbag modules. A multi-function, three-spoke steering wheel incorporates a vibration damper to enhance comfort in all driving conditions. Multifunction switches are intuitively located on the steering wheel to control the Lamborghini Infotainment System, including car set-up, media, telephone, and navigation.

The first customers will take delivery of the new Lamborghini Urus in Spring 2018 at around 170.000 EUR (ex. VAT)