Leave My Room EP by DBFC
DBFC drop four electric live cuts in Leave My Room EP, out this October on Paris-based Her Majesty's Ship.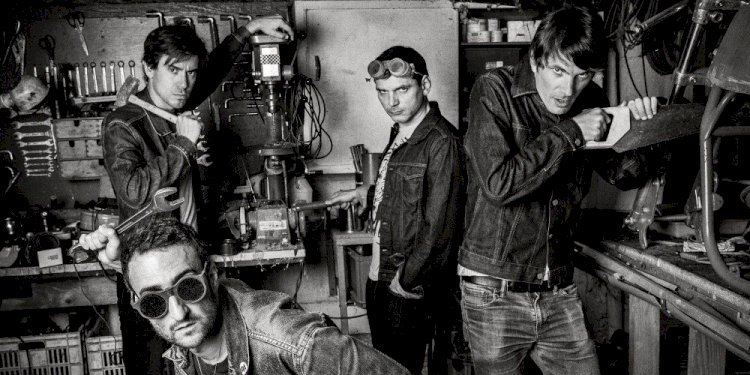 Photo by Laurent Gudin
Four-part collective DBFC is 'not a band, it's a club' - made up of Dombrance & David Shaw on production and beats alongside percussionist Guillaume Rossel and bassist Antoine Reininger. This autumn the organic social club of musicians and producers seamlessly lace their multifaceted talents to deliver 'Leave My Room' on the ever-impressive Her Majesty's Ship.
The four-track offering seamlessly blurs the lines between electronica, disco and soul-fuelled pop, delivering warm organic rhythms, meandering melodies and non-nonsense grooves to take the listener on their own unique journey.
The oscillating beats and echoing guitar licks of 'Bright Light' we're crafted to tell the tale of a party while chugging drums and ambient nature of 'Staying Home' is about those melancholy moments. With its infectious hook and pulsing beat 'Humdrum' is the punchiest and most kinetic offering on the EP with a back story that lies in rebelling against mediocrity and a middle of the road outlook.
Special mention goes to title track 'Leave My Room' which chases away the anxiety of nightmares - a sublime slow burning cut, cultivated to simmer on low heat over a dancing synth arrangement, frenetic modulations and shifting percussion to reach an brilliant crescendo into an infectious echoing male vox, quite simply a smooth and dynamic cut that kicks off the EP in style.
DBFC - Leave My Room EP
Release date 20th October 2014
Label Her Majestys Ship
Tracklist
1. Leave My Room
2. Staying Home
3. Bright Light
4. Humdrum
5. Leave My Room (Radio Edit)