Lifetime Achievement Award goes to Leif Skov
Festival Awards Europe announces lifetime achievement award winner; Leif Skov, one of the founders of Denmark's Roskilde Festival.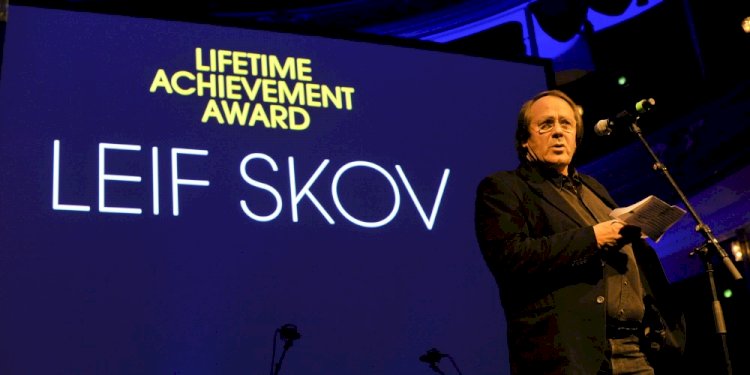 Photo by Andre van der Veen
Leif Skov, one of the founders of Denmark's Roskilde Festival, is set to be honored with the Yourope Lifetime Achievement Award at the Festival Awards Europe ceremony on Wednesday 12th January for his work at Roskilde and across the European festival industry.
Each year the prize is dedicated to an individual whose personal vision and energy have propelled the entire festival industry forward in a dynamic, creative, and positive way.
Leif joined Roskilde Festival in 1972 - the second year it was held - and was involved with the event until he stepped back in 2002, transforming it from a small festival into one of the most prestigious in the world, which has seen performances from the likes of Bob Dylan, Metallica, Neil Young, Prince, U2 and hundreds more.
On being chosen for the Award, Leif Skov says: "Music is great. The world is everything. I'm just me. Young people's lives and visions carry the highest challenge and motivation for us all. It's a pleasure to work for these. I'm thankful and humble. I receive the award still in service of the music, in respect for youth culture, and with the greatest care for young people of the world."
Leif was also a founding member of the European festival association, Yourope, and was a board member from 1998-2002 - playing a key role in creating a better, safer festival industry for everyone.
Christof Huber, Yourope general secretary, says, "I was lucky enough to be with Leif on the founding board of Yourope. He was and still is a visionary. His primary goal was always to raise the quality standards for European Festivals - not just for Roskilde. He wanted to give festival-goers the best possible experience. He is one of the biggest characters in the history of European Festivals!"
Speaking about the honor, James Drury Managing Director of Festival Awards said: "Since becoming involved with the legendary Roskilde Festival at its beginnings, Leif has dedicated his life to festivals and festival-goers. Not only did he develop one of the most internationally recognized events in the world, but since he left Roskilde nine years ago, he has continued to give his incredible knowledge and experience to the industry to improve it for everyone. This is why he is so deserving of this prestigious award."
Festival Awards Ltd is the producer of Festival Awards UK, Festival Awards UK Conference, and Festival Awards Europe. As well as giving fans chance to tell festival organizers which events they think are the best, it also provides industry networking and knowledge-sharing opportunities through the associated UK conference.
Yourope was founded in November 1998. The association currently has over 60 members which are among the most well-established festivals in Europe. All Yourope's members are dedicated to improving the European festival scene in terms of working conditions, health, and safety of music talent. The overall aim of the association is to collaborate and share best practices, and to pinpoint areas that would benefit from a joint approach.
EuroSonic Noorderslag is Europe's most important live music industry conference and showcase festival for European talent. With over 2800 delegates, showcases by 260 artists, and a conference with 100 panels, keynote speakers, interviews, and meetings, EuroSonic Noorderslag is the key exchange and networking platform for European music, European artists, international music industry professionals, and organizations. In 2011 it celebrates its 25th birthday and as EuroSonic Noorderslag focuses each edition on a different European country, featuring performances by the best artists and organizing panels about the specifics of that market, it only felt natural to do the 2011 focus on The Netherlands.
Virtual Festivals has grown by purely organic means since 1999 to become the UK's market-leading online portal and social network for music festivals, successfully consolidating this marketplace (from the hundreds of events that take place to the millions who attend them) in one place on the web. The website currently commands more influence and credibility with both industry and consumers in the festival sector than any other single media property. Building on its UK success, Virtual Festivals Europe was launched in collaboration with YOUROPE in July 2008 to aggregate the pan-European festival marketplace in a similar way.