Lineup complete for Melt! Festival
Melt! Festival is announcing a complete lineup for this year's festival in Ferropolis - the 13th one and now with a free mp3 giveaway.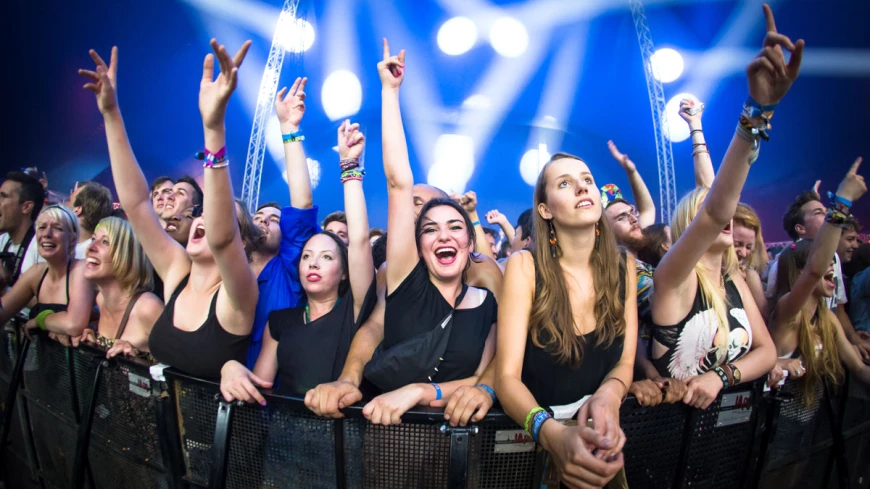 Photo by Melt! Festival
The last few slot's of our 13th Melt! edition are filled and the winners are: Moderat feat. Paul St. Hilaire (Basic Channel) & Dellé (Seeed), Simian Mobile Disco (DJ set), Dendemann and a few other lucky ones.
Adding to Melt! line-up, our HomeSweetHome residents will join the Sleepless Floor crew. After heavy rains forced Moderat to cancel their gig last year, the Berlin boys are back this year and we are positive that their formula Modeselektor + Apparat = Moderat will eventually add up.
We are also happy to announce that Simian Mobile Disco is back for yet another year to rock the stage with a formidable DJ set. With Dendemann, Melt! 2010 welcomes one of our national mouth acrobats to this year's line-up - will the live monster be a match for the huge caterpillars?
Melt! Anthem 2010 - free download
Actually this brings us to our next subject: the caterpillar's gigantic proportions aren't new. Their appearance, however, is finally appreciated in song format: "Gigantische Stahlgiganten" (gigantic steel giants) is the title of a song exclusively recorded by the Danish combo WhoMadeWho as a gift to us in order to show their admiration for our festival, and acts as our new and official Melt! Festival anthem.
Indeed, the song sounds like our festival! WhoMadeWho is thereby shortening everyone's waiting time for the band's new album which will probably be released at the beginning of 2011. Of course, WhoMadeWho will perform our anthem at Melt! They will end our three-day festival at Intro Zelt and expect everyone to join them. Of course, WhoMadeWho's track will also be available on our Melt! Compilation 2010 which will be available at Melt! as well as various record shops.
If you want to get ready and study the lyrics, you can download their track for free here (Download will start directly)
Melt! Festival Hotel Train
What else? Well, the Melt! Festival Hotel Train is nearly full. Only two more coaches left, so we recommend you act fast. All ticket holders can consider themselves lucky; Cologne's Pttrns will be on board, the band who won their gig via a competition with Intro magazine's Heimspiel. Judges from Intro and Melt! Booking were convinced by their performance, and we are looking forward to their performance at this year's festival.
Only 3,000 tickets left for Melt! Festival 2010
Anyone still hesitating to buy Melt! tickets should also decide quickly: there are only 3,000 tickets left for Melt! Festival 2010. Soon tickets will be exclusively available via our festival homepage, hard paper tickets in selected ticket shops.
All newly confirmed acts at a glance
Almeida | Dendemann | Empro | HomeSweetHome präsentiert: The Cheapers, Empro, Sven Jozwiak, Luna City Express, Markus Meinhard und Mutlu | Kraushaar & Gradmann |Melanie Melancholie | Moderat feat. Paul St. Hilaire (Basic Channel) & Dellé (Seeed) | Ptterns | RemmiDemmi DJ Team | Schulz & Söhne | Simian Mobile Disco (DJ-Set) | Christian Steiffen | Thomalla
Cancelling Melt! Acts
Unfortunately, one of our residents has to take a break this year: Markus Kavka won't be opening Melt! 2010 with his usual slot at Big Wheel Stage on Friday afternoon. Due to a commitment overseas, he had to cancel his DJ set, yet he is looking forward to next year already. Carl Craig was supposed to rock the stage together with Mike Banks. However, Banks had to cancel all European dates due to personal reasons, and therefore can't attend Melt! Festival this year. However, formidable Carl Craig alone is great, no worries therefore. Unfortunately, Sweat.X left us as well, so we are going to miss out on some booty-licious electro rap. We are out looking for a replacement, though.
All confirmed acts
1000 Robota | A-Trak | Matias Aguayo & Band | Ellen Allien | Almeida | An Horse | Archie Bronson Outfit | Ata | Autokratz | Beta | The Big Pink | Black Mountain | Black Rose (Henrik Schwarz & Jesse Rose live) | Blood Red Shoes | Booka Shade | Bonaparte | Boris | Bratze | Broken Bells | The Cheapers | Chromeo | Carl Craig | Chris Cunningham | Clues | Crookers | Danger | Darwin Deez | Delphic | Dendemann | Marcel Dettmann | Dirty Disco Youth | Dirty Projectors | dOP | Douster | Edu K | Egotronic | Empro | Fake Blood | Fred Falke live | Marcel Fengler | Fieber-Tanzparty | Roman Flügel | Foals | Four Tet | Frittenbude | Friendly Fires | Fucked Up | Marius Funk | Sascha Funke | The Futureheads | Get Well Soon | Goldfrapp | Groove Armada | Daniel Haaksman | Health | Hemmann & Kaden live | Hercules And Love Affair | Holy Ghost | Nick Höppner | Hurts | Ja, Panik | Jackmaster | Jamie T | Jamie XX | Jamaica | Johnossi | Jónsi | Sven Jozwiak | Karrera Klub | Kele | King Kong Kicks | Kings Of Convenience | Kissy Sell Out vs. Herve | Ben Klock | Oliver Koletzki | Kode 9 vs. Martyn |Kraushaar & Gradmann | Monika Kruse | Jamie Lidell | Les Yper Sound | Lindstrøm & Christabelle |Luna City Express | Mala | Massive Attack | Markus Meinhard | Melanie Melancholie | Midlake | Miike Snow | Modeselektor feat. Bonaparte live | Moderat feat. Paul St. Hilaire (Basic Cannel) & Dellé (Seeed) | Mutlu | ND Baumecker | Norman Nodge | Pantha Du Prince | Ewan Pearson | DJ Pete | Philipp Poisel | Popof live | Post War Years | Prosumer | Ptterns | Radio & Fernseh | RemmiDemmi DJ Team | Revolver Club | Riton | Saalschutz | Schlachthofbronx | Schulz & Söhne | DJ Shadow | Shed live | Shout Out Louds | Simian Mobile Disco (DJ-Set) | Sinden | Skate | Slagmalsklubben | Steffi | Christian Steiffen | Die Sterne | Tama Sumo | Team Recorder | Tiefschwarz | Tommie Sunshine | Matthias Tanzmann | Thomalla | Tobias Thomas | Tiga | Tocotronic | Martina Topley Bird | Trashpop | Trip Fontaine | Turbostaat | Two Door Cinema Club | The Very Best | Ricardo Villalobos | Joris Voorn live | Wareika | WhoMadeWho | Yeasayer | The XX
Tickets
3-day tickets (valid for Fri/Sat/Sun): 3,000 tickets left only!!!!
94 EUR incl. booking fee and EUR 5 garbage deposit
All 3-day tickets will shortly be available via our festival homepage only.
A few hard paper tickets are still available in selected ticket shops.
2-day tickets (valid for Fri/Sat) are sold out!!!
Info: Tickets
One-day tickets won't be available on location!
Fake Tickets
We also urge you to buy tickets from official ticket shops only. Last year, numerous fake tickets and also overpriced ticket offers (e.g. on Worldticketshop) were sold and ought to be handled with care. Don't support illegal ticket sellers by buying overpriced tickets. In this context, we want to point out that, due to security reasons and capacity issues, a valid festival ticket is necessary in order to enter not only the festival site but also the camping area as well. We strongly advise against arriving without a ticket in hand!