Melt! Festival 2016
Melt! Festival 2016 is soon upon us and with a line up that pays homage to the heritage of yesteryears the 2016 edition is going to be a blast.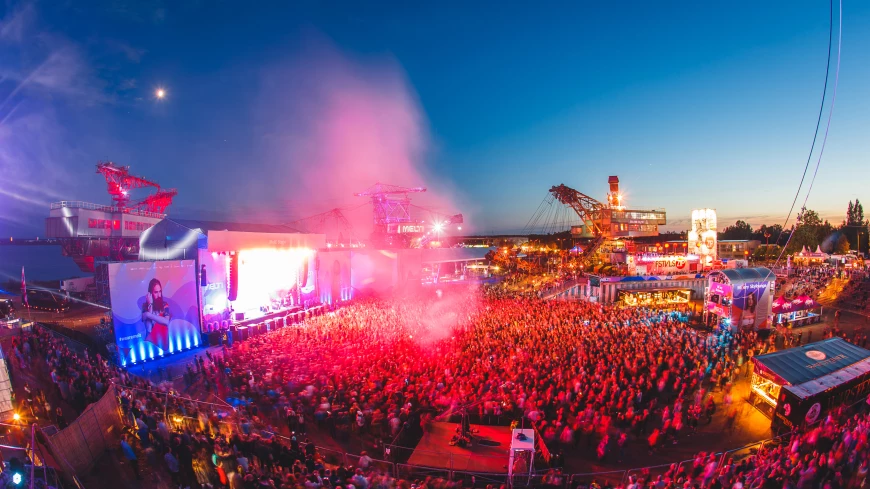 Photo by Melt! Festival
Melt! Festival started out as a small stronghold for rave lovers and techno enthusiasts at the quaint Bernsteinsee Velten in 1997, relocating to Lärz Airport in 1998 until it turned Ferropolis into a shining beacon of light in 2000 and became a major force on the international festival circuit.
A flickering sea of lights, pulsating beats, and beaming faces as far as the eye can see - the City of Iron awakes again. Three days of pure musical euphoria lie ahead of everyone in July. Hot newcomers and international heroes grace the stages below the breathtaking coal mining diggers of days gone by, hosting debaucherous gigs and parties breaking the boundaries between quiet and loud, electro, hip hop and indie, mainstream, and subculture.

Lineup
Acid Arab / Andhim / Andy C / Andy Stott / Ben Klock / Benjamin Damage / Black Coffee / Black Cracker / Blind Observatory / Bluestaeb / Bob Moses / Bomba Estereo / Boris / Boys Noize / Chance And Dark / Chvrches / Circa Waves / Coma / Cormac / Cosmin Trg / Damian Lazarus / Deichkind / Dekmantel Soundsystem / Digitalism / Disclosure / Dj Koze / Dj Phono / Dr Rubinstein / Drangsal / Ed Davenport / Ellen Allien / Fatima Yamaha / Floating Points / Freddy K / George Fitzgerald / Gold Panda / Graham Candy / Gunjah / Hard Ton / Heidi / Helena Hauff / Hi Fashion / Ho99o9 / Honey Dijon / Horse Meat Disco / Illesnoise / Isolation Berlin / Jamie Woon / Jamie Xx / Jd Samson / Jean-Michel Jarre / Joey Anderson / Josh Wink / Juju And Jordash / Kim Ann Foxman / Klyne / Kobosil / Kode9 / Kollektiv Turmstrasse / Kuriose Naturale / Kytes / La Fleur / Lady Leshurr / Laurel Halo / Lea Porcelain / Leon Vynehall / Liss / M83 / Maceo Plex / Magdalena / Makam / Mano Le Tough / Marco Resmann / Matthias Meyer / Maya Jane Coles / Mind Against / Modeselektor / Motor City Drum Ensemble / Muallem / Mura Masa / Niko Schwind / Noah Kin / Noah Slee / Oddisee And Good Company / Oliver Koletzki / Pan Pot / Partok / Peaches / Peak And Swift / Peggy Gou / Pev And Kowton / Phase / Renato Ratier / Roosevelt / Sango / Sarah Farina / Say Yes Dog / Schwarz Dont Crack / Several Definitions / Sg Lewis / Shed / Shifted / Skepta / Sleaford Mods / Solomun / Sophie / Stephan Bodzin / Still Parade / Stimming / Tame Impala / Tereza / The Black Madonna / Tiga / Tijana T / Tom Trago / Two Door Cinema Club / Vessels / Virginia / Vril / Woman / Zed Bias / Zomboy