Octopus - The ultimate explorer yacht
One of the world's most famous superyachts, the 126-meter (414-foot) yacht Octopus is seeking a new owner that will have her explore the world further.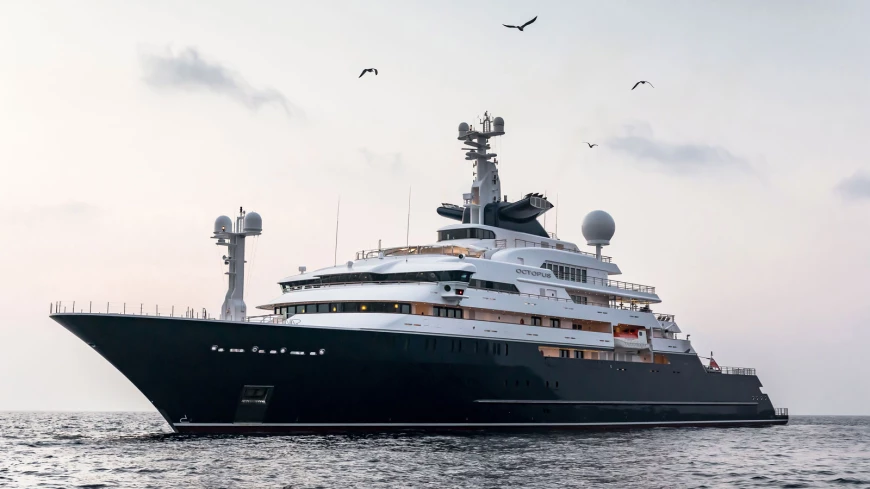 Photo by Camper & Nicholsons
Photo by Camper & Nicholsons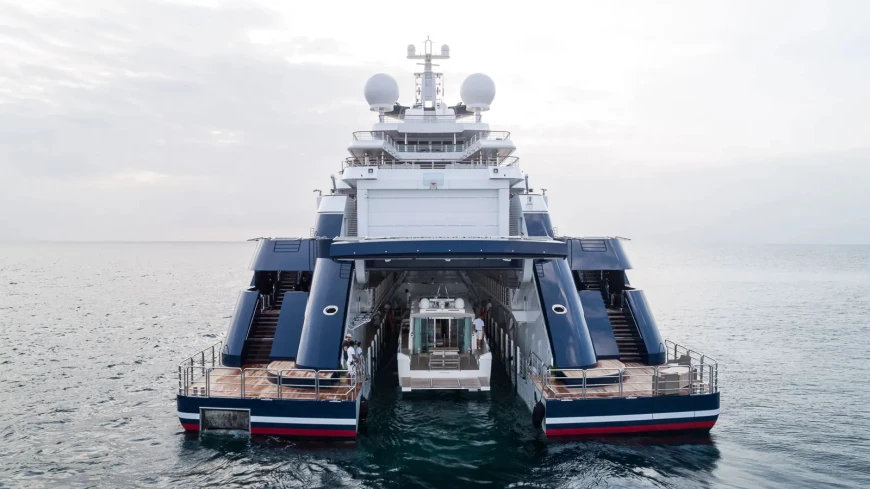 Photo by Camper & Nicholsons
The Espen Oeino designed world explorer, Octopus is one of the most well-traveled vessels on the globe and it has visited countless destinations such as Australia, Alaska, French Polynesia, Maldives, and South Africa. Encompassing eight decks and with an interior volume of 9.932 GT, she is a big yacht. Octopus has always been well maintained throughout her current ownership having undergone an extensive maintenance period every five years, with her most recent refit completed in 2019 by Blohm + Voss in Germany.
The new owner of Octopus will be able to enjoy a full owner's deck that includes a private bar, dedicated elevator, forward Jacuzzi, and al fresco dining area, this deck provides the owner with a sanctuary of privacy and security. While the yacht has two elevators servicing the guest areas, one is dedicated to the owner's exclusive use for travel throughout the yacht with discretion and ease. Up to 26 guests can be accommodated across 13 cabins and are all taken care of by a crew of 63 who have crew quarters of 30 cabins.

All those on board will be able to make use of the generous pool, alfresco dining area, bar, and pizza oven on the bridge deck - all of which are connected to the deck below, where facilities such as the spa, library, and bar, cinema, gym, multiple lounges, forward-facing observation area, and a basketball court can be found. There is also a glass-bottomed observation lounge in the tank deck.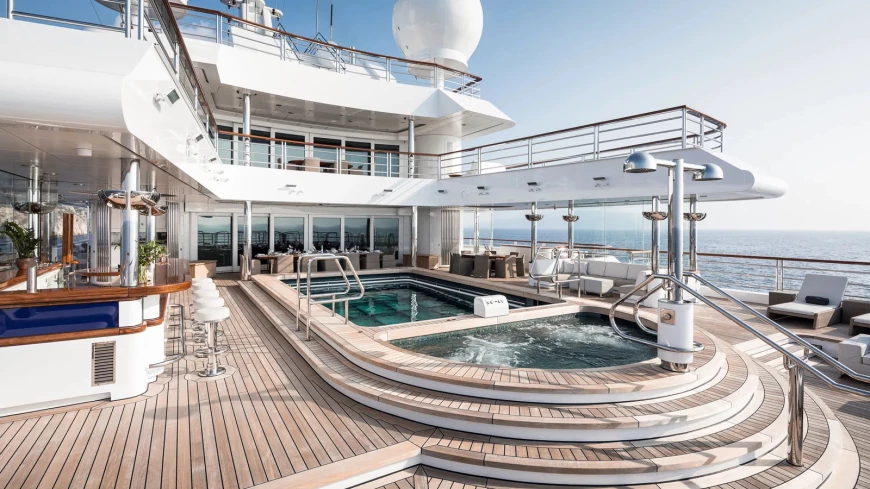 Since being built to Lloyds Register 100A1 SSC, Yacht (P), Mono G6, + LMC, UMS, DP (CM), Ice Class 1A by Lürssen and delivered in 2003, Octopus has been the main contributor to many notable expeditions and findings from around the world. For the Royal Navy, Octopus helped to recover the ship's bell from the wreck of the Hood 1.7 miles below, discovered the wrecks of the WWII battleships USS Indianapolis and the IJN Musashi off the coast of the Philippines, and the aircraft carrier USS Lexington in the Coral Sea.
With diesel-electric propulsion and eight generators for support, Octopus can operate autonomously to a maximum speed of 19 knots thanks to her hybrid propulsion system. When traveling at her economical speed of 12.5 knots, Octopus can reach a transoceanic range of approximately 12.500nm (23150 kilometers).

In addition to two liferafts, an ROV capable of diving to 1.9 miles, and several jetskis, Octopus is also capable of housing an SUV and two helicopters in either of the fore and aft garages. The stern-access dock is home to one of seven tenders: a 13-meter Hinckley Talaria tender as well as a Pagoo submarine for up to eight guests and two crew to dive for up to eight hours. A dive center and hyperbaric chamber are also on board, along with a beach club with a bar on the starboard side.
Her previous owner and the commissioner were none other than Paul G. Allen, the co-founder of Microsoft, alongside Bill Gates. Paul Allen passed away in October 2018 leaving the estate to his sister Jody Allen, who now is putting the yacht up for sale. The price of the yacht is rumored to be around 295 million USD or more, which might seem a lot, but given that the Octopus yacht has so much to offer, it is a bargain.

She is currently in the South of France and will be at anchor during the upcoming Monaco Yacht Show at the end of September 2019.